The Bubble
Host
Broadcast
Hat Trick Productions for BBC Two, 19 February to 26 March 2010 (6 episodes in 1 series)
Synopsis
Each week, three celebs (mostly comedians, with the odd journo thrown in) are cut off from the outside world for four days, then asked to determine which news stories from that period are real and which are made up.
The first round is always three TV news stories, of which one is real, the other two being faked specially for the programme, either by Hat Trick themselves, or by ITN and/or Sky News. All of these stories use the programme's own captions and graphics to give a uniform look, though the often rather ropey acting is harder to disguise. After each one, a brief discussion ensues, and once all three have been shown and discussed, the panellists each pick the one they think is real.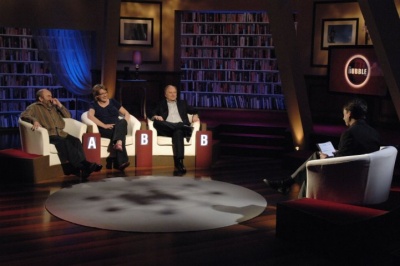 Andy Hamilton, Sarah Millican and Clive Anderson cast their votes.
This process is then repeated in the second round, which features newspaper cuttings in the same vein, and then there is usually a round using brief clips, but Mitchell just reading out the synopsis in voiceover. On occasion this round has been substituted or dropped altogether.
The final round is a quickfire on-the-buzzer round, and accounts for most of the scoring opportunities: Mitchell reads a one-line summary and the panellists buzz in to say whether the story is real or fake.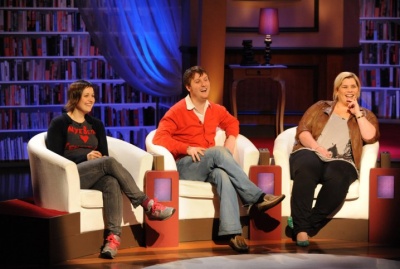 Another week, another panel: Josie Long, Tim Key and Katy Brand.
And there's the rub: to count as "real", stories on the show don't actually have to be true, they just have to have been reported on TV or in the newspapers during the week. They can be pure speculation (Nicolas Sarkozy might be having an affair, or not!), fabrication (Gordon Brown throws a tangerine in a laminator... and if you're reading this in the future, which you are, trust us, this was a big story for three and a quarter hours in March 2010, despite being utter guff), or even brazen nonsense (e.g. The Sun's piece claiming there could be a gorilla on Mars). The question is often not "what really happened?" but "who made this up: the tabloids, or the production team?".
Alongside the news stories and the discussion thereof, there are, as one would expect, plenty of comedic digressions. Typically there is footage of what the guests got up to in the house, though we're not sure it actually adds much - for our money, the best use of these clips was in the first show, where the entirety of the footage consisted of Frank Skinner successfully tossing a pancake and saying "yes!", while a low point came with way too much coverage of a not very interesting Scrabble game between Germaine Greer, Ed Byrne and Jon Richardson. When it comes to in-Bubble footage, less is generally more.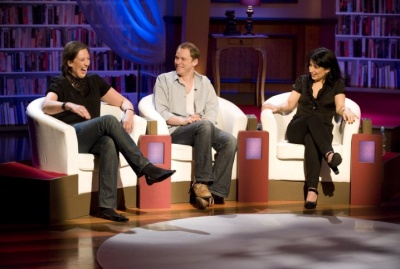 Yet another week and yet another panel: Miranda Hart, Robert Webb and Shappi Khorsandi.
More interesting digressions tend to come from discussion of how the fakes were, well, faked, and from the general ebb-and-flow of the conversation, which tends to go off on weird tangents like any real-world conversation. Some folk have suggested that David Mitchell lacks authority as a host, but we're not sure that's true, or that it's even a bad thing; it's often the more off-piste discussions that provide the most entertainment, and Mitchell displays a keen comic sensibility in not stamping the host's authority over the show.
Overall though, the show seems a little underpowered for all the effort that goes into it. It just seems as though a production which involves sequestering three people in a country house for four days, and which goes to so much trouble to produce sometimes-convincing hoax stories, really ought to have a bit more oomph. Yes, it's funny (David Mitchell even managed to be funny on Who Do You Think You Are?, so we're in safe hands, funnywise) and yes, some of the hoax stories are quite clever (it's not a 100% hit rate, but it's good enough), but we're still left thinking "is that it?". It's an interesting and entertaining format for all that, though, and could well blossom in a second series, were it to get one. Watch this space.
Inventor
Based on an Israeli format - the credits say "Created by Pic and Roll and distributed by Armoza Formats"
Theme music
Karl Sadler
Trivia
Although it made fake stories for the unbroadcast pilot, BBC News refused to allow their staff to make fake stories for the actual series. This was actually used as one of the stories in the first episode, and none of the participants (Frank Skinner, Victoria Coren and Reginald D. Hunter) managed to pick it out as true, all believing instead that the iPhone has an application that tells you how bad your breath smells.
Web links
See also
Feedback