The Dog Ate My Homework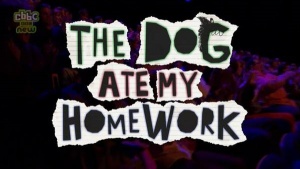 Host
Iain Stirling (2014-19)
Guest hosts (in order, but not including repeat performances): Hacker T Dog, Lauren Layfield, Darren Harriott, Suzi Ruffell (2019-20)
Lauren Layfield (2020-21)
Co-hosts
Mr Smash (Chris Lawrence)
The Dog
Stephanie Fulton (Series 1)
Ian West (Series 2-8)
Dinner Lady (Susan Morrison)
Eve and Eddie (regular actors)
Broadcast
BBC Scotland for CBBC, 17 January 2014 to 21 March 2021 (95 episodes in 8 series + 4 specials)
Synopsis
Two teams face a mischievous mix of tongue-in-cheek comedy, off-the-wall questions, nonsensical studio games and slapstick challenges. Each team will be composed of comedians and celebrity guests, with a 'junior sidekick' selected to help too.
Most shows had different combinations of ideas, some physical comedy, some sitting at the desk and shouting out silly answers. One regular round featured Iain Stirling raiding his dressing-up box to give bad impressions of historical figures. Another asked the audience for words so the team could incorporate them into a shaggy dog story about why they're not able to hand in their homework.
Iain declared a winner for each round, the worst performers were given a comedy forfeit by Mr Smash (a PE teacher incapable of doing anything but grunt). The points didn't matter, the programme was a Friday night entertainment and succeeded tremendously.
The Dog Ate My Homework proved to be a wonderful launch pad for careers - stand-up comedians Bec Hill, Susan Calman, Romesh Ranganathan, and Joel Dommett all had bookings in the first series, and all went on to much greater fame. Eventually, so did the host - Iain Stirling lent his voice to some dating show or other, and became just too busy even for this show. As was the fashion, no one person could replace Stirling, with Hacker T Dog, Lauren Layfield, Darren Harriott and Suzi Ruffell each doing three episodes; Layfield became the permanent host for the 2021 series and interestingly so, as said dating show was off as a result of the COVID-19 pandemic.
Catchphrases
"Who's been swotty and who's been naughty?!"
"We didn't learn much -- but it was fun trying."
Title music
Syncbox are credited for music.
Inventor
Developed by Victoria Coker, Ed Morrish, and the Children's Scotland Development Team
Web links
Opening titles from the BBC Motion Graphics Archive
See also
Feedback