The Home Game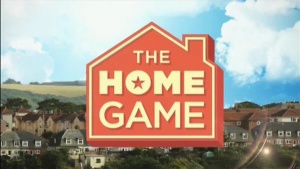 Host
Broadcast
Twofour for ITV, 27 February to 10 March 2017 (10 episodes in 1 series)
Synopsis
To promote this series, ITV's press office wrote,
Interior design expert Linda Barker presents the new ITV daytime series that sees home owners compete to make the most profit from a major property renovation.
The Home Game turns the makeover format on its head by fast forwarding to the exciting bit – the transformation and the price.
At the beginning of each episode viewers will see how much each house is worth and what the budget is. And, in a unique twist, footage will jump straight from the before shots to the glamorous reveals. But will their design choices be expected, or will they throw the rule book out of the window?
At the end of each programme, Linda will reveal how much they've spent and exactly how much their house is worth now. The one that's made the most profit will be crowned the winner.
The show played exactly like that. In each segment, Linda visits a house, talks with the owner about what they plan to do with it, and gets a valuation from a local estate agent. The work happens, Linda returns, they talk about what happened and what changes are made, and there's another valuation.
The Home Game often dwells on "the budget", how much the owner plans to spend. Like all budgets, this is forgotten in the end and doesn't factor into the contest. Whoever makes the biggest profit (or smallest loss) over the four houses is declared the day's winner. Linda also praises her favourite design.
A safe show, there's little novelty here. At 3pm, that's not so bad, as viewers will dip in and out through the hour. Nor is there much game to be seen.
Title music
Lucky G and Audio Network Plc.
See also
Feedback