The Mad Bad Ad Show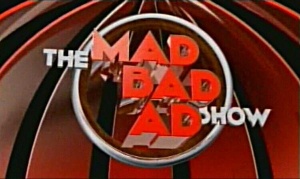 Synopsis
Channel 4's ticket department wrote, "Micky Flanagan and Mark Watson will each be paired with a guest comedian and a leading advertising industry insider who will provide a genuine insight into the mysterious and murky world of marketing. We'll see classic adverts, funny adverts from overseas, and even adverts made especially by the teams for the show."
If you can help us to expand this entry, please provide as much information as possible, using the feedback form below.
Trivia
After three weeks of unimpressive ratings, The Mad Bad Ad Show was pulled from its 10pm slot and was replaced by a "funny clips downloaded from the internet" programme. The last three episodes were burned around 11:30pm four weeks later.
To add insult to injury, the third episode was cut down from its normal 50 minutes to half-an-hour when first shown on Friday. Thankfully, they showed the episode again five days later, in its full 50 minutes of glory.
Web links
See also
Feedback