The Restaurant

Host
Raymond Blanc
Co-hosts
Judging panel:
Sarah Willingham (all series)
Lee Cash (2007)
John Lederer (2007)
David Moore (2008-9)
Voiceover:
Alex Jennings (2007)
Barbara Flynn (2008)
Noah Huntley (2009)
BBC Two coverage (The Restaurant: You're Fried):
George Lamb (2007)
Broadcast
BBC Two, 29 August 2007 to 17 December 2009 (39 episodes in 3 series)
The Restaurant: You're Fried! BBC Three, 30 August to 17 October 2007 (7 episodes in 1 series)
Synopsis
Chef Raymond Blanc, that's French for Ray White, attempts to be the bastard child of Gordon Ramsay and Evan Davis (ugh) by watching nine different couples make a hash of running their own restaurant from scratch - so shouldn't it be called The Nine Restaurants, then?
Each restaurant is run by a couple, and given a name and theme chosen by the new occupants. The couples range from newlyweds to sisters to mother & son, and the concepts include Ghanaian food, a New York diner and fine dining.
It's a cheeky move by the BBC, since most of the format borrows very heavily from The Apprentice made by out-of-house indie company TalkbackThames. Replace Sugar with Blanc, shots of Docklands skyscrapers with the Oxfordshire countryside, black cabs with Volkswagen people carriers, Margaret & Nick with three restaurant inspectors and you're there - even the composer is the same.
Fair play to the lavish production. Possibly it is just a bit too lavish - hiring nine empty kitchens can't have been cheap, a heck of a lot of activity is packed into a one hour episode, and the couples living together in a country mansion dimension seems unnecessary in this particular formula (indeed, this element was absent from the subsequent series and has not been missed).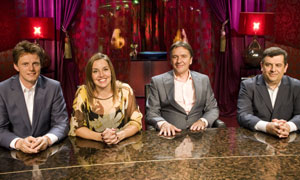 Cash, Willingham, Blanc, Lederer
You'd have thought the people going on this kind of thing would've learned the five golden rules from Ramsay's Kitchen Nightmares: (1) don't try to arrange the chairs in the last 5 minutes; (2) don't serve raw chicken; (3) don't book the whole restaurant in for the same time; (4) make sure the menu is correct; and (5) don't serve all the champagne at once. Yet in episode one, virtually everyone broke one of these rules.
This is a cutthroat business - more than half of all new reality shows fail within their first year. The Restaurant is high quality stuff, but more calculating and less edgy than Apprentice and its ilk. The pacing and scheduling is very odd - episodes vary from every man for himself competitions to head-to-head Challenge eliminators. Eventually people get kicked out in the usual manner and one couple remains. Ray will hand the valiant winners a "six figure" investment to start their own gaff for real. So next time you're in need of a sausage sarnie on the M42, pop in.
A second series turned up in 2008, with more action from Raymondo promised. That's fine as long as there's English subtitles this time, and they ban the phrase "All your 'eart". The show occupied an awkward niche, being clearly not in the same blockbuster league as its obvious inspiration The Apprentice, but creating what felt like just enough of a buzz to justify its continued existence, hence the commissioning of a third series in 2009. Two non-gameshow spin-offs were also promised: a straight cookery show with M. Blanc demonstrating recipes from the main show (though we suspect this was actually Raymond Blanc's Kitchen Secrets, a delightful programme but - another theme commission for Dru Masters aside - not really anything to do with The Restaurant), and a docusoap-with-challenges Out of the Frying Pan, following 2008's runners-up Alasdair and James in their subsequent ventures (and generating even more work for Mr. Masters, who's really done awfully well out of this).
Sadly, the 2009 series was distinctly lacklustre, with a disappointing standard of contestants, a cut-down format with everyone up for elimination each week, and an unsatisfactory outcome in which the show's original purpose (i.e. to find people who could run a restaurant) seemed to have been abandoned altogether. It was therefore not too much of a shock when it was announced in July 2010 that the programme had not been re-commissioned for a fourth series.
Inventor
Alan Brown
Theme music
Dru Masters
Trivia
BBC America airs the show under the title Last Restaurant Standing, to distinguish it from an unrelated NBC show that aired for a couple of seasons in 2003-4.
A special programme, The Restaurant: The Winners' Story, following the 2008 winners in the lead-up to opening their new restaurant, aired in September 2009. Noah Huntley narrated on this occasion. Incidentally, although we never got a follow-up show on the 2009 champions, they're still doing well - although in the cocktail, not restaurant, business. With Raymond's backing, they made a success of The London Cocktail Club and - as of 2017 - have nine venues around the capital.
Champions
2007: Jeremy and Jane Hooper, who went on to open "Eight at The Thatch". Locals seem to like it but early newspaper reviewers weren't so sure [1]. Jane had a child after four months, and they both left the restaurant.
2008: Russell Clement and Michele English.
2009: JJ Goodman and James Hopkins.
Feedback