Too Many Cooks (1)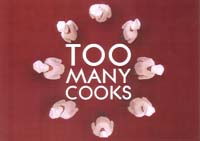 Host
Kate Garraway (2004)
Jeni Barnett (2005)
Co-hosts
Chefs:
Brian Turner (2004)
James Martin (2004)
Gino D'Acampo (2005)
Richard Phillips (2005)
Alex Mackay (2005)
Broadcast
Granada for ITV1, 1 November 2004 to 4 September 2005 (35 episodes in 2 series)
Synopsis
ITV1's latest daytime offering is a cookery challenge show with elements of Ready Steady Cook, Can't Cook, Won't Cook, Masterchef and even late 90s student favourite Light Lunch. Hmmm... too many cooks spoil the broth, you say?
To be fair, there's not a lot one can do with a cookery show that hasn't been done already, and Too Many Cooks makes a decent fist of what is, after all, a fairly limited genre. Four teams of two compete to make dishes against the clock. First round they have ten minutes to make something fairly straightforward and starter-like; second round they have 20 minutes to make a main course and third round they have ten minutes to make a desert. As per Ready Steady Cook, they have the basic ingedients and a selection of storecupboard items provided. One team is eliminated after each round, and the winners go through to the final at the end of the week. Easy as pie, you might think.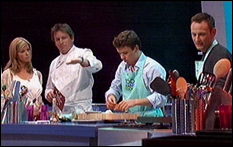 Kate Garraway and James Martin pester the sort-of-bluey-green team
Unfortunately, it does suffer a bit by comparison with the market leader Ready Steady Cook. RSC has a lot of banter and Ainsley keeps things moving along at a fair lick. Too Many Cooks has Kate Garraway, who does a good "that's horrible!" face when tasting something less than brilliant, but appears somewhat miscast on the whole. She seems in her element for the first five minutes, when she's introducing the contestants with prepared lines. Once the script runs out and she has to ad-lib, the banter suddenly stops. It's not that she's actually a bad presenter, she's simply too detatched. This show is an hour long. That's an awfully long time in gameshow terms, and it needs a host who can engage the audience more. She's not helped by some rather sloppy cuts - the show has a live feel right up until the first jarring edit, at which point one is reminded of how much more exciting it would be if it really were live. The lighting is very subdued as well. This isn't meant to be a dark show, so why so much dark blue and black? That sort of thing might work for The Weakest Link, but really doesn't work here. Presumably they're going for a contrast with the colourful ingredients, but it just makes the set look gloomy.
For all that it borrows from other gameshows, it could do with borrowing a little bit more from the aforementioned 90s cult C4 show, Light Lunch - more colour, more banter, more fun. More like Ready Steady Cook, in fact. In spite of all this, we wouldn't bet against Too Many Cooks becoming a sleeper hit. From the composition of the studio audience, it's clear that ITV are hoping it will catch on with student viewers, and no doubt it will for the first half, until Brainteaser comes on the other side. Install a more entertaining host, and they might even stay to the end.
Series 2
The second run has essentially the same format as the first, but there are a few cosmetic changes. First of all, they've ditched the dark colours in favour of a bright studio with lots of white and pastel shades, which is a huge improvement. The show has also been cut down to a less demanding 45 minutes. Kate Garraway is gone, replaced by Jeni Barnett, but rather than go for more banter, the new series has gone in a different direction, breaking up the competition with sections in which the resident chef shows us how to cook the dish properly. It makes a lot of sense to do it this way, though time spent watching the chef is time we don't get to see the contestants actually playing the game, and it feels like we're only being allowed to see glimpses of the actual competition. Also, a big black mark to ITV for sticking a "NEXT" graphic over the top of the final round of judging. It isn't quite as intrusive as it was on Perseverance (where it pretty much killed the final round tension stone dead) but it's still an unnecessary irritation.
It's still no Ready Steady Cook, but for a daytime cookery show, it's alright.
Key moments
There's a little animated chef who appears in the corner (except for those watching in 4:3 cutout), mainly to display the time remaining, but he also cries when one of the teams is eliminated. Unfortunately, the way he is animated reminds us of those Microsoft Office Assistants and how much we hate them.
Trivia
The first series aired in a lunchtime slot of 1pm while the second series aired during the "ITV Day" line-up strand with the first twelve episodes in a 1.30pm slot when Loose Women was taking a summer break until episodes 13-20 where it swapped timeslots with the first series of Cash Cab at 2.45pm. The last five episodes had to wait until nearly two months with episodes 21-24 at 2.15pm and the twenty-fifth episode aired on Sunday afternoon at 3.15pm.
Web links
Feedback