Too Many Cooks (2)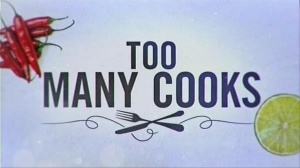 Host
Kirsten O'Brien (narrator)
Broadcast
True North for Channel 4, 4 to 29 April 2016 (20 episodes in 1 series)
Synopsis
Three pairs of cooks are going to cook at parties. Small dishes, the sort you can eat standing up with nothing more than a fork.
Each day's party has a theme, and the host sets up what they want. For example, a party at a gym might want a starter, a main, and a sweet, but with everything high in protein and low in fat. The host also sets the day's budget, £8-£10 per head.
The three teams introduce themselves, and make some preparations at home. When they arrive at the venue, the teams meet and explain what dishes they're cooking.
And then it's action stations. The teams are each allowed one hour in the kitchen, during which they complete their food and serve it up. There is action, there is drama. Why have the fishcakes stuck together? Where is the mint? Will the microwave go beep more than the players?
After the party, after the host hears feedback from their guests, out comes the chequebook. The hosts are expected to pay between two and three times the day's budget.
The producers keep score, each team makes a profit every day, and the biggest profit at the end of the week wins their profit. Someone will to win around £1500 every Friday.
Too Many Cooks moves at a tremendous pace, they have just a Channel 4 half-hour to cook and serve nine dishes. No time to hang about. Over the course of the week, we learn about the players, and get some sort of insight into their characters, and into their relationship.
Theme music
Pitch Music and UPPM are credited for "Music".
Trivia
Went out at 5.30pm, in a slot usually filled by Come Dine with Me.
See also
Feedback