Weaver's Week 2009-03-01
Last week | Weaver's Week Index | Next week

In the week when BBC2 has been securing huge audiences for its quizzes and cooking shows, we really should mention the final of Còcaire nan Còcairean, the Gaelic-language cookery show. Congratulations to Donald MacKay, whose achievement deserves as much mention as everyone else in this week's jam-packed Week.
The Grand Final: Manchester v Corpus Christi Oxford
Five years ago, we were on the verge of giving up on University Challenge. A succession of mediocre and formulaic questions, some dire "swerve" questions, and nagging suspicions that the series had been deliberately cooked in one particular direction. We're glad we stuck around: the show has become more entertaining with each passing year, and this year's championship has captured the public imagination.
Manchester defeated Bristol, York, LSE, and Lincoln Oxford. Only the quarter-final against the LSE was decided by fewer than 200 points, and the side has great strength in depth. Corpus Christi Oxford blasted past the traditionally-strong Durham, Edinburgh, Exeter (1 February), and St John's Cambridge; the match against Exeter turned out to be the most one-sided this decade. Both sides have consistently converted two-thirds of their bonus questions into points.
There was actually some pre-publicity for this week's game – an anodyne write-up from Alison Graham in the Radio Times added nothing, but a profile of Gail Trimble (Corpus Christi Oxford) graced last week's Observer newspaper. It is difficult, but the newspaper somewhat over-states Miss Trimble's brilliance. In the first round, her six starters netted 13 bonuses, for a potential credit of 125 points; in later rounds, 8 starters and two incorrect interruptions for 150; the famed 15 starters (and one missignal) for 300; and 12 starters (1 missignal) for 230. Still, when did the Obs last check its facts? And when did it become sensible to liveblog the final, as sister paper Het Grauniad did on Monday? Everyone knows the best reviews are left to marinate for six days before publication.
So is this one. We begin, as is traditional, with a series of clues to one word – in this case, "Scarlet". As is traditional, it's answered by – er – Simon Baker of Manchester. All the pre-publicity went for the Oxford side, but they're behind already. And then a question on Latin declensions (amabo and its reverse) is picked up by the captain of the Manchester side. However, they've only answered two of their first six bonuses correctly, and a series on horniness doesn't improve their percentage. We're at the visual round, on the approval ratings of US presidents and important events in their kingdomship. It's picked up by Manchester, who now lead 70-0.
It takes an awfully long time, but Corpus Christi finally gets on the board with their knowledge of dripping taps – 1ml per second turns into eight 10 litre buckets per day. A long review of "Ulysses" gives Corpus Christi a set of bonuses on currencies, then Lauren Schwartzman gets another starter, this one on her home topic of ancient history. "Oleander" wins the Unrepeatable Pun of the Series award, and – just when we thought they were sitting back – Manchester get in with the dipthong. Their reward is the Wordplay Challenge, pairs of words with and without an initial "S". It's the audio round next, and it's violin concertos, beginning with Bruch. A simple one for any listener to Classic FM. Manchester pick it up, and lead 115-55.
Corpus Christi get a good buzz on astronomical nebulae, and three final questions on the geography of the periodic table. Please, no more. A quote from Iris Murdoch is picked up by James Marsden, meaning that three of the Corpus Christi side have answered starters correctly. The captain has been banging her buzzer, but to no avail. Still, they're briefly within 15, until Reuben Roy shows his knowledge of Turkey's politics, and their bonus conversion rate is up to two-thirds. It's a literary question, and Gail Trimble buzzes, but she's wrong.
In the middle of the most frenetic final we've seen in years, it's quite obviously a moment to pause, and time to plug in a really hot cup of tea. The most common letter in "To be or not to be, that is the question" is "T", as Gail Trimble points out. That brings her career total to 42 correct starters. It had to be, really. The answer to the 42nd starter, the ultimate thing in life the universe and everything, is "T", answered by a quizzer who really knows where her towel is. The second visual round is on pictures of Dante's "Divine Comedy", and it allows Corpus Christi to pull within a sneeze, Manchester's lead is 155-150.
Game on! Rebecca Romero's move from rowing to cycling nets Simon Baker more points, followed swiftly by Funchal on Madeira. They're perfect on early 19th century laws, and Manchester leads by 45. But, with four minutes to go, Marsden pulls "Milton Keynes" out of the bag to pull Corpus Christi back in the game. Sam Kay's knowledge of Leiden reduces the gap to nothing, and the bonuses allow Corpus Christi to pull ahead for the first time.
"Cloud cuckoo land!" shouts Trimble, for yet another correct starter. She took forever to get going, but once the afterburners are set alight... In no time at all, three bonuses are in the bag, and she's got another starter, and the lead is up to 55. Manchester need the next starter, but it goes to Marsden for the Oxford side, and that is feeling like Game Over. It's Shakespeare, it's Trimble, it's "Measure for Measure", it's another ten points. And that's the gong! For a side that was trailing until – literally – the last three minutes, any win would be good. A win by 275-195 is quite astounding.
Matthew Yeo captained Manchester from the front, collecting six starters, though Henry Pertinez was the most successful on starters through the series, with 24. Manchester's bonus rate tonight was 20/30 with two missignals. Having answered nothing until two-thirds of the way in, Gail Trimble took five starters, ending the series with 46 correct buzzes. The Corpus Christi side was correct in 28/39 bonuses, and every member apart from the captain answered three starters correctly. Last week, we noted how one writer had said it would be like Federer and Nadal going at it again. It was another five-set thriller, with Corpus Christi winning 0-6 6-4 6-7 6-3 6-0.
The trophy is presented by – ah, with respect, who will remember Wendy Cope in a year's time? The trophy is presented to the worthy champions. And we would have said that had Manchester won; indeed, all of the quarter-finalists had showed their mettle already.
After the broadcast, things really took off for the winning side's captain. Miss Trimble appeared on a number of news magazine programmes, and became this week's Celebrity Of The Week Who Will Have Slipped From The Headlines Next Week. Even the resolutely stupid were interested; one birds-n-bonking rag asked to arrange a "tasteful photo shoot" with Gail Trimble. Her brother replied in the negative, "seriously mate would you give your sister's contact details to [them]?" All of this attention has served to overshadow the rest of the Corpus Christi team; the quarter-final may have been a virtuoso quizzing performance to match alongside Bill McKaig, but the final in particular was a team effort.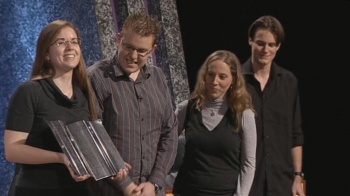 This year's champions: (l-r) Gail Trimble, Sam Kay, Lauren Schwartzman, James Marsden. Not pictured: Mark Hamid.
Thus ends the 15th season of the BBC revival. Our usual thanks to all concerned for what has been a truly exceptional year. We're not sure if there will be a Professionals series next month, but we'll be back for the student edition in the summer.
Heat 19
Our thanks to the BBC schedulers for being entirely unpredictable this week. Usually, the evening schedule runs about 90 seconds later than billed, so that they can get to Newsnight at 22.32, just as the regional news is ending on BBC1. Tonight, though, they're starting about 90 seconds *earlier* than billed, so that they can just about get to the Stade de France in time for the kick-off of the Six Nations match. 8pm sharp.
All of which means we missed most of Ann Fallow's round on John Wesley, which ended on 11 (3). Apologies.
Paula Keaveney will discuss Seinfeld, which is apparently a show about various mildly comedic happenings, which went out for about 15 years. We can't say that it's ever crossed our radar. The contender has seen it, and knows many of the minor details, finishing on 14 (1).
Mike Foden has been swotting up on Kazimir Malevich, an artist and architect from present-day Ukraine. His works include the seminal "Quadrilateral", which depicts a black square on a white background, and someone will be able to explain why this is art when a blank sheet is the sign of a lazy child. The round ends on 9 (4).
Last up is Colin Clayton, telling us all about the Wars of the Roses. This was a 15th-century battle for supremacy between the Lancastrians (red rose) and Yorkshireites (white rose), eventually won by Michael Douglas and Kathleen Turner (it says here). The round just about covers the conflict, and ends on 11 (2).
Is our host trying to make a catchphrase of "It pays not to pass"? Perhaps. He has nothing to say about Mr. Foden's subject, so discusses his job in a hospital. Yes, we know they nicked the tune to "The Star Spangled-Banner" from some old drinking song. So does Mr. Foden, one of rather a lot of correct answers, and he ends on 21 (5). If his specialist subject falls a little better, he'll fly next time.
Ann Fallow tells us how John Wesley was ordained into the Church of England, and remained there even after founding Methodism. His problem was that he was too radical for the C of E, where "Don't worry, something will turn up. It usually does" is the catchphrase. Her correct answers include that well-known Eurovision fan Mr. Putin of Russia, and the location of the Skydome stadium. The round ends on 20 (6).
Mr. Clayton tells us that "Wars of the Roses" wasn't coined as a phrase until Walter Scott in the nineteenth century. It was a family quarrel, caused by an incompetent monarch who didn't leave clear instructions for his succession. The contender is also a Eurovision fan, remembering Ireland's three wins in the 1990s, back when they didn't deliberately send turkeys. He takes the round carefully, ending on 19 (6).
Paula Keaveney requires eight to win. Seinfeld is a show about nothing, but it was funny. Over the next two weeks, we'll be reviewing two shows from ITV, which fill about half of this description. The contender has been in the chair before, and is almost visibly ticking off the answers to win, passing on the others. Regrettably, she confuses Road Runner (fast) with Wile E Coyote (genius, but wouldn't make the University Challenge final) but does enough, finishing on 24 (6).
And that's the show, we're out by 19.56. Told you they were running early.
This Week And Next
We were going to review Paris Hilton's British Best Friend this week, but our brain boggled at the comparison with the other towering intellects on display. Maybe in a couple of weeks.
We were also going to write that Ben Shephard was the new holder of the world record for tossing. On Monday, he won a tosser's challenge, managing to flip his pancake 107 times in a minute. Within 24 hours, Aldo Zilli had broken the record, with no fewer than 115 tosses.
Which brings us to the latest communication from John Naismith, the producer of I'm Sorry I Haven't a Clue. He's confirmed that there will be guest hosts for this summer's series. Stephen Fry, Jack Dee, and Rob Brydon will be keeping Samantha entertained.
It's with regret that we report the death of Wendy Richard. She was best-known for her appearance on the hit single "Come outside" and her work on television – Are You Being Served and EastEnders, in particular. Wendy Richard was also a regular on Just a Minute, making 40 appearances between 1988 and 2003.
Last week, we pondered the role of people with visible disabilities on children's television. We wrote, "Is it still the received wisdom that children will see the person and not the disability, and it's only old fogies (like this column) who fret over things like wheelchairs?" This week, Lucy Mangan in The Guardian opined, "It is parents who can't face disability on TV". Next week: The Guardian provides a zap-by-zap commentary for Interceptor.
Viewing figures for the week to 15 February show Dancing on Ice remains popular, 9.65m saw the performances. Antan Dec's Takeaway returned with 7.75m viewers, reducing In It to Win It to 6.15m. Masterchef continues to butter parsnips, with 4.4m seeing the weekly final; UC's first semi-final had 3.75m. Come Dine With Me proved almost as popular on Sundays (2.8m) as weekdays (2.7m), but Battle of the Brains returned to just 1.8m. As you were in the digital world, Come Dine With Me (885,000) leads Pop Idle US (630,000), Gladiators (550,000), and QI on Dave (500,000). BBC4's The Book Quiz was seen by 190,000 readers, more on that story later.
Coming up next week: The Krypton Factor finds the United Kingdom Superperson of Nineteen Ninety Nineteen (ITV, 7.30 Thursday, except Wales), and the annual Can i Gymru song contest is on Sunday (S4C, from 7.30). There's a new challenge for the teams on Raven – The Dragon's Eye (CBBC, 4pm weekdays), choir singing (Côr Cymru, S4C 9.30 Friday), and a quizzy tribute to Percy Edwards (Radio 4, 9pm Wednesday).
To have Weaver's Week emailed to you on publication day, receive our exclusive TV roundup of the game shows in the week ahead, and chat to other ukgameshows.com readers sign up to our Yahoo! Group.