Weaver's Week 2009-03-08
Last week | Weaver's Week Index | Next week
Colour us flabbergasted

As well as The Krypton Factor final, we were going to talk about ITV's latest hit* show The Colour of Money, which confused four million people two weeks ago. But it turned out to be the week when the BBC and Granada tried to deny 5.2 million people the evidence of their own eyes,
Game 32: BBC and Granada v Just About Everyone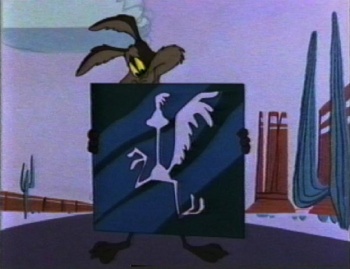 A week later, the panel declared this a win for Wile E. Coyote, after Road Runner was disqualified for exceeding the speed limit.
If the final of University Challenge was like watching Federer and Nadal slug it out over five sets of scintillating quizzing, this week was finding out one of them had failed a drugs test at the warm-up event two weeks previously, and the battle we watched avidly was completely pointless.
Just when we thought Corpus Christi Oxford's time in the spotlight was over, up popped an off-screen controversy. According to some press reports, one of the championship-winning side had left the university in the summer for paid employment. This may or may not have been a breach of the rules; the BBC and Granada has determined that it was, and retrospectively said that Manchester should be regarded as champions. We disagree with the decision, because we believe the rule to be so entirely wrong it should never have been in place.
If the rule is that final year students must be accepted to a post-graduate course at the same institution, then it's hideously unfair. It's particularly unfair on new universities that don't have a tradition of research, and have few if any postgraduate courses to fill. The new unis already find themselves at a severe disadvantage; to restrict them to first- and second-year undergraduates makes the playing field even less level.
More established institutions will be able to evade this rule by enrolling their quarter-finalists on paper postgraduate degrees, from which the competitor could conveniently withdraw after completing the recordings. This sort of tactic may comply with the letter of the rules, but it sticks up a very small number of fingers at the spirit of the rules.
Had Corpus Christi offered their competitor such a sinecure, the producers would have had no ground to act. This would have been an entirely unethical and shameful course of action. Indeed, the rule as it is currently formulated actually *encourages* such deception and connivance. We cannot support any rule that rewards unethical behaviour.
The average viewer, we suggest, will assume that the person was a student there when the team applied. We would go slightly further, and discourage contestants who are going to study elsewhere next year. For instance, someone reading a BA in reading at Reading shouldn't appear if they're going to read an MA at Bristol.
It's been asked in many quarters why Corpus Christi didn't use their reserve player. At some point, they did use their reserve player: Mark Hamid captained the side in the opening round, but he was gone in the second round, with Lauren Schwartzman appearing in seat two, and Gail Trimble shuffling along to the captain's chair.
We said that we disagreed with the decision because the rule was wrong. The producers' case hasn't been helped by what appears to have been inconsistent decisions over the years. Zap-by-zap coverage at The Guardian exposed similar transfers by one of the 2008 winners who "was formerly at Christ Church but is now a student of Balliol College", and the captain of the side presented with the trophy in 2004 had already moved from Magdalen Oxford to Trinity Dublin. The runners-up there were in a similar boat, two of the competitors from one of the semi-finalists had also left, and we're only suggesting St Andrews won because they're the only semi-finalist who haven't yet disqualified themselves. Indeed, it may be that, by including three genuine students, Corpus Christi were hewing more closely to the rules than many previous winners.
It's been suggested that the competitor had told the producers of his status: if this is so, then they should have noticed it at the time, and don't really have a leg to stand on. One member of the Corpus Christi Oxford side said that they understood the eligibility to be, "team members and reserve should all be students (postgraduate or undergraduate) of the university/ university college concerned". If this is what the team was shown, then it's certainly not what the BBC and Granada have been claiming.
It seems clear that the rule – whatever its precise wording – was not made sufficiently clear to the players. This appears to be a failure by the producers. We respect and entirely support the BBC's determination to publish rules and stick to them, no matter what the fall-out, but the quid pro quo is that they (and their contractors) must actually publish the rules. It's certainly not clear that they were properly brought to the team's attention.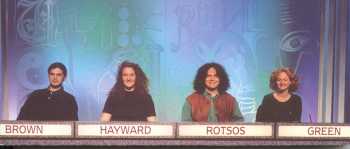 With our help, this team would have failed at the first hurdle.
It's an awfully long time since the BBC revival began, so long ago that we applied for the team that year. (Didn't make it, wasn't really in contention. Aeneas Rotsos was good.) Now, it is fifteen years, and (in spite of fervent digging in the spare room) we've not been able to find the documents so as to verify. This column's recollection is that students were accepted if they were in their final year at the university, even if they didn't plan to continue studying there. The rule may well have changed since our day.
Edmund Dickinson and thirteen other members of the Oxford University Quiz Society wrote to The Independent. They said how the decision "seems to us to reward scandal-mongering and jealousy at the expense of quizzing aptitude and enthusiasm." He stated that the college acted in good faith and within the rules, and concluded, "The BBC and Granada have resorted to a rushed reaction in an attempt to absolve themselves of scandal."
Bamber Gascoigne has added his opinion, saying that it's unfortunate that the show isn't filmed within one academic year. As usual, Bambi has a very valid point: the opening two rounds are shot during May and June, and the finals in the autumn. On the other hand, sporting and other commitments mean that BBC2 is best not to schedule long-running series between mid-April and early July. This leaves a relatively tight window for a 31-week series to enjoy a (relatively) unbroken run.
Yes, it's possible to record the series from February to May, and air it from July to March, but by that time the closing matches will be almost a year old. That doesn't make for good television, and ties up the host for three months. It would be possible to run the series in the same academic year as it's filmed; a November start yields a final in late August, and you're not going to attract 5 million viewers at that time of year.
However, a January start dovetails neatly with BBC2's other commitments – the series pauses for the snooker, gardening, and tennis after the first round completes at Easter, and picks up in mid-July for a final in late October. Or air UC twice a week from January to April. If the will is there, the transmission can be arranged. Maybe Mastermind would benefit from a parallel arrangement, running two episodes for sixteen weeks from mid-August to early December.
Let us return to the existence of this rule. The recordings are split over two academic years for the benefit of the producers, not for the benefit of the competitors. Back in the 0898-gate scandals, ITV's chief executive Mr. Michael Greed gave the excuse that the overall aim was to make a better show, and no-one had set out to mislead the public. We can't help but conclude that this eligibility rule both misleads the public and – by rendering good contestants ineligible – does not make better television.
Common sense and calm heads need to prevail. Viewed from the sofa, this is a storm in a teacup. The viewer wants to see a great television programme, and that demands the best team a university can offer. The rule has to be simple enough for a non-specialist to understand, and we offer two alternatives. One, film the show entirely in one academic year. This wouldn't be our preferred position, because it would result in two half-series or a compressed transmission. Better would be: so long as the person is a student at the university they're representing in the year before transmission, and does not study at a different university in the following year, they are allowed to play. Treat the November recording dates as an extension of the previous academic year.
If that means the tournament becomes a collection of final-year undergraduates who plan to work after graduation, so be it. The viewer won't know, and won't particularly care, and it won't hurt the standard of competition. While we can see why the BBC and Granada took the decision they took, we firmly believe the rule in its current form should not exist. It does not help to make good publicity, it serves to reinforce the status of Oxbridge and other ivory towers, it has left a very dark shine on what had been a brilliant series, and – most importantly – it does not help to make good television.
Let us end by giving credit where it is due. We are hugely and tremendously impressed with the way the Manchester side has reacted to this turn of events: they have all been models of humility, exquisite grace, and knowledge that it's only television, only a game. They have proven themselves to be champion sportspeople, gracious in defeat, charming in victory, and coming off well in this curious non-result.
Does this make us less likely to watch future episodes? Let's be honest, we watched the infamous Pass The Baton round, we understood the infamous Pass The Baton round, we watched a whole episode of Paris Hilton's British Best Friend, we'll watch anything. Is it going to influence our write-ups? Very probably. The biggest danger is the prospect of one or more universities deciding not to play next year. University Challenge without Oxford would be hollow, and would cause us to consider our position.
Grand Final
The grand final of The Krypton Factor this week, featuring Ben Shephard and the most expensive perspex trophy we've seen all week. But that's mainly because the cable company doesn't allow us to see Can i Gymru. Xenophobes.
Anyway, the mental agility round was the colours and shapes puzzle again: was that the second or third time we'd seen it? The result was a win for Aaron Bell, beating Richard Colfer by one answer. That's a very useful lead, extended after Mr. Bell ran away with the Observation round, with two contestants scoring four points by scoring the grand non-total of nothing. The producers will have to do something about the scoring system here, maybe bring back the multiple-choice questions.
Intelligence was a Tetris-style game, dropping blocks into a frame to build up a rectangular wall displaying the number 2009 on one side only. We rather expected at least one contestant to build half the wall on their table, but this was evidently deemed far too obvious. Mr. Bell took his third win of the night, with a large surprise as professional puzzler Mr. Colfer finished last.
The assault course was filmed as a time-trial, with all the contestants competing individually, then shown as a split-screen. We reckon this made for better television than the previous two races of two, but having all four race alongside each other at the same time would be even better. By now, Mr. Bell had an almost insurmountable lead, but he still had time to remind us why he was part of the 2001 University Challenge finalists by sweeping the general knowledge round. He finished with the highest Krypton Factor of the series, and is a worthy United Kingdom Superperson of Nineteen Ninety Nineteen.
Heat 20
The Krypton Factor completed a ten-week run this year. Mastermind has been going on since September, and is still eleven programmes away from the final of this show. It might (might!) finish before Wimbledon. But don't count on it.
Kirsty Rowland is taking the Women of the Special Operations Executive. The SOE was a secretive arm of the British army in the Second World War, to conduct espionage and sabotage behind enemy lines. It was an equal opportunities employer, and the contender has done her homework, finishing on 11 (1).
Louise Mayer will discuss "The Canterbury Tales", the Chaucer work that needs no introduction from us. The questions revolve as much around details from each individual story as the narrative linking them all. This is a relatively small topic, and the contender shines, scoring 15 (0).
Daniel Morrish tells us about the Life and Work of Henri-Cartier Bresson, a photographer and artist of the mid-20th century. His book popularised the term "decisive moment" to capture those split-second images, such as a man jumping over a puddle. It's another excellent round, closing on 13 (1).
Finally, Ian Volante has been listening to Metallica. They are, we presume, the "subject we didn't learn at school" the announcer discussed before the show, being a Danish and American very heavy metal group. All their hit singles are there, as are the major items in the band's history. The contender offers another array of correct answers, also ending on 13 (1).
A very high standard this week, mutter mutter repechage. Kirsty Rowland confesses that she doesn't believe she's brave enough to go behind the front line in the Ungentlemanly Conduct Squad. She gets the first two questions right, picks up some more here and there, and is clearly guessing by the end. She finishes on 18 (2).
Mr. Morrish points out that M. Bresson was an expert in candid, unposed, photography, and didn't really go for cropping his scenes to remove extraneous elements. Mr. Morrish also discusses whether photography can be art: to precis his answer, yes. The general knowledge round never really picks up a good head of steam, but it's effective in its staccato manner, finishing on 25 (5).
Mr. Volante is asked to the secret of Metallica's success: they were energetic and kept changing their style from thrash metal to near-symphonic rock. Guess which of those terms Mr. Humphreys needs to have defined. The round starts well, but it appears his confidence drains right away after a couple of wrong answers, closing on 24 (1).
Louise Mayer is the final contestant, and she gets the talk about her work, visiting the homes of children who are unable to go to school and teaching them there. She needs eleven to win, and knocks them off with only one question to spare. That she can't remember Shoemaker-Levy-9, the comet that took on Jupiter and lost, is neither here nor there: she scores 26 (3) and wins the game.
This Week And Next

ITV has announced plans to cut 600 jobs, reduce the amount it spends on programmes, and to close its studios in Leeds, home of Countdown since forever. The company has been failing to provide decent entertainment for an awfully long time now, and the shareholders have finally picked up on this lack of achievement.
A good part of this can be put down to the way advertising revenue has suddenly moved from television to internet advertising. The money is no longer flowing into British broadcasters, but into foreign internet behemoths. People, if you hadn't rewarded those internet advertisers, ITV would still have a studio in Leeds.
ITV actually made a pre-tax profit of £167 million last year, but this turned into a hugemungous loss by the company revaluing its assets. For instance, it's written off £50 million simply because it expects to make less from ads during its European football fixtures for the next few years. Should the advertising market recover, ITV will make higher profits than it expects. Will ITV re-open its studio in Leeds? Will it spend the money on public service broadcasting? Will it give wings and fly the Jiggy Bank?
Viewing figures for the week to 22 February are in, and it's dancing all the way: Dancing on Ice had 9.6m on Sunday night, the new Let's Dance for Comic Relief picked up 7.05m, beating Saturday Night Takeaway (6.8m). Total Wipeout was seen by 4.7m, but The Colour of Money is credited with merely 3.99m. That's fewer than Masterchef (4.3m) and on a par with University Challenge (3.8m saw St John's Cambridge beat Corpus Christi Oxford). QI has been absent from the BBC1 lists this year, suggesting that highbrow quizzes don't work on the populist channel.
No tremendous surprises on the digital channels – Come Dine With Me records another million audience for More4, Gladiators has 605,000 on The Sky Channel, Pop Idle US 525,000 on ITV2, and Paris Hilton's British Best Friend attracted 465,000 car-crash watchers. Year's best scores for Hider in the House (185,000) and Gimme a Break (175,000) on the CBBC channel.
In the coming week, Counterpoint returns for a new series (Radio 4, 1.30 Monday), Britain's Best Dish Celebrity Special concludes (ITV, 5pm weekdays except Scotland), and the biennial Comic Relief charity appeal (BBC1) has dancing (7.20 Saturday), climbing a mountain (9pm Wednesday), Apprenticing (9pm Thursday), a night of silly (from 7pm Friday), and dancing (7.15 Saturday). Countdown breaks for some horse racing, so only goes out on Monday.
To have Weaver's Week emailed to you on publication day, receive our exclusive TV roundup of the game shows in the week ahead, and chat to other ukgameshows.com readers sign up to our Yahoo! Group.