Weaver's Week 2010-08-22
Last week | Weaver's Week Index | Next week
Last Sunday's edition of The Observer wrote, "Apologies to those disappointed last week that we had apparently spoiled their TV viewing by claiming that Christine Hamilton would fail to get through to the final of Celebrity Masterchef. This was a simple misunderstanding. We had no foreknowledge of the programme's progress and are happy to report that Mrs. Hamilton is through to the closing stages." Last Sunday's paper didn't say how Mrs. Hamilton would finish in the final.

Shine TV / Group M for Channel 5, Sundays
(This review is mostly based on the broadcast of 8 August)
Last week, we resisted the temptation to copy our notes on Talking Telephone Numbers and pass them off as thoughts on Magic Numbers. This week, we must attempt to review Don't Stop Believing without making too many references to Last Choir Standing, the BBC talent show filler from a couple of summers ago.
So let's construct this review around the presenter. Back at Easter 1997, there was no-one hotter than the Spice Girls. Cola endorsements, a sell-out tour, meeting the famous Nelson Mandela, and they even found time to drop in on Julia Bradbury and Tim Vine's new telly station. In the years since, people have moved on – Tim Vine is now a fully-fledged sitcom star, Julia Bradbury an accomplished journalist, and the Spice Girls split up, got back together, and found that no-one actually noticed either time.
All of which brings Emma Bunton, the erstwhile "Baby Spice", back to her spiritual home. Or she's returning the favour from many years back. Miss Bunton is hosting Channel 5's new talent competition, seeking the finest singing-and-dancing group in all of the UK. The name's a bit of a giveaway: this show is clearly based on the Big Brother task to make a video in which it emerges Josie can do many things, but cannot sing. Apparently, that was based on another show, but it goes out on E4 and no-one watches that channel because they might accidentally see George Lamb.
No danger of that on Channel 5, of course. Here, six choirs will perform for the audience's delectation and entertainment. Almost inevitably, the show begins with an opening routine, with all the talent taking part. Then comes the little ritual done by every talent show for every competitor ever. Readers will know almost exactly what the formula is, it's been that common for the past ten years.
But we aim to be a journal of record, so let us detail precisely what happens. There's a video introduction, featuring the performers going through their paces in their local area. There's also a piece to camera by the group's leader, mentor, and it usually ticks one of two boxes. Either it's that the group is filling a vital community need, without it all of these kids would be beating up old ladies and scoring cake. Or it's that the project was started by someone who is dead / dying / was incapacitated by a flying sheep, and this is a tribute to their endeavour. Never mind the talent, lay on the sob-story with a trowel why don't you.
After this gushing introduction comes the actual performance. It's something to make a song and dance about. Literally. Two minutes of singing and dancing, usually well choreographed and sung. But how well? That's where the critical panel come in. They pass judgement, then once everyone has performed, the televote lines open.
All the elements of a talent competition are there. Including the critical panel; for this recording it's the pop singer Anastacia, Tamsin Outhwaite from some soap or other, Chucky Kaplow from So You Think... You Can Dance?, and Duncan James from Hannah-Oke.
We don't intend to be mean, it's not leaving our pen as a criticism, but Hannahoke is actually a rather good point of comparison for this programme. It's effortlessly young – the average participants probably can't remember 1990. Everyone is singing and dancing their little hearts out – and making a darned good job of it, we are honestly impressed by their abilities. The whole programme has an air of positivity about it – no-one is laughing at anyone's performance, such humour as the programme creates comes solely from jokes intended as jokes.
After every group has performed once, and once only, the televote opens. Inevitably, there are recaps and bits we've already seen, and there are the equally-inevitable wealth warnings. While the votes are being counted and verified, the public is entertained by the Don't Stop Believing Superchoir, which started out as five people, and by now has grown to be two dozen in size. And it'll keep on expanding until it ends up as large as Duncan James's credits list – we were warned of auditions in the Canary Wharf area.
But all this is a sideshow. The six choirs crowd back onto the stage, using every last square inch of space. Emma reveals the sides finishing second and third, because they'll be performing again. The winners of the public vote are straight through to the grand final, no messing about.
The judges then see the groups finishing second and third perform again. It's the same song from earlier in the show, which means the 90-minute programme has had just eight different performances. Whichever is their favourite came back for the final heat (15 August) to perform the same routine yet again, and the judges' favourite of all those progressed to the final.
Emma Bunton is not tremendously stretched in presenting this show: all she has to do is jolly the judges along and conduct some incoherent interviews with people who have just given their all on stage. She almost has a catchphrase, bidding us into the first ad break "...and don't stop believing", but that line doesn't return again until the end of the show. It's a nice show, there's a little glitter in there, and it's perfectly fine if you're into that sort of thing.
The only problem is that not many people are actually into that sort of thing: viewing figures were consistently over 1 million – good numbers for Channel 5, but perhaps not justifying the significant investment. And it didn't help that the show was dreamed up by Richard Woolf, who was relieved of his job when Richard Desmond took control of the channel at the end of July. Don't Stop Believing was shunted to an early evening slot, and we doubt it'll be returning.
That, we reckon, is a shame: the programme offended no-one, participant or viewer, and openly encouraged people to participate in the arts. It's more public service than The X Factor or Britain's Got Talent can ever be. The new owner of Channel 5 has made his position on good television known.
Round 1, Heat 7: Christ's College Cambridge v Liverpool
Are we up to the half-way mark already? So we are: this is the seventh of fourteen qualification matches. Bristol, Oxford Brookes, Cambridge colleges Queens' and Newnham, Porterhouse Oxford, and York are already into the final sixteen.
La rouge et le noir gets us going tonight, a question picked up by Christ's College Cambridge (who we'll be abbreviating to CCC). It was founded by William Bingham in 1435; old boys include John Milton, Charles Dickens, and Sasha Baron-Cohen. It's a fact that all four members of this team come from their national capital: three come from London, and the captain from Moscow.
People born in 1910 fall to this side, as does a set of bonuses on fictional pigs. Word of the week is "dolly", and it's answered by the Liverpool side. The original redbrick university, taking this description from the colour of the building material, was founded in 1882 and received its charter in 1903. Alumni include Carol Ann Duffy, Stella Rimmington, and Patricia Routledge. The university does admit men, too, and four of them are present on this year's panel.
The first visual round is on the script of fictional languages and constructed alphabets. We would say that it's all Greek to us, but that would be a fib, because we can tell our α from our ε. CCC lead by 60-20, a lead pegged back as Liverpool are able to turn geographical places into the letter N. CCC's next set of bonuses are based on K-numbers, the chronicle of the works of Mozart. The Cambridge side goes on to pick up the definition of "paradigm", and scores perfectly on Charles I's attempt to have members of parliament arrested for treason.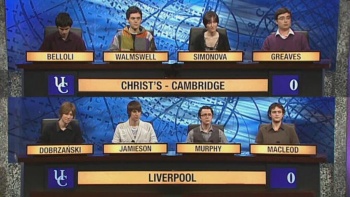 CCC: Chad Belloli, Joe Walmswell, Natasha Simonova, Alexander Greaves
Liverpool: Andrew Dobrzanski, Daniel Jamieson, Chris Murphy, Dave MacLeod.
Thumper is out of his depth when giving scientific definitions of the term "terminator". If he's not, we are. The audio round is upon us, it's Bob Dylan, that much we know, but no-one knows his songs. Which probably isn't a bad thing. CCC leads by 150-40, and it's Liverpool who end up suffering through three more versions of "A hard rain's gonna fall". "It's amazing how quickly these people fade. That was Bryan Ferry," remarks our host. Bryan who, asks the viewership, both those too young to remember and those old enough to forget.
CCC are back on form with types of express ship, and have the advantage of getting some questions on astronomical telescopes: home ground for their PhD candidate in astrophysics. The second visual round is news photographs from one year, all the teams have to do is name that year. CCC get this, and increase their lead to a completely unassailable 215-45.
The repechage board:
210 Cardiff
185 St Andrews
165 Exeter
155 Balliol Oxford
Still five-and-a-quarter minutes of this to go, and Liverpool need to multiply their score by a factor of three-and-a-half to threaten the repechage standings. The fight has gone out of the game: the audience is barely applauding the correct answers, and there's a relaxed air about the Cambridge side, almost as if they don't quite care. But they do, it's just an impression we're getting. Liverpool do pick up another starter with a couple of minutes to go, lifting them out of the sub-50 club, but it's CCC who get to spell Connecticut. That's it, the gong goes, and Christ's have won this by a landslide: 290-60.
Natasha Simonova led from the front for Christ's College Cambridge, seven starters there. The team did very well on the bonuses, correctly answering 28/42. For Liverpool, Andrew Dobrzanski, Daniel Jamieson, and Chris Murphy all got one starter and no missignals; Dave MacLeod had one of each, and the side made 5/12 bonuses. The overall accuracy was 52/80.
Next week: Downing Cambridge v St Edmund Hall Oxford

Heat 1
The second part of the autumn quiz block begins here, the first of 24 heats of Mastermind. Winners and six high-scoring runners up go through to the semi-finals, from where the winners will contest the next final. Probably on or about Good Friday next year. The things people will do for a glass bowl, eh? As we noted in the Ultimate Championship, contenders will now face two-and-a-half minutes of general knowledge questions.
First of the 96 is Lee Barnett, and he's taking the "Yes, Minister" and "Yes, Prime Minister" television series. These were series written by Peter Jay, and satirised the workings of Big Government. Not included in this round is Adam Curtis's suggestion that the show was propaganda for the public choice theories expounded by James Buchanan and taken up by Mrs. Thatcher and Dr. Brown. Included in this round is a cameo by Bob MacKenzie, king of the swingometer. After all this, the series begins with a pass. It gets better, it gets much better, ending on 16 (1).
Next up is Brian Daughterty, and he's taking The Bernoullis, a family of Swiss mathematicians. The round touches on the St Petersburg Paradox, the basic theory of probability, infinitely divergent series, and a few biographical details. The round gets nothing wrong, passes on nothing, and ends on a square number – 16 (0).
Andrew Teale is going to tell us about the Lancashire Fusiliers. This is an army regiment, based in Lancashire, and with a history stretching back to 1688. They've been all over the world, and many of their tales are recounted in this round. On a very good night, this is a decent score – 13 (1).
James Collenette will discuss the History of Argentina since 1800. You know, Argentina, big country in the bottom of the Americas, dead good at football. Oh, move the cake, it's under there. Inevitably, there's a question (but just the one) about the Falklands, and one about the currency changes of the 1980s. But it's a well-rounded set of questions, something from just about every round in there, and the final score is nothing to cry about: 13 (1).
Game on! With absolutely no disrespect to him, Andrew Teale is likely to set an unlikely record – the lowest score ever seen in the four-and-a-half minute version. He's going to make a good bid for 32, though, getting "American pie", the weapons of a retiarius, the location of Astana, and the Great Barrier Reef. He rather gets stuck in the middle of his round, and finishes on 27 (4). It's not a record he'll hold by the end of the month, we'll guarantee that.
James Collenette knows the ski centre at Aviemore, though perhaps not the fact that they once won Jeux Sans Frontieres aux Noel. He also knows the opera works of Engelbert Humperdinck (but that's not the 60s singer and punchline), and the death call of Robespierre. A little lucky to get the last question in, and 29 (2) is a quality score.
Lee Barnett is nothing is not consistent, starting his general knowledge round with a pass. David Bowie gets a nod, as does the Billingsgate market, but we have to report a rather large number of passes. When the round isn't going for you, this two-and-a-half minutes can feel like approximately two-and-a-half eternities. The final score: 21 (7).
So, Mr. Daugherty needs fourteen to win, and ten or eleven to be in contention through the repechage. We begin with 1600 Pennsylvania Avenue, and the uses of a Pegasus crossing. We still reckon it should be a centaur crossing. Fresian cows get the contender back on track after a brief run of errors, and oxbow lakes keep him on track. Does he remember The Clangers? No, sadly, but Da Vinci and the plot of Barnaby Rudge take him across the winning line with a moment to spare. 31 (2) is this week's winning score.
Brian Daugherty therefore progresses to the next round, and it would be foolish to bet against James Collenette's 29 (2) proving sufficient.
This Week And Next
Big Brother news, and just when we thought the show was going to go out with a damp squib, it went out with, er, a damp squib. Live streaming became live coverage of streaming on Tuesday evening, when the shallow moist zone in a split cold front was intercepted by a jet streak of drier and colder air. The net result was rain. Lots of it in a very short time – perhaps an inch of rain in about ten minutes.
The studio set is built to withstand such torrential rain, so long as the drains are clear. According to Phil Edgar-Jones, the show's creative chief, the housemates had blocked the drains with sock-balls they'd been throwing and that had landed on the roof. The water couldn't escape down the drain, pooled on the roof, and followed the first law of gravity to return to earth straight down – via the bedroom and living quarter. The contestants were evacuated for a few hours, and confined to the garden for much of Wednesday. Josie is joined in the final by Andrew, Mario, Dayve, and top game show fan JJ.
The line-up's been announced for a discussion programme, to go out next month. Big Brother's Last Supper will be hosted by Dermot O'Leary, and feature a representative from each civilian series: Craig Phillips, Narinder Kaur, Alex Sibley, Cameron Stout, Marco Sabba, Anthony Hutton, Pete Bennett, Brian Belo, Rex Newmark, Bea Hammill, and Ben Duncan. We're listing the names now to put a marker down: that would be a fabulous line-up for the championship of champions. We fear that the real line-up will pale in comparison.
Ratings for the first week of August had Celebrity Masterchef on top with 4.7m viewers. Tonight's the Night took 4.5m, the return of Millionaire 3.9m, and Odd On In 3.8m. Dragons' Den was biggest on BBC2, 3.2m (plus another 95,000 on BBC-HD), ahead of Big Brother – 2.75m on Wednesday for the Dickens task. Mastermind Championship of Champions pulled in 2.35m viewers. Figures for Channel 5 are not available.
Top on the digital channels was Come Dine With Me, but 545,000 is a low winning total. Big Brother's Big Mouth took second spot, 540,000 saw Ben Duncan prove himself a better interviewer than George Lamb. QI XL and Britain's Next Top Model tied for third, 430,000 each.
New shows this week include the final of Don't Stop Believing (C5, 5.30 tonight). Last year's The X Factor "stars" John and Edward Grimes get their own flea-on-the-wall show (ITV2, 8pm Tuesday; also TV3). The target audience won't be watching that rubbish, not when they could be watching Josie The Winner's inevitable victory on Big Brother (C4, 8pm Tuesday) and progression into Ultimate Big Brother (C4, immediately after) alongside some former stars of the show. Which brings us to a discussion of how much food goes to waste in the social action programme Great British Waste Menu (BBC1, 8.30 Wednesday).
To have Weaver's Week emailed to you on publication day, receive our exclusive TV roundup of the game shows in the week ahead, and chat to other ukgameshows.com readers, sign up to our Yahoo! Group.