Weaver's Week 2010-09-19
Last week | Weaver's Week Index | Next week
After the Big Brother blowout last weekend, it's back to normal service here. Five quiz shows: the first two Only Connects of the new series, one Mastermind, and two of this:
Round 1, Heat 10: UCL v Hertford Oxford
Week ten, and we kick off with this:
Q: What surname links a clergyman depicted skating on Duddingston Loch, a Scottish chemist noted for his work on electrolysis, an art gallery in Liverpool and the author of "The Color Purple"?
UCL, John Walker: Walker
UCL was founded in Bloomsbury in 1826, and was the first in England to have professorships in English, French, and Chemistry, though not all held by the same person. Alumni include Alexander Graham Bell, Ricky Gervais, and Coldplay. UCL was one of the first to admit women, and a third of its students come from outside the UK. Which explains why half the side comes from the Travelcard area, and all of it is male.
Thumper gets in Snark of the Week at the earliest opportunity, saying "No, that's completely wrong" when the side confuses baby's milk with beer. Czars of Russia and scientific terms beginning RH is a somewhat more profitable area, then Hertford kick off with a Bizarre Maps of the USA, in which the traditional divisions have been coloured with flags of approximate equal population.
Hertford Oxford originated in 1282 as one of the Halls of Teaching (see also: St Edmunds). Former students include John Donne, Thomas Hobbes, and the martyrs William Tyndale and Alexander Briant. Hertford have two students from the US on their side, not that it helps identify the countries with the states. UCL's lead is 65-5.
The Hertford captain is from Norway, and it's clear that Roger Tilling has been taking lessons in how to pronounce her name authentically. It's also clear that this came as a surprise to her. Breakaway republics in the former USSR are meat and drink for UCL, as are the compositions of various precious stones. But Hertford get back into the contest with knowledge of St Lucy, and trail 110-40 when no-one gets the audio starter.
It's on plagarised music, songs that sound rather close to something else. None of the sides can identify the riff to George Harrison's hit when played by the Chiffons. The bonuses feature both versions of the songs, which is going to hit the repechage chances of the losers. But not as much as not answering many questions correctly does. Anyway, UCL may know their own names, but not their own alumni, failing to spot a song that avowedly wasn't ripped off by Coldplay. But everything sounds like Coldplay now.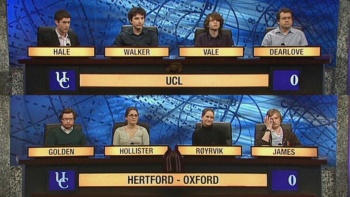 UCL: Christopher Hale, John Walker, James Vale, David Dearlove
Hertford Oxford: James Golden, Annie Hollister, Ellen Røyrvik, Chris James
UCL do better at naming cities from their metro stations, and Hertford know a little about quarks. The second visual round is upon us, pictures of 19th century Russian writers, and UCL's lead has been whittled away a little, but still stands at 140-80. Can they make an unlikely comeback? Well, perhaps: former Italian colonies lift the side to the century, the first time in four weeks that both sides have broken three figures.
But Vera Lynn is a starter for UCL, and they're perhaps running the clock down as much as is legal while conferring on their answers. More harsh-but-fairness as Thumper rejects "Which elm disease" from the captain, even though the teammate gives "Dutch elm disease". Hertford pull within 30 points with three minutes to play, but drop further back when confusing Poincare with Fermat. UCL also get a missignal, and Hertford pick up the starter, and the bonuses on languages help them to pull within 15.
Game on! There's a starter about a short story writer, dropped with a wrong answer from UCL. Another starter meets the same fate, and those buzzes from UCL help to run down the clock when they need it. A third starter is dropped entirely, and a missignal from Hertford almost ends the game. The starter is picked up by UCL, and that is Game Over. There's no time for further answers, and UCL has won, 155-125.
John Walker was best on the buzzers for UCL, four starters. The team made 13/27 bonuses, and picked up two missignals. James Golden had four for Hertford Oxford, they were right in 12/24 bonuses and had three missignals. Every contender got at least one starter, and the overall accuracy rate was 43/76.
Series 4, heat 1: Epicurians v Courtiers
"What do you get if you cross an epicurian with a courtier" asks Victoria. The Epicurians: David Brewis, Katie Bramell-Stainer, and Aaron Bell. That'll be a United Kingdom Superperson, the lovely Mrs. David Stainer of The Crossworders, and the famed Brewis. The Courtiers work together in the Northern Ireland court service, and this team is comprised of Mark Hanna, Richard Ronaldson, and captain Paul Mitchell.
Round one, what's the connection? The Courtiers have won the toss and decided to go into bat, and they kick off with a point of female and black pride, first black women in particular posts. The Epicurians have trebles all round, and we vote two points for the Courtiers, on voting systems.
The Epicurians have the picture round: haystacks sets them thinking about wrestlers, then there's a horseshoe, a tent, and a baseball. Wrestlers is their eventual answer, and it's so wrong it's pitched across to the other side for a bonus. Courtiers reckon the next one is things that had sides of iron, and they're clad in three points. Epicurians have the audio question, and doctor their way to a pair. It leaves the Courtiers ahead, 7-5.
Round two remains as it was, what's next? Work out the connection, and tell us what comes fourth in the sequence. What's the name given for a single line of poetry? Er, a line, and that's worth a point or two. Epicurians have what looks like battles in the Civil War, but it's not Edge Hill, so the Courtiers will try Naseby, and that's worth a bonus. Years in a US high school (or college) prove no trouble for the Courtiers, two points there.
"Lottery balls!" is the shout-out as soon as the Epicurians see the first clue, but what colour are the 30s? Green is the right answer, but they need enough reassurance to take two points. "Hammersmith Palais, the Bolshoi Ballet, Jump back in the alley", but what comes fourth? "Lily of the Valley"? "Reasons to be cheerful"? No, it's "Nanny goats". Obviously. Epicurians have the picture clue, and readers will need to be warned that this round contains a picture of Simon Mayo. What else is Mayo famous for? Irish football, which should lead to the largest county in the country. Courtiers have the lead, 12-9.
On to the connecting wall, sixteen clues and only one way to solve it perfectly. The Epicurians kick off this round, and begin with words that end in four vowels. Then there's a group of things that can be jumped, including a definition of "Jumping the Shark". Words that make countries when suffixed with "land", and first presidents form the grid. The team solved this in a very small time indeed, and score large. Ten points!
Courtiers go next, and begin with the link between Danger Mouse and Granville: the works of David Jason. Famous Cubans? Words that mean "quick"? Oh, is there a set of nicknames for England bowlers in there? People with eyepatches? Time is ticking down, and eventually the side get a second set, and resolve the grid correctly. The second group was eyepatches, there was a set of "quick" words. The final group beats the team: indeed, it's cricketing nicknames. "Oh? Oh!" says the team. Seven points!
So, going into the final round, the sides are level! 19-19 makes it sound like a Paul Hardcastle megamix. Missing vowels is still the last round, and we begin with a group of martial arts. That goes 3-1 to the Epicurians. Periodicals founded in the 19th Century is another 3-1 match to the Epicurians. Cheeses mentioned in the Monty Python sketch ends, yep, 3-1 to the Epis. Peninsulas has a slight change, 4-0 to the Epicurians. Films about the Vietnam war? 3-1. Types of bet is a solo round for internet bookmaker Aaron Bell, 4-(-1). Artistic movements goes 2-0 to the Epicurians, who have really run away with the match in the final moments there, winning as they do by 41 (FORTY-ONE)-22. That really is a record score.
Heat 4
First up tonight is Shumit Rehman, and he's got a big subject. The Academy Awards (est. 1929) are dished out by the Academy of Motion Picture Arts and Sciences, a Hollywood-based organisation for the promotion of Hollywood. It is best known for handing out awards in an annual ceremony. There have been around 2000 of these gongs handed out, and that makes for a larger subject than it might look. The contender starts slowly, picks up speed well, and finishes on 8 (3)
Alex Rainbow takes the life of Bertrand Russell (1872-1970). Russell was an English philosopher, primarily working in mathematics. He devised the Russell Paradox, showing that set theory was incomplete, presaging the way for Godel's Incompleteness Theorem. He won the Nobel Prize for Literature in 1950. In a reverse of the previous round, this one starts strongly, falls away in the middle, and recovers at the end. 8 (5)
Laura Humphreys discusses the life and career of Vivienne Westwood (b. 1941). Westwood is a fashion designer, whose work with Malcolm McLaren inspired and popularised the punk scene of the mid-1970s. She continues to design clothes, often making political statements with her work. This round began strongly, and only flagged in the final few moments – 13 (0) is a very good achievement.
John Wharton is our last contender, offering Julius Caesar (c. 100BC – 44BC), the Roman dictator. Caesar served in the Roman military, and was elected Consul. He led a successful campaign in Gaul, and was promptly relieved of his duties. Not taking this lying down, Caesar led his troops across the Rubicon river, and his troops beat Pompey. Senators grew wary of Caesar's power, and a group of them assassinated Caesar on the steps of the Senate. Again, a strong start comes to a halt with a prolonged pause, and it perhaps throws him off his stride. 13 (4).
As happens from time to time, we'll be seeing the contenders again in the same order. Mr. Rehman gently picks off his correct answers – ebony and "Easy Rider" and George Gallup, to finish on 18 (3). Mr. Rainbow moves slightly faster: whales and Queensberry Rules and Sherlock Holmes all fall into his bag, and his score advances to 21 (10) – it's still rare for anyone to score five more on their general knowledge than their specialist subject.
Laura Humphreys is a young contender, and it's generally held that young contenders don't do tremendously well on general knowledge. "Who wrote the Twilight novels?" has us screwing this question up into a small ball and depositing it into a nearby bin. Lady Gaga, Gretna Green, netball positions, and eggs Benedict all crop up in this round, and all provide points. She almost had an extra point with Jamie Cullum, being Mr. Sophie Dahl. Lots of attempts to answer rather than pass, finishing on 25 (4).
Which means Mr. Wharton needs thirteen to win, otherwise it's surely bust. The Three Musketeers, the flying Wright brothers, and the performance career of U2 provide early points, and there's no danger in passing at all. Egyptian god Ra, Fulham, and Richard the Lionheart all pop up later in the game, and though there are a few more passes, the round continues to tick over and pass the winning mark. The final score is 27 (8).
So John Wharton will appear in the second round. Laura Humphrys will make the repechage board when we publish it after heat 6, but we doubt that she'll survive to make a return.
This Week And Next
It's all change at the broadcasters. Jay Hunt is moving from BBC1 to Channel 4, where she'll be the first "Chief Creative Officer", charged with finding something to replace Big Brother. It leaves a hole at the top of BBC1. Separately, Michael Lyons has said that he won't seek to chair the BBC Trust for another four years, and will leave at the end of April next year. The BBC Trust is the panel of bigmouths who claim to represent the viewer and listener, and tell the management which stations they can't close down.
An unusual ratings top three for the week to 29 August. The Autotune Factor remains number one, with 10.8m people seeing the show. 5.25m were watching BBC1's Great British Waste Menu, and 4.3m stayed all three hours of the Big Brother final. Dragons' Den was biggest on BBC2, 3.15m there, and 3m for The Great British Bake Off. No surprises on the digital channels: just over 2m for The Xtra Factor on ITV2, and 740,000 for the main show's Sunday evening repeat. 680,000 saw Come Dine With Me, and Big Brother's Big Mouth attracted 580,000 on both Tuesday and Friday nights. The X Factor on ITV-HD had 555,000 viewers.
Ratings in the week to 5 September show a rather large gap where ITV's programmes should be – we simply don't have any numbers for Britain's Most Popular Button. We do know that BBC1 failed to put any game shows into its top 30, BBC2 was led by The Great British Bake-Off, and it just beat the best of Ultimate Big Brother, both coming in around 3 million viewers. The usual leaders on the digital channels – 1.69m for The Xtra Factor on ITV2, 665,000 for Come Dine With Me on More4, and 490,000 for Mock the Week on Dave Little Brother and Big Mouth both peaked above 450,000. Only Connect series 3 repeats brought 260,000 to BBC4, and Total Wipeout on CBBC had 290,000 falling off their seats. Well, if they will sit on those round red chairs...
QI returns this Friday (8.30 BBC1), and do beware that BRIAN BLESSED is on Family Fortunes this Saturday. Two editions of The X Factor this weekend, 7.30 Saturday and 7.45 Sunday; the latter follows the first in a new series of The Cube (ITV, 6.45 Sunday).Viewers in Ireland get their new series of The Apprentice (TV3, 9pm Monday) and Survivor: Samoa (TG4, 9.05 Tuesday). And if you're suffering from Big Brother withdrawal symptoms, you may wish to watch Streetmate (4 Music, 9pm Mo-Tu, 7pm We). If that doesn't do the trick, rush yourself to Casualty (Watch, 8am Thursday) where you'll meet a future contestant.
Heat 11: Durham v Magdalen Oxford
Two former winners on stage this week, and we begin with Little Billy Shakespeare question of the week. It's taken by Durham, which traces its history to 1832 and the funding of William van Mildert. Former students include George Alagiah, Biddy Baxter, and Andrew Strauss.
"Art for art's sake" is Durham's first set of bonuses. It doesn't take long for the opposition to get on the scoreboard. Magdalen Oxford was founded in 1458 by William Waynflete, the Bishop of Winchester, it was originally a choral institution, and the college choir sings from the tower on May Morning. Alumni include John Betjeman, Oscar Wilde, and Ian Hislop.
So, what happened to the first man to wear roller-skates? He became the first man injured while wearing roller-skates, a tradition maintained by pretty much everyone else who has pulled on a pair of these lethal devices. The first visual round is on the crests of Italian cities, it falls to Magdalen, and they lead by 60-15.
We're back to "Anglish" for another set of bonuses, this time about Firststuffs and Uncleftish Beholding. We're sorry, we keep expecting Mitchell and/or Webb to come bursting out of the screen and laughing at these foolish names. Magdalen do well on that, and Durham finally get going again after remembering who shared the Nobel prize for Physics with Schrodinger. Magdalen are perfect on fictional Joes, and we thought our reference to "The Joe Show" last time was a hoax.
Durham knows their Pollocks, young Jackson of that ilk; Magdalen's resident US resident knows about US laws. The audio round is upon us, and it's classical works embedded in popular music. It proves to be more difficult than it looks, and Magdalen lead by 155-55. Durham are right to try and buzz on "Beowulf", but the question's describing a monster, Grendel, and that's a missignal. Bad luck. "The Great Gatsby" is more grist to the Magdalen mill, but the team don't know about Sigourney Weaver. We're pretending to be offended: birds of a feather and all that. It's also the first time in the entire show that a set of bonuses has had fewer right than wrong answers, quite remarkable for 15 minutes in.
The Mannerheim defensive line in Finland form another starter, we thought that all they had to do was put up Lordi puppets and they'd be safe. Literary prizes are another 25 points for Oxford, there's the rainbow in mythology, Magdalen have a lead of over 200 points and are threatening Sheffield's record of 315 points. Durham pull back a little, but don't get much on chemical alloys. The second visual round is on film characters played by two different actors, it also falls to Durham (or their film buff Matthew Griffiths), but they have some catching-up to do, trailing 260-85.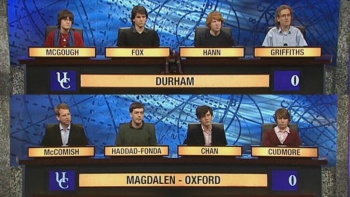 Durham: Lucy McGough, Roger Fox, Matt Hann, Matthew Griffiths
Magdalen Oxford: James McComish, Kyle Haddad-Fonda, Matthew Chan, Will Cudmore
Indeed, Durham almost need to double their score to take a place on the repechage board, and coastal features put them a little bit closer to that goal. We'll take Feeling Slightly Smug to have Got This question of the week:
Q: The name of which class of organic compounds is contained within the names of two cathedral cities on the River Severn, one on the Dee and one on the Itchen in Hampshire?
We got it on the Dee. The cities are Worcester, Gloucester, Chester, and Winchester. Magdalen, meanwhile, are passing 300 points with knowledge of the Suzuki violin method, and advancing on maritime mammals. And it goes on: this isn't just a minor win, this is a tremendous appearance. At the gong, Magdalen have won by 340-120.
Top side's back on the repechage board:
210 Cardiff
185 St Andrews
165 Exeter
155 Balliol Oxford
How good were Durham? Pretty darned good: everyone got a starter, the bonus conversion rate was an entirely respectable 12/21, there were a couple of missignals, Matthew Griffiths finished with four starters. But Magdalen were a class apart: 38/48 on the bonuses, just two missignals, and Will Cudmore finishes with seven starters. The overall accuracy rate is a phenomenal 73/97.
Series 4, heat 2: Wrights v Urban Walkers
"Mature, tasteful, and leaving you slightly hungover" is this week's show. The competitors are the Wright family from Merseyside – Pete and Liz and their daughter Rosa – and three people who take long walks across European cities. According to Alasdair Dawney, Edward Page and Edmund Kirby, London is the best walk.
Round 1 kicks us off this week, which is a small mercy. The Wrights won the toss and elected to bat, and they get a guest appearance by the ampersand in company names, and two points. Walkers (as we'll be calling them) take four clues to find things neutral. US presidential candidates from outside the Republicrats give a point to the Wrights.
Walkers have the pictures, a buffalo, a moose, a Chinese mandarin is that? Secret societies? No, and nor are they cities. The third was samurai, the last sheep, and there's no S in the plural form. Wrights get the music clue and ask "Are they all about men?" Bit broad, there – it's actually paintings and painters, and a point to the family. Walkers have pairs of words that are equal, and reckon they're confused by predictive SMSs. Goodness, does Mr. Page of the Wakers not have a mobile phone? Neither does this column, so we're rooting for him. Not that it's doing any good, the Wrights lead 4-2.
What's next? Grosvenor, Chelsea, Albert – the team is thinking London squares, we're thinking bridges on the Thames, and the next is Battersea. Apparently. Question two is how to get runs in cricket, and it's another panel beater. The Wrights are right on days of Holy Week, and that's two points for them.
Oh, Star Trek movies for the Walkers. If only they had Mr. Griffiths from UC for this question! We're completely nonplussed by the answer. "Directors at the National Theatre" is the right link, but it's not Kevin Spacey, he's at the Old Vic. The Walkers get islands in some order, and go for Australia. Gah! It's largest islands in size, so Greenland is the answer. Australia, as Victoria reminds us, isn't an island. Bonus for the Wrights, they lead 8-2.
"Lots of red herrings swimming about on this wall," we're told. Never knew fish could climb walls, but there we go. Fashion designers is the initial thought of the Walkers, but it's wrong. Members of Donald Duck's family does turn out to be a group, and they think about golfers before trying horsey terms. What was that second group of names? That's the fashion designers, including Vivienne Westwood from Friday's Mastermind. Circles come next, and the final one is the kicker: words that change their meaning with an acute accent on the final e. That defeats the team, but they did well. Seven points!
What's in for the Wrights? Areas in New York are the early thought, but then they get going with synonyms for borrowing. Lots of jabbing at counties of New York gets the second link. There's certainly some types of cake there – or are there? They don't get one out in time, because no-one's heard of buffalo cake. For the fairly obvious reason that no-one's invented buffalo cake yet – it's sauces. Dust is the final link, so in spite of getting sidetracked by cake (we're right with them), five points!
The Wrights have the lead, 13-9, as we rush headlong into Missing Vowels. We kick off with hairstyles, and that's a 4-0 win for the Wrights. Songs produced by Phil Spector come next, and that's 3-1 to the Walkers. Ivy League universities also goes 3-1 to the Walkers, but parts of an insect is a 4-0 win to the Wrights, and that's feeling like game over. Ball games goes 3-0 to the Walkers, and that's time! Wrights have won, 23-18.
"They think Aristotle is chicklit". More Only Connect next week. We'll be back with a recap of this, UC, and two Masterminds, on Sunday the 26th.
To have Weaver's Week emailed to you on publication day, receive our exclusive TV roundup of the game shows in the week ahead, and chat to other ukgameshows.com readers, sign up to our Yahoo! Group.