Weaver's Week 2010-09-26
Last week | Weaver's Week Index | Next week
Well, that was a rather interesting conference we've been to. No main review this week, but we do have a piece of whimsey a little later on – our mind rather wandered in one of the keynote speakers, and we got past "how did Keynotes work" long before they'd droned through their notes. First, though, we can hear John Humphrys warming up.
Heat 5
Amy MacPherson is going to tell us about Sharks (Chondrichthyes Elasmobranchii), carnivorous fish, found worldwide. Er, what else is there to say? Quite a bit: apparently, dried shark skin can be used as a polishing abrasive, the animals can detect electrical currents in the water, and some of them can glow in the dark. The round has bite, the contender bites back, and finishes on 12 (1).
Stephen Rooney discusses Leeds United – the Don Revie years. After retiring from playing, Don Revie moved into management in 1961, securing promotion from Division III to the top flight, twice finishing runners-up before winning the league in 1968 and 1974. Revie encouraged a physical, defensive style, which he took to the England management that summer. The round gets off to a poor start, as the contender spends forever not remembering the previous manager, and then breaking the cardinal rule of Don't Interrupt The Host, His Ego Can't Stand It. Things look up rather well after that, ending on 10 (2).
A classic Mastermind subject next: Louis XIV of France has been picked by Nick Spickernell. The Sun King (1638-1715) constructed the palace at Versailles, and reigned over his country without bothering with a prime minister or necessarily paying attention to advisors. Lots of questions on his mistresses there, and the round ends on 12 (2).
Finally, Geoff Weller has been hearing the Manic Street Preachers (est. 1988), a band from Blackwood, South Wales. They've reinvented themselves several times over their career, starting out as glam-punk poseurs, then turning towards a more polished sound after guitarist Richey Edwards disappeared in 1995. In the second decade of their career, the band trod an increasingly familiar groove, and critical consensus suggests they've released little of note since their 2002 greatest hits album. This may be the only time that Snub TV and Shampoo, the original promoters of "Girl Power", are remembered. It's not quite a perfect round, but 15 (1) is a very good one.
Mr. Rooney begins with the animal on the Welsh flag, isn't given "uprising" for naval "mutinies" (a bit harsh, we think), confuses the plot of The Beverly Hillbillies with that of The Waltons (we didn't realise either had a plot), but still recovers to make a decent score, 21 (4).
Amy MacPherson is able to spot a tsunami from its definition, and who performed "Purple Rain". Sadly, after this, the round becomes almost a textbook pass spiral, only redeemed by Coco Chanel. Two-and-a-half minutes of this is sheer torture to watch, we dread to think what the contender was feeling, and the final score is 19 (11).
Mr. Spickernell brings himself a point by knowing the literal meaning of Edelweiss, and what to find over the Menai Strait – that's the island of Ynys Mon, not Llanfair... Oh, that's ended the round, 25 (7) the final score.
So Mr. Weller needs eleven to win. Austin Powers was supposedly based on Simon Dee? Don't see it ourselves. The contender remembers that Mowgli was in the Jungle Book, and that the drunk priest of Craggy Island was Father Jack. Tarot cards lead him over the finishing line, with a final score of 27 (5).
This Week ...
Isn't that typical. Minutes after consigning the last Week into the ether, we find there's some actual news. British Sky Broadcasting is to close Virgin 1, er, Channel One, on Freeview, and replace it with the quiz channel Challenge. Brilliant news? We think not, but that's mostly from a belief that BSB's ultimate owner Rupert Murdoch is far too powerful and insufficiently accountable for his actions.
Ratings news in the week to 12 September, proving that The X Factor is popular (11.9m on ITV, 560,000 on HD), and that Strictly Come Dancing has lost none of its sparkle (7.45m for the launch show, plus 275,000 on HD). 71 Degrees North came third, 4.9m for its launch show (and another 300,000 on HD). Family Fortunes (4.35m) proved more popular than the Big Brother finale, 4.1m saw the inevitable conclusion. The Come Dine With Me special had 2.55m viewers live, and a stonking 840,000 on the +1 service, we think that's the highest score on a catchup channel. Over on BBC2, game shows take the top four places overall, led by Dragons' Den (3.15m), Mock the Week and University Challenge (2.65m), and The Great British Bake-Off (2.6m). Pointless creeps into the overall top 30, as 1.55m saw Friday's episode.
Top of the digital pops remains ITV2, Xtra Factor had 1.315m viewers, Celebrity Juice 1.025m. Come Dine With Me on More4 was seen by 850,000. Only Connect returned to BBC4, and tied its record with 505,000 viewers. It's more popular than the final Big Brother's Little Brother (435,000). CBBC also had a good week, Total Wipeout (375,000) and Blast Lab (325,000) recorded their highest scores of the year.
Incredible scenes on Popmaster last Thursday. Not only did this column get to hear the quiz, but we heard a competitor achieve a perfect score of (er) 39. And then, just to prove that the first time wasn't a fluke, the second contestant also scored a perfect 39. Twenty questions asked, twenty questions correct. Is that a record? (No, a record is a round black thing with a hole in the middle.)
Heat 12: Edinburgh v Jesus Oxford
We begin with pairs of things that are all opposites, and apparently can be used as terms for equinoxes. It's picked up by Edinburgh. Founded in 1582 by James VI, graduating students are capped with the Geneva Bonnet, made locally in 1849. Famous alumni include some chap called Gordon Brown, whoever he was.
One hundred years since they were fighting for women's votes and reform of the Lords. Doesn't time fly? Edinburgh have a bit of a blank on theatre, but know a good exclusion principle when they hear one.
Knowledge of Churchill's speech upon assuming the prime ministership gets Jesus Oxford into the game. The elder college by eleven years, Jesus was founded by Hugh Price from Brecon, and celebrates St David's Day with a dinner of lamb and leeks. Alumni include the poet TE Lawrence and Welsh political commentator Sian Lloyd. This week's team was picked by James Waterson, a quarter-finalist from this programme last year. Their reward is a series of bonuses on the number 51.
We're at the first visual round, naming bodies of water from their shape. More difficult than it sounds, we're more accustomed to concentrating on the countries and the land around. Not that Edinburgh has this trouble, leading as they do by 70-10.
Edinburgh know a lot about traditional uses for trees, less about things called "witches", and they're likin' their lichens. Edinburgh had a Mr. Grey and a Mr. Gray at the ends of their team – the announcer isn't making any distinction between the two players when they buzz, and they buzz a lot. The audio round is to know works used by Quentin Tarantino, and it's the first they've got in this middle stanza. Edinburgh's lead is 135-25.
We're not quite writing "game over" in our notebook just yet, but if Edinburgh continue this pace, it can't be far away. Certainly a far cry from last season's match between the two sides, won by Edinburgh on the tie-break. The Scottish side does well on early 19th-century foreign ministers, decently on archipelago groups, and well on pairs of words that differ by the addition of the letter S. At this point, we do know the winner, everyone's got a starter there, and unless something remarkable happens in the next moments, Jesus aren't going to be making the repechage.
Andy Warhol's pictures of famous people form the second visual round, it goes to Edinburgh, and they're up by 230-25. Is it impolite and unsporting to run up the score against weaker opposition? It might not be: the questions will be asked anyway, watching a series of questions dropped by both sides makes for tedious viewing, and so long as no-one gloats, we're not terribly bothered. Edinburgh push past 300 points, the third side this series to do so, and second in as many weeks. There are wild celebrations on the Jesus side as they get a starter question right, and the match ends with Edinburgh winning by 335-35.
Two return from the repechage board:
210 Cardiff
185 St Andrews
165 Exeter
155 Balliol Oxford
Andrew Gray was best on the buzzer for Edinburgh, collecting nine starters; every member made three or more. The side made 29/54 bonuses, but it did feel that they eased back a little in the second half. Ross McDonald had two starters for Jesus, 2/9 bonuses and one missignal. The overall accuracy rate: 53/88.
Next match: University of the Arts, London v Imperial College
Whimsey
Before the next show, a message from Victoria Coren.
"Just let me just explain something at this stage. It's a new series and something's changed. Only Connect is a much-loved show. There's only one thing that people have ever disliked and it is the Greek letters. People have written in over the last few series and said these are pretentious. They're elitist, snobbish even. Somebody even said they were silly. We listened. The Greek letters are gone. So, please choose your Egyptian hieroglyph."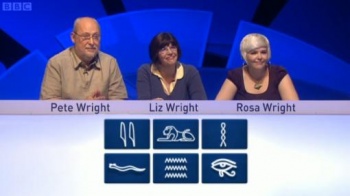 The Wright family are joined by the new stars of the show: Two Reeds, Lion, The Wick of Twisted Flax, Horned Viper, Water, and Eye of Horus
It's time to whip out our contacts book, talk to another hugemungous star of the game show world, and ask, "What's happening, δ?"
δ: We've been dropped for being a bit too obvious.
WW: But you're the stars of the show! I mean, you got your pictures in the opening titles and everything.
δ: Yes, but it's a character-driven world, this business we call show. One day your sign is in the ascendant, the next you're out on your ear, replaced by the newest thing in obscurity.
WW: That's a shame.
δ: It's a career risk. We're all philosophical about it. I mean, we've been doing the rounds for a couple of millennia, and we've rather got used to our sunny corner of the Med.
WW: So those paparazzi pictures of gamma and zeta looking the worse for wear in a recent Νεος magazine?
δ: (bursts into laughter) I could not be more unbothered by that [organ]. They'll just print any old [rubbish] – we've seen their like before, and it always always cracks us up. I mean, that Homer – great at telling stories, abysmal when it came to the basics of journalism, like checking basic facts. As he'd say himself, δω.
WW: We must apologise for the language there. And after washing your mouth out with soap and water, what's next for the Greek letters?
δ: World domination! Taking over the known universe!
WW: Really?
δ: Naah. Kicking back in our sunny corner of the Med, enjoying olives and goat's cheese. I must dash, ζ is bringing round a charming character from China that he's met from all this fame.
Thank you ever so, δ. On with the show!
Series 4, heat 3: Radio Addicts v Taxonomists
High culture meets low culture, agriculture meets Culture Club. No deals, no tiers, no boxes containing money, though we thought the only reason why anyone might call the studio was to announce the arrival of another cake.
No, this is not Test Match Special, this is the Radio Addicts: Dave Clark of Life After Mastermind fame, Neil Phillips, and Gary Grant. Gary likes the national anthem, and always turns his radio off when it's played at 7.02 each evening. Facing them are the Taxonomists: Carol Scott, Judi Vernau, and Liz Scott-Wilson who won University Challenge New Zealand in 1981. Taxonomists help organisations to arrange things so that they can find them again; some people call them "information architects".
Radio Addicts kick us off this week, and they reckon they've got some video game characters — maybe they all kill vampires? Good enough for two points. Taxonomists start with 29 Acacia Road, and we reckon we've got the banana here. 52 Festive Road is the final link, it's not addresses in Neighbours, it's not any old television characters, but animated characters. Radio have the audio round, and get something from "Cats" and from the "Pussycat Dolls", and that's two points.
Taxonomists have the picture round, and begin with a picture of a metal globe, then the Eiffel Tower, the Seattle Space Needle, and the Crystal Palace. They go for structures built for World Expos, and that's good for a point. Radio have four common words, changing meaning – not on the stress, not on the vowel, but on whether they have or have not a capital letter. Nasty! Taxonomists end the round with some shellfish thinking, preparing food in various ways. A point there, but it's Radio Addicts who lead, 4-2.
What's next? Radio find that Jacks lead to Jills to Cup to Pint and hence to a Quart. Liquid measurements, common in the US. And, for the record, one cup equals 240ml. Two points there. Taxonomists have the pictures: spinning top, Coliseum, spinning top again. Not the Parthenon, not the Coliseum again. No, it's the Louvre Museum, from the Cole Porter song "You're the top". Radio have absolutely nothing to go on, they're thinking measure, and guess at "Long" on the grounds that they might as well have a go. No, this is one about cricket deliveries: short, good, full, Yorker, then a full toss, then what we bowl. Something that never reaches the stump.
Taxonomists have Murray and Willis, thinking Australian rivers. It's not, it's General Secretaries of the TUC, ending with the incumbent Brendan Barber. Bonus for Radio there, and they could have gone for three with the largest Scottish islands; they do get a pair. Taxonomists have the round of Numberwang, ending up with 16, which turns into 91 when inverted. That's worth a pair, and means that Radio Addicts lead 9-4.
Some work to do for the Taxonomists in the Connecting Wall. Ranks in the Roman army, things with stripes on it, "Great ___" are all offered, and the last of those forms a group first time out. Might there be a load of tanks there? Collections of birds: what else might a Parliament be? There are some tanks, and that leaves four things with stripes. Nothing left to pick up. Ten points!
Radio Addicts have their wall, and begin thinking about characters in Madame Butterfly. Types of spider, types of crane – oh, spin-off television shows Lewis, Angel, Joey, Frasier. There's a set of inks there, and the last group are not so much super-villains in Spiderman as characters in Mortal Kombat. Seven points!
Radio Addicts have a 16-14 lead going into the final round, mssng vls. Businesswomen are the first category this week, and after some to-ing and fro-ing ends up going to Radio 3-0. Psychological conditions is for the Taxonomists, 3-1. More Cole Porter songs, these end up Radio 3-0. States in India ends the quiz, a last point to the Taxonomists, but their 18 isn't enough to beat the Radio Addicts' score of 23.
Next match: Britpoppers v Geocachers
Heat 6
Mr. Humphrys, look, this is not the toughest test on television. No-one gets muddy. No-one falls in the water. No-one constructs a model of the Taj Mahal out of matchsticks. No-one is asked to take off their trousers... In The Cube. Ahem.
Min Lacey, fresh from her success on Only Connect earlier in the year, tonight takes the Life and Works of Charles M Schulz (1922-2000). Schulz is best known for the "Peanuts" cartoon, featuring various aspects of his personality – the neurotic Charlie Brown, the fantasist Snoopy, and so on and so forth. Having announced his retirement a few months earlier, Schulz died on the evening before his final Peanuts strip was published. The round contains questions on Schulz's life as well, and a very few other cartoons are mentioned, but most of the round is on the famed strip. 12 (0).
Matt Rowlands has been studying the 2nd Ranger Battalion in World War Two. This turns out to be a company of men, mostly from Pennsylvania, New York, and New Jersey, who participated in the D-day landings in Normandy. They were made more famous by the film "Saving Private Ryan". For some reason, it feels like a slow round by Mastermind standards, but 15 (0) is anything but a slouchy score.
Louise Broadbent will discuss the Plays of Tennessee Williams (1911-83). Williams wrote anachronistic plays, explaining contemporary themes in historical settings, and wrote complex and deep characters. His best-known works are probably A Streetcar Named Desire (1947) and Cat on a Hot Tin Roof (1955), but he was still writing until his death. It's always difficult to set concise questions on the themes and motifs used between plays, and credit to the authors for attempting this feat. Another strong round, finishing on 12 (2).
Simon Martin is going to busk on UK Prog Rock 1968-1978. Progressive rock is somewhere between heavy metal, jazz, and classical music, rebelling against the status quo assumption that all songs should be in 4/4 time, contain a limited number of chord sequences, and be about three minutes long. These songs had unusual time signatures, all sorts of chords, and went on for about ten years. Exponents included Jethro Tull, Hatfield and the North, and early Genesis. Arguably. (And if you wish to argue about it, please do so elsewhere.) There's the inevitable mention for Theme To Election Night, and the round ends on 12 (2).
Are we going to end up with a finely-balanced outcome, dependent on the contribution of minority passes? Quite possibly. Min Lacey is first back into the chair, and hears that Mr. Humphrys's all-time hero is Charlie Brown. Pachyderms, the Gulf Stream, Lennox Lewis, and Romania all provide correct answers, and when Min Lacey doesn't know the answer, she can put up a very creditable guess. This means she doesn't take passes, and that can prove helpful. So can knowledge of the new stars of Only Connect, one of the questions being about Horus. The final score is 28 (0); it's still rare for any contestant to score more in the (now longer) second stanza, and a +6 difference is rare.
Louise Broadbent kicks off with Nelson's reputed final words, gets museums devoted to Dali, and completes a Noel Cowaerd lyric. But it's clear that she doesn't quite have Min Lacey's confidence; she's taking passes here and there, leaving pauses while thinking, and none of this bodes well for progression. But let's not knock her achievement – any score in the twenties is a very good mark, and there's no shame in 23 (6).
Repechage board is now full!
Ann Skillen 30 (7)
James Collenette 29 (2)
Ian Packham 27 (4)
Laura Humphrys 25 (4)
Simon Martin 25 (6)
Nick Spickernell 25 (7)
We suspect that the line will be drawn at 27 points and very few passes.
Mr. Martin has another question related to the OC glyphs, this one's about the viper. There's one about Lord Haw-Haw, the unforgettable goddess of memory, and where one would find the Cubs and White Stockings. The round picks up some momentum, but takes a detour to the Seychelles when it should go to the Channel Islands, and finishes on 25 (6).
Mr. Rowlands needs ten to make the repechage board, fourteen to win. He doesn't need a siesta, except that that's his first, correct, answer. There are a number of erroneous responses, but we can see where he's coming from – zigging with Seine and algebra when the zags are Loire and calculus. In the end, there's a long string of errors and passes, and the score is not going to be enough, 20 (3).
...And Next
Masterchef's back this week, The Professionals (BBC2 and BBC-HD, Mo-We) is the fourth series under that banner so far this year. Secret Dealers (ITV, 3pm) comes to weekdays, The Unbelievable Truth (Radio 4, 6.30 Monday) starts another series, there are new runs of Genius (BBC2, 10pm Monday) and Argumental (Dave, 10pm Tuesday), and there's the first performances on Strictly Come Dancing (BBC1 and BBC-HD, 9pm Friday and 6pm Saturday). We must also warn readers that ITV's highlight for next Saturday night is an interview between Piers Morgan and Alan Sugar. We don't much mind who loses, so long as they both do. And do be aware, Mr. Sugar's Masterclass in Bullying resumes on Wednesday week. Don't forget to miss it.
To have Weaver's Week emailed to you on publication day, receive our exclusive TV roundup of the game shows in the week ahead, and chat to other ukgameshows.com readers, sign up to our Yahoo! Group.