Weaver's Week 2011-12-18
Last week | Weaver's Week Index | The Week of the Year 2011
Coming up, it's the last UC second round match, and Victoria invites us to bring on the walls. But first: Twenty nine champions, six octochamps, and no-one has sold their teapot online. Yet.
Since we last met, Clive Barham had four wins, Julie Davis just the one before running into Paul Keane, the last of the octochamps. Alex Morton had two wins, Dudley Lidiard one, Kirsten Thompson two, and that concluded the finals board. It didn't stop Phyllis Styles from winning six games, making her the first reserve for the finals. She lost the final qualifier of the series, so doesn't get to meet The New Bloke. That honour falls to Jack Worsley.
QF1: David Butcher (7 wins, 620 pts) lost to Mark Deeks (8 wins, 824 pts), 116-21
In his first game, David looked like he was going home after the first period, having fallen behind early and winning on a crucial conundrum. He recovered to win seven games in October and early November. Mark made his octochamp run in July, securing five centuries and a best of 126. Mark takes an early lead – PICADORS and MESTIZO mean that it's a tennis score after two rounds, 15-0. NEPETA is a plant, and extends Mark's lead, and it's already clear that this is going to be a very one-sided affair. "TEDIOUS" says Mark, his fourth winner in as many rounds, and we rather agree. Seven on a numbers game gives Mark a 35-0 lead as David Lloyd tells a story. Rachael can't get the numbers, but we can. And so can Jeff.
David tries to get off the mark with "outrule", but Susie rules that out. GARDENIAS can take the plural, Mark takes the 18 points, and are we going to get the first Zero Points in quarter-final history? What's the earliest a game can be decided? 74 ahead after the second numbers game, we reckon. Neither of these will quite happen – a very simple numbers game means the score is 80-10 at the interlude. There's nothing more than six in the next letters, so that's Game Over. David scores on a couple of letters games, but there's only been one person in this game.
QF2: Nikki Roberts (7 wins, 655 pts) lost to Graeme Cole (8 wins, 813 pts), 113-61
Jeff begins the show by showing photos of a viewer's babies. It's a shame they won't be allowed to appear in person until the late 2020s, as new regulations prevent under-16s from appearing on Countdown. Nikki's wins came in October, and included two centuries; Graeme was the first new champion of the year and had five scores in the 90s. The sound of BONGOES reverberates in round two, but Graeme's offer is declined – in this year's dictionary, the word is only spelled BONGOS. He overturns the advantage with DOMICAL in round four, taking the score to 30-29 at the anecdote.
Graeme MEDIATES his way to a larger gap straight afterwards, and then spots DRAGLINES. Just when we thought this game was going to be less one-sided than yesterday. Perhaps it is – Nikki strikes back with TRAIPSED. Perhaps not, Graeme gets a six-small to lead 73-44 at the interval, and extends his lead when Nikki has a word disallowed late on. Yesterday, Mark was so dominant we have no idea how good he is. Today, Graeme has won eight rounds, to Nikki's two, but there's only ever been a single letter in it. A far harder workout.
QF3: Paul Keane (8 wins, 744 pts) beat Dave Taylor (8 wins, 691 pts), 96-78
Preparations for this show, we're told, included the contestants having a few drinks together last night. Paul had four centuries in his run last month, though nothing above 104; Dave had some inconsistent performances when champion in August. Both players begin with POLENTAS, which is a mass noun, but acceptable as it's a foodstuff and one can order "beers and polentas". Paul glides ahead with OPENERS and DEVIOUS, but manages to miss a tricky little numbers game, so goes into Jon Culshaw's impressions with a 29-25 lead.
FUMIDOR is Dave's offer after the break, but it's not in the current Countdown dictionary, so can't be allowed. Paul's lead moves to ten points, where it remains until the last letters, DUSKIER is like the view outside at 3.37 of an afternoon. It's 64-47 after the numbers game, and Dave needs to make some moves. Paul having BEARPIT is just the move, and is that the nine we see in the next round? It is, but Paul's seen MODERNISE, and that's going to be Game Over. This game, perhaps the score reflected the balance of play more accurately – Paul won four rounds, three by a single letter; Dave won a letters, a numbers, and the conundrum.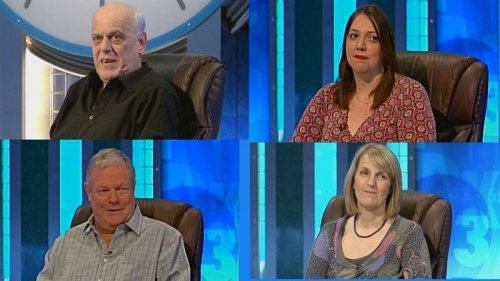 The defeated quarter-finalists (clockwise from top left): Dave Taylor, Nikki Roberts, Jayne Wisniewski, David Butcher.
QF4: Carl Williams (8 wins, 708 pts) beat Jayne Wisniewski (8 wins, 705 pts), 98-64
Preparations for this show, we hear, involved Jeff Stelling researching the Richard Whiteley Memorial Rubbish Joke Book. Just the one century in each of their heats, back in September, and this blog must declare an interest, as we've doubtless crossed swords with Jayne at a local quiz night. In the first round, the letters include TIEBREAK, which could easily be how this game will end up, so closely are the players matched. Carl takes the first lead with PRICIER, and the next letters game allows Jon Culshaw to shout "INFAMIES!" A tricky little numbers game leaves Carl ahead 39-32 at the impression.
Carl comes back and shows us his GONADS. Well, the word appears in the selection, is declared by the contender, and he scores points. It's equality through the letters games, but Carl makes a six-small numbers selection, and gets spot on. Go him! After the interlude, Carl looks to defend his 73-50 lead with what we think was SOURDED. Whatever the offer, it's not a word in the dictionary, so nul point. Sixteen the gap, and Jayne could use a nine-letter word. How's about SHOGUNATE, available in the final round. No-one spots it, Carl has TOUGHENS, and takes an insurmountable lead. A slip-up in the numbers allows Carl to extend the lead, and he's demonstrated that he can pull off a big performance when it counts. But what of the top seed?
SF1: Mark Deeks (9 wins, 940 pts) lost to Carl Williams (9 wins, 806 pts), 81-95
"It's great to hear carols like O Come All Ye Faithful" says Jeff, clearly remembering last Monday afternoon over in Salford. Rachael, she's not so keen on carols, and we're sure the feeling's mutual. The tie is broken in round two, when Carl offers "Hemiole". Whatever it is, it's not there. The beginning of another one-sided match? No: Carl comes back with SMELTED, one of a few sevens in that set. A flat letters round, and a surprisingly gettable six-small numbers leaves scores level at 31-31.
Do not ADJUST your sets, Carl comes up with another winner, and takes the lead. Mark Deeks is headed! This has, surely, never happened before!! Carl sits on an eight in a round with a Q with no U – he has ADOPTERS for eight, but Mark has ROASTED for seven, and is now fourteen points to the worse. How is the unbeatable number one seed going to win this? Four-large, spot on, and the gap plunges. Carl still leads, 56-52 at the intermission.
Mark has a wonderfully droll delivery, even more deadpan than Paul Merton, and when Jeff asks for his word, Mark raises one eyebrow slightly, and says, "It's ORGASMIC". Wonderful comedy timing. Next up? "I also found that round AROUSING." Mark's total has now passed 1000 points for all his contests. But there's a game, and flat letters rounds won't help to change the score, Carl still leads by four at the numbers. Both players get within one on the numbers game, which we got within moments. So did Miss Reilly. And so it comes to a crucial conundrum. They've been tricky in the finals week, and BLACRHINO is no exception. The clock ticks, ticks, and then on 25 seconds, Carl buzzes. "Is it BRONCHIAL?" It is, and the number one seed is out! This was not expected at all!
SF2: Graeme Cole (9 wins, 927 pts) beat Paul Keane (9 wins, 840 pts), 96-71
Jeff Stelling begins the show with a joke about a bacon tree. It is spectacularly rubbish, even worse than Jeff's Mexican accent from somewhere near Perpignan. Graeme kicks off with TELOGENS, which is a great word, but TELOGEN is a mass noun and there isn't a sense where Susie can put it into the plural. TELOGEN, being the stage in the life of a hair or hair follicle after the hair's stopped growing. The full 20-volume dictionary adds a chemical term, something that prevents polymers from reacting indefinitely, and that does take a plural. Close, but we can see why Susie said no. Paul takes a 7-0 lead. The gap remains through the rest of the period, with flat letters rounds and a simple six-small numbers game – 37-30 at the impression.
Not until round seven is there a crack in equality – CAPRINE brings Graeme back level. This seems to open the floodgates, as he follows with EXHAUST. Paul picks a two-large numbers game, but it's Graeme who can spot a multiple of seven, and goes to the interval ahead by 68-51. BORGATE is offered early in the final period, a group of mafioso; it also brings up Graeme's 1000th point. He has a do-or-die effort with OCCULTED, and after an absolute age, Susie says yes, it's fine. Paul needs a nine-letter word, and there isn't one to get in the last letters round. The numbers and conundrum both evade the contenders, giving a flat end to a quietly absorbing semi-final.
Final: Carl Williams (10 wins, 901 pts) vs Graeme Cole (10 wins, 1023 pts)
We regret to observe a hate campaign against Carl Williams. Whether through unfortunate editing or genuine malfeasance, some people have got the idea that he's cheated his way through the heats, and continued earlier this week. This column has seen nothing tremendously out of the ordinary – Mr. Williams is a character with his own style, so was his recent rival Mr. Deeks, so is his rival today Graeme Cole. We do wonder if some of the animosity stems from the fact that Mr. Williams, unlike so many other contestants, doesn't join this particular online club.
Anyway. Enough bitterness and rancour, otherwise we'll turn into Jonathan Ross. Jeff describes the show as "the battle of Brightons". This will have us confused for the entire programme. It's a quiet start, everyone misses AMAZONS in the opening round, and only Susie spots JOYPADS in the next. Honours even in the third round, but there's much smiling from Dictionary Corner, and then from Carl – they've spotted WORRISOME, and Graeme need not fret, a 29th-second spot is still valid. Carl thinks carefully before picking a two-large numbers game, in which both contenders are one away. It's 43-43 at the impression.
Did they really cut out the impression? Six rounds before the first commercial break? They might have seen what's looming – Carl's ERECTION when Graeme only has a seven. And now we have the Jon Culshaw moment. The next letters round is rubbish, and our regular four (DIVA) is as good as it gets. Carl offers BUDA, which isn't in, but the anagram BAUD is. Graeme risks CUTOVER in the next round, which is fine, it's a business term. Graeme turns out to be in PEDANT's corner, and a simple numbers game means that Carl leads by 74-70 at the intermission.
Except we don't have the intermission here, we have another letters round. What's going on here, Channel 4? Trying out a new format, because the one they've had for ten years has never quite worked? Anyway, Graeme offers ELUSION in this bonus round, the noun from "elude", and he takes a three point lead. Fours and sevens in the letters, and then we realise the reason for the unusual break pattern. Graeme is one away on the final numbers, Carl nowhere, and Graeme has a 95-85 lead.
Ten points. There's a handshake before the conundrum – TIMEUPLAD. And the clock ticks. And ticks. And ticks. Both players are pictures of concentration. Thinking. On 26 seconds, Carl buzzes. "AMPLITUDE". It is! We have a tie! 95-95.
What an ending to this battle of bright 'uns! A second crucial conundrum. VAANGELIS takes only 2.6 seconds to crack before Graeme buzzes in and squeaks his answer. "GALVANISE". It's correct, and our champion is known. Jeff takes his leave with a collection of his best bits, mostly falling about the studio laughing, but this is Graeme's day. A worthy champion.
Second round, match 8: Pembroke Cambridge v Nottingham
Two winners from late in the qualifying process: Pembroke Cambridge beat St Anne's Oxford by 205-140 on 26 September, and Nottingham won their game by 215-155 a week later. University Challenge does have a festive special, but it doesn't explain why they're using the Christmas idents already. It's only the 12th of December! The only reason they've had the Salford Salvation Army Band marching around the courtyard is because Barney and Helen are off doing other work!! Here at the Week, we absolutely refuse to take part in the Christmas creep. The listings for Christmas and New Year should actually cover Christmas and New Year.
Straightaway, Nottingham burst through with "Man is the only animal who..." Pembroke, they get three on search engines. Beds and Somerville Oxford take us to the visual round, on camera lenses, after which Pembroke leads by 75-20.
It gets more when Nottingham fail to complete an Only Connect sequence: islands of Hawaii in order of size. We can hear the question editor crossing that off his list already. Props to Burham Niker, Alexy Boi, No Walrus, MA Knights, and Miss H Walker, who have all microblogged that they're answering lots of questions correctly. It's more than Nottingham are doing, they've got more missignals than starters, while Pembroke are knocking things off quickly. The only letter not on the Periodic Table? "J". Just like that.
The audio round is on pieces that received poor reviews (or riots) when they were performed, and Pembroke leads by 155-15. A slice of life from Katiee Booth: "My grandpa has been looking forward to watching university challenge all day. It's 16 minutes in and he's already fast asleep." We might be joining Grandpa Booth in a nap, this is spectacularly one-sided. Nottingham promptly get a starter, and bonuses on skin; well done to the question setters for pointing out that the Council of Europe (human rights) has nothing at all to do with the European Union (flounce outs).
In six seconds, we read from Allan Lewis: "Nottingham Uni look set to get a drumming tonight in University Challenge against Pembroke Cambridge." From NPtheatre, "Nottingham Uni is getting well bashed up on University Challenge." And from Sir Emma G, "Nottingham are getting thrashed on University Challenge". Even though Nottingham get the second visual round – on pop art – they're trailing by 185-45, and it's looking like game over.
Katie Fairfield is "Not sure why I'm watching university challenge". We can offer you a better general knowledge, and a few moments of fame. The Five Minute Warning comes thirty seconds early, and Nottingham get Words that Differ By an Acute Accent, such as "lame" and "lamé". Biostratigraphy? What the ..? When they do get bonuses, Nottingham are actually very good – they'll finish the match with 14/19. But they don't get bonuses because Pembroke are beating them to the buzzers – they'll end with 16 starters.
Everyone got one starter this week, and Nottingham pulled back in the final minutes. Pembroke won by 280-125. Pembroke were right in 40/66 questions, Nottingham in 21/45 with three missignals. Random Punter o'the Week is Stephanie Clare H: "new personal best 9 correct answers on university challenge! hehe Successful day"
Next match: Into the quarter-finals with UCL and Manchester. We'll be publishing a discussion of this show on Tuesday, and it'll appear a little further down the column. Keep reading.
Connecting Wall Special
Only Connect had a Wall Night: two minutes to solve walls, with the usual rules. Here's the scores:
Courtiers from series 4 played grid 141, and scored 4 points, and were undone by not feeling the power of their Gladiators. They played series 1 veterans the Knitters, who score 7, only missing their i.
Choir Boys from series 3 got stuck on famous Kurts, scoring just three points. Editors from earlier this year found themselves stuck on Normans, but knew the groups when they saw them, and progressed with 5 points.
Archers Admirers, the series 3 runners-up, got two groups fairly easily, but couldn't untangle the last within the three lives allowed. A bit of guessing doesn't serve them well, so 4 points. From very recently, the Technologists get two groups, then are convinced that Loge is a term in a theatre. It is, and that helps them reach 5 points and progress.
The Hitchhikers finished fourth in series 3, and employ their patented "jab as many buttons as you can" technique to get out the second group. Even so, they're short of time, and end up just guessing. Not playing marbles means they end up on 4 points. Coming back from series 1 are the Travel Writers, and it really is three years since 150,000 people saw their episode. Most of the two minutes is spent going "er", and not actually pressing any buttons. Though they go on to get two links, it's not enough.
After the break, and some contributions from celebrities (Stuart Maconie of BBC 6 Records, Rev Richard Coles of the Communards, David J Bodycombe of Puzzle Panel, Simon Singh of Mind Games), the contest resumes with the semi-finals.
The Editors almost move on from their bananas, but none of their thoughts – financial terms, football club owners, musical writers – come out. They do know them when they see 'em, so five points! Knitters go for "land of" and things to do with pictures, things to do with newspapers. Perhaps plays? As seems to be the pattern tonight, the team can't quite get the last groups to separate, and five points! In the event of a tie, the team securing the first group quicker wins, so the Knitters move forward.
Technologists make light work of their wall, spotting two connections straight off, and having little work to find the exact constituents. They hesitate to find the right sort of puddings, and the last group evades them – they sound like Greek letters. Remember them? Seven points! The Hitchhikers have David Cronenberg films, and U2 songs, seven deadly sins, things symbolised by green, and a huge amount of random button-pushing. It doesn't work, and the Hitchhikers don't even recognise U2 hits when they see them. Three points, and – again – fourth place.
For the final, both teams are playing the same wall. What a genius idea! And it's a wall made up of short letter sequences, which can have lots and lots of meanings. What, for instance, does SAN stand for? What does NME represent? People less cool than Only Connect contestants. Anyway, both sides get some magazines, then some arrangements that sound like words. Neither side can quite bring out the Californian airports or computer games. The Knitters pick up two groups and three links; the Technologists two groups and all four links.
Which means the Technologists are the champions, and walk away with the exclusive, one-of-a-kind Only Connect Wall Night trophy.
Heat 6
We regret to report the death of John Hart, the Mastermind champion in 1975. The first man to win the title, Hart specialised in Greek and Roman history.
Hannah Coates begins this week, she's taking the Life of Sir Francis Walshingham (1530-90). He was the head of intelligence for Queen Elizabeth I – in popular parlance, her "spymaster". Exiled to France during Mary Tudor's brief reign, Walshingham exposed such schemes as the Dauphine Plot – to replace Elizabeth with Mary of Scotland – and the Spanish Armada. 14 (1). Book on the subject*.
Graeme Jones offers the Valley of the Kings. Sited near Thebes (now Luxor) in Egypt, this was the traditional burial site for Egyptian monarchs. About 60 tombs were cut deep into the valley floor, and most were raided before the establishment of history. Mr. Jones's first question is about Tutankhamun, one of the very few to survive undisturbed to the modern day. 10 (1). Book on the subject*.
Isabel Morgan takes the Life and Work of George Orwell (1903-49). Turned down for publication by T S Eliot, Orwell worked through the second world war for the BBC. He espoused syndicalist socialism – workers should own their own companies, and understand more about their world. He wrote widely, both in fact and fiction. His work is a cultural touchstone – Room 101, Animal Farm, and the Banned List* of words that mark lazy journalism. 14 (2)
Simon Alvey is telling us about http://h2g2.com/dna/h2g2/A4113938 The West Wing]. This is a ... oh, he's taking the television series of that name. According to the Hitchhikers Guide to the Galaxy, "The programme focuses on the operations of a fictional US Democratic president, Josiah Bartlet, seen through his eyes and those of some of his administration's staff. Most of the events of the programme take place in the West Wing of the White House, which is where the offices and work areas of the staff are located, and from which the programme takes its name." 15 (1) Series 1 DVD*
Mr. Jones gets some traditional quiz questions – the founders of the Turkish state and the parliamentary Labour party – and some tricky little questions, like the mark over a c in Czech. He's not going to get a winning score, he is going to get a very good score – 22 (3) is entirely respectable.
Hannah Jones gets a couple of sitters – The Simpsons and hay fever – but quickly progresses to more difficult questions. After a strong start, she stumbles over a couple, and it seems to sap her confidence. She still picks up points here and there, and 24 (5) is nothing to be ashamed of.
The repechage board is now complete:
John Marshall 31 (5)
John Snedden 30 (4)
Paul Smith 28 (3)
Jeff Grimshaw 25 (4)
Hannah Jones 24 (5)
Isabel Morgan 24 (5)
Bad luck to Frances Chant, her runner-up score of 23 (6) isn't enough to be in the top seven after six shows.
Isabel Morgan has the misfortune to confuse "Waterson" with "Winterson", and doesn't get the point. It shakes her a little, and falls into a pass spiral about half-way through. By mostly answering rather than passing, she progresses to 24 (5).
Simon Alvey needs ten to win, and we have the very small prospect of a three-way tie. Has this ever happened before? He begins by confusing the bails and stumps in a cricket wicket, and for a brief moment we wonder if he'll not trouble the scoreboard. But he does – unlike some quiz show contestants, he has watched Come Fly With Me, listened to The Killers, and knows his various types of bacon. That's enough to clinch victory, with 29 (5).
Civilian Mastermind resumes on 6 January. Before then, a series of Celebrity Mastermind airs on BBC1. And during the break, we will be considering the opinions of Gary Grant and Dave Clark on the future of Mastermind.
* Purchases from these links will help to support the UK Gameshows servers.
University Challenge Redux
Deci-Final 1: UCL v Manchester
Manchester's most recent win was against Christ Church Oxford on 21 November, UCL beat Warwick a week later. Both sides came through matches that were close, but not that close. As has been the case for the last couple of series, the eight-team phase will consist of ten matches, the semi-finalists will be those teams winning precisely two of up to three matches. We'll be here until the end of February, probably.
Now we've stopped laughing at the Mrs. Dickens trailer, and marvelling at the BBC2 Christmas ident, we'll get to work. UCL kick off by knowing about George Orwell, but buzz in a little too quickly on a question about the Arab spring. Fools may be better educated than they used to be, but UCL only get one bonus on the subject. The first visual round is on frontispieces to philosophical works, after which UCL has a lead, 45-15.
Has Thumper been invested with the Christmas spirit? Perhaps not: though Michael McKenna's pronunciation of "ecstatic" is unorthodox, it's identifiable, and not unduly delayed even though he worked it out from its Greek roots. More wordplay in a later set of bonuses for Manchester, on "Finnegan's Wake" and words pilfered from it. Kepler's law of planetary motion puts the home side back in the lead, Falun Gong brings UCL level. The scores aren't huge this week, but Zadok the Priest introduces works by Handel, and UCL's lead extends to 80-55.
"Did Handel write the Dream of Gerontius?" "No, wrong century." "Whatever!" Robust discussion from UCL, but they get lactic acid halfway through its description. Manchester prove to know about equilibria in economics, though they're not asked about Economics Textbook Equilibrium, that moment when all the paper is thrown into a recycling skip. The side goes on to confuse Chanel Number 5 with anti-perspirant. An easy mistake. War memorials for the second visual round, allowing UCL to pull ahead, 130-95.
Amagat turns out to be a measure of gas density, and a word we'll have to squirrel away for use in Scrabble. Gets rid of three As. Where might one find BCE, EKT, EKP, EZB? On the Euro banknotes, obviously, they're translations of the European Central Bust. Four minutes to play, and Manchester could really use a starter. They get one, but only one of the bonuses. A missignal from UCL allows Manchester to close the gap further, but UCL have the next starter, and get to shout "Belgium!" very loudly. Language, purlease! The navigator for Amelia Earheart falls to UCL, and that's got to be Game Over. So it proves, the gong goes within a minute, with the final score 195-125.
Not a vintage start to the deci-final phase, at least one question was answered incorrectly in every bonus set. UCL did manage to make the best of a bad job, finishing on 29/58 overall, with two missignals. Manchester concluded on 17/39. "Got 14 on University Challenge, compared to 3 each for my parents. Feeling pretty smug right now." A very happy Christmas to Ginger Methodist, our Random Punter o'the Week.
Next match (2 Jan): Balliol Oxford v Pembroke Cambridge
This Week And Next
The Irish Independent reports that TV3 is finding it difficult to cast a Celebrity The Apprentice. "We needed to have high-calibre celebrities but we required them to make a time commitment for a full month," a spokesperson is quoted as spokeing. It's odd: RTÉ was able to get various people to commit for the two months of Celebrity Bainestior, but their commercial rivals are having difficulty. Wonder if the commercial channel is being too picky.
Ratings for the week to 4 December are in, with Strictly performances (11.4m) beating X Factor results (11.1m). I'm a Celebrity finished with 9.6m, HIGNFY had 5.35m, and Young The Apprentice 4.35m. BBC2's top game show was University Challenge (3.45m) ahead of Masterchef The Professionals (3.35m) and Dancing on Two (2.9m). Come Dine With Me (2.2m) led for Channel 4.
The ITV2 spin-off from I'm a Celebrity recorded 1.88m viewers on Saturday, and Xtra Factor on Sunday pulled in 960,000. Then we find 840,000 masochists watching the Only Connect Third Place Play-off, making it the most popular digital-only game show in the UK that week. The X Factor Us had a mere 815,000. The Devil's Dinner Party recorded 105,000 on The Satellite Promotional Channel, barely ahead of the Fferm Ffactor final, which pulled 99,000 to Welsh-language S4C.
Our Christmas box of highlights includes Channel 4's great relationship show Home for the Holidays (18-24 December), with Daniel "Tree o'Temptation" Nettleton working on the challenges. The first series of Celebrity University Challenge in some years goes out (BBC2, from 19 December). Other traditional shows are around: Celebrity Millionaire is present (ITV, 19 December); Celebrity Mastermind is correct (BBC1, from 27 December); The Big Fat Quiz of the Year 2011 turns up (C4, 27 December); and World's Strongest Man is on Channel 5 this year (from 20 December). Radio 4 says "bah, humbug" by launching three new series of returning shows – The News Quiz on 23 December, It's Your Round comes back on 25 December, and The Unbelievable Truth follows a day later. Christmas night includes the Strictly Come Dancing special, and there's a slight return for Superscot (BBC Radio Scotland, 25 and 31 December). And, as we won't be posting before it airs at 7.40am on New Year's Day (!), there's a children's version of Fort Boyard on ITV.
This is the final Week of the year, we will have a review of next Monday's student edition of University Challenge available on Tuesday. We next publish on 1 January, with a review of the twelve months past. Until then, we wish all our readers a peaceful Christmas, a new year to surpass the wildest dreams, and good games to you.
To have Weaver's Week emailed to you on publication day, receive our exclusive TV roundup of the game shows in the week ahead, and chat to other ukgameshows.com readers, sign up to our Yahoo! Group.