Weaver's Week 2013-07-21
Last week | Weaver's Week Index | Next week
Last Saturday was hot. Spectacularly hot. Hot in ways that we've not experienced since 2006. Such heat makes people do crazy things. Last time, it was watching Chantelle Houghton and Jade Goody going head-to-head on Mastermind, and thinking Deal or No Deal was cooler than the weather. This time, we've again gone a bit bonkers: for reasons we'll regret later, we spent an hour watching

Initial An Endemol Company for ITV, from 29 June
This review is based on the show from 13 July. And we say we spent an hour watching the programme: it wasn't the 75 minutes when the show went out, but an hour immediately afterwards. We'd edited out the adverts, and edited out the sponsorship bumpers that were too fast-moving and complex for standard definition television. If there's one thing we don't like on our telly, it's blocks.
Which brings us to the hosts of Your Face Sounds Familiar, who are Alesha Dixon and Paddy McGuinness. A blockhead and a former winner of Strictly Come Dancing, there. Dixon and McGuinness host the show, they deliver lines that might be comedy, they banter with the regulars, and they remind us of the telephone voting numbers. Yes, it's an ITV summer entertainment where the public does get a vote: lines open at the beginning of the show, and remain open until about five minutes after the performances end. It's how Eurovision used to do it. Paddy's script is so full of cringe-worthy puns, we're sure it's written by Accumulate!'s Dan Peake.
The regulars on the show include the judging panel, comprising Emma Bunton from the Spice Girls, and Julian Clary from the Joan Collins Fan Club. On this particular edition, they're joined by Peter Andrex from ITV2's Life With Peter Andrex. Mostly, the judges will be asked to do nothing more than give a soundbite critique and an integer of their choice (presumably a mark out of 10, though this was never made clear.)
But the regulars on the show also include the contestants. Six celebrities are giving up six weeks of their summer break to participate in this exercise, all making money for charity, all making fools of themselves on national television. There's Bobby Davro from The Games, there's Cheryl Fergison from TV Burp, there's ITV soap stars Matt Johnson and Natalie Anderson, there's Alexander Armstrong from ITV's forthcoming prizes-on-an-island programme Prize Island. And there's Denise Lewis from Camp Orange, who we cannot link to Endemol or ITV in any way.
In order to get people to donate to their charities, the celebrities ask people to ring up and vote for them. Their pitch isn't anything as simple as "Call up and vote for me". No, that's too simple even for ITV. The excuse to call up and vote is that these people will be singing a familiar popular song, in the style of a familiar popular singer. And, with this being ITV, they're going to push the boat out and make every effort for the performance to be credible.
Let's be fair, the producers are putting a lot of elbow grease into this show. Yvie Burnett is employed as the vocal coach, helping the celebrities learn how to sing, and learn how to sing in the distinctive style of that singer. So Bobby Davro is given tips on how to be Ozzy Osbourne, how to flatten his vowels in that distinctive Birmingham way. Bobby gets hints in how to sing "Paranoid" as though he wrote it.
And the costume department is given something to do. Bobby isn't going to turn up in his street clothes. Well, not unless his street clothes are those of a black-clad rocker who hasn't taken his shades off since 1970. Bobby looks the part, he sounds the part, and he certainly comes across as more of a proper star than his guest performer Peter Andrex. Another performance features a guest appearance by Titan and Tethys, the animatronic robots from Big Brother a few years ago. Also appearing were Kate Bush, Shakin' Stevens, and Meat Loaf.
The performances aren't chosen at random, of course. They're designed to stretch the contenders, to push them to their limits. Your Face Sounds Familiar pretends that the choice is a random pick from three alternatives, but we don't believe a word of it. Nor do we believe in gender essentialism: that there are songs performed by men, and songs performed by women, and there can be no crossover between the two.
Paddy McGuinness has staked his ITV career on just this reductionist nonsense, his show Take Me Out asserts that men and women have different roles and unmixable roles and women cannot be men. Every time that a man sings a song popularised by a woman, or vice versa, Paddy builds it up as the biggest thing since the invention of the Alps. Please, stop it. Endemol knows far better, their Big Brother franchise has twice crowned transgender people as series champions, and other contestants have demonstrated that the barrier between male and female is only a mental construction.
It is possible to watch Your Face Sounds Familiar without rehearsing gender theory concepts, of course. It's not really possible to watch it without enduring ceaseless calls to vote. Or the remarkable marking system: after all of the contestants have performed, and all judges have given all their integers, there are scores. Each of the contestants is given five points to denote to one other performer, the one who has impressed them most. This takes a few minutes, and it's perhaps the weakest part of the show.
Then we're into the results process: the ranking from the studio points is combined with the ranking from the televote to determine an overall national ranking. Paddy and Alesha then tell us the top three, in order, because they get series points and the four players with the most series points come back for the grand final. It's all a bit confusing, and glossed over as quickly as possible.
The final part of the programme is the selection of next week's performances. Can Alexander Armstrong perform a song by Morrissey? Yes he can! What, he's not appearing as construction narrator Neil Morrissey but as Stephen Morrissey, the miserable correspondent of the New Musical Express (Incorporating Accordian Times)? 'Fraid so.
So, the squillion dollar question. Was Your Face Sounds Familiar acceptable entertainment for a brain-meltingly hot summer's day? Yeah: it was suitably undemanding, the quality of the performances was actually a bit better than we expected it to be, and the bulk of the hour passed by with more "crikey, that's good" moments than "oh, shut up" calls. Will we regret watching it when things cool down? Not one episode, we refuse to be ashamed of watching anything once. But we don't expect to be tuning in again: this might just work as weekend silly in the winter, but it's never going to be a massive draw.
Series 7, match δ-ii: Cartophiles v Fell Walkers
Walls 323 and 324, website players. "Two teams we've met twice before. Maybe they can't find the exits."
Round one, and we have lots of Formers: President of "ArmsTech", Tory MP Baron of Dorking. Then there's the trumpeter in Ted Heath's Orchestra and R2-D2. Are these all "unusually short"? Midgets? No, no. These are, in fact, all "Kenneth Baker", a bonus to the Fell Walkers. On their own question, we have the Mormo maura moth and Juventus FC, which has one of the team talking about "old ladies". They take an extra clue to confirm. 3-0.
For the Cartophiles, pictures. A battle. A bottle of hydrochloric acid. The front of a Rolls Royce car. And buzzing in, it's "Spirit of...", it's two points. Facts for the Fell Walkers. Duration: 9m18s. Maximum speed 843.6mph. Exit altitude and freefall distance, too, which brings in that chap who plummeted to earth in a way that impressed even Alexander Lemming. Victoria has to prod them to remember a name. "Felix Baumgartner". 5-1.
Music for the Cartophiles: an anthem, some more relaxed classical music, some Sinatra, and more jazz. We have no idea. "Saying goodbye"? No. "Rivers"? No. It's Rome, all the titles had something to do with the eternal city. Orphans in "Oliver Twist", tropical storms, a Sue Grafton detective novel series, and that's enough to have the Walkers in for two points. Things labelled in A-B-C order, and no love for the BBC4 to BBC2 to BBC1 to BBC2 show QI. 6-2 to the Fell Walkers.
Into the Sequences, where A is upper middle, B is middle, and the Cartophiles are thinking social class. They take C1 as lower middle, and are allowed C2 upper working class. Yes, "skilled working" the official NRS definition. Over for the Fell Walkers, it's V Tommy Gunn, IV Ivan Drago, and they're thinking opponents in the Rocky movies. But who was it in Rocky II? "John Smith"? Er, no. Stop tittering at the back. "Apollo Creed" the answer, for a bonus, making it 6-5.
More pictures for the Cartophiles: a scientist bloke, piles of fruit, a pair of rubber gloves. Chickens? Blackjack? Butcher? Wha? Apparently, it's Pete Best, some Exotic fruits, a Marigold glove, and apparently Hotel is the answer, from some film or other*. Not having a monopoly on questions we understand, it's Lexington and Park and Madison for the Fell Walkers. They don't know it's avenues in Manhattan, and Fifth is the next one. That levels things at 6-6.
Tie-break? Too soon. Let's finish this round: the Cartophiles get 1759, 1835, 1910. How much do they watch BBC4? It's not 1974 as in two general elections (that's a BBC Parliament question) but 1986, being on Patrick Moore's tie as the return of Halley's Comet. A bonus for the Fell Walkers, whose own question is on Words of the Year: Simples, Big society, Squeezed middle, but what was 2012's? Hard-working families? Alarm-clock Britain? As the Susie Dent fan club will remind us, it's "Omnishambles". Which means the Fell Walkers still lead, 7-6.
On to the walls. The Fell Walkers reckon there's stations on the London Underground, and there's a set of US states. A set of US states? A bit simple; this isn't Only Connect Cbeebies! There are women's names, including Beatrice and Alice. Alice? Who on earth is Alice?! The names eventually come out to form a group. We're not sure whether the team tried to put "Wuthering Heights" anywhere, and this clearly wasn't their wall. Daughters of Queen Victoria is the group they got; Oval cricket grounds and US rivers they get, 1970s number one singles evades them. Must watch more BBC Four points!
The Cartophiles are straight into their wall, with bulbous vegetables, and then trying to find some rappers from a group of six candidates. Tock-tock-tock-tock flarp. Tock-tock-tock-tock flarp. It has a rhythm to it, but the team are getting absolutely nowhere. Moues and Kabocha are unusual clues, it's only in the last 30 seconds that they start tackling those hints. The vegetables come out in the final seconds, members of the squash family. The rest: words called something different in Yankeespeak beats the panel, as does anagrams of rodents; birth names of rappers they do get. Three points!
All of which means the Fell Walkers have extended their lead, 11-9. But it's Missing Vowels o'clock. Parlour games goes to the Cartophiles 2-1, halving the gap. They Usually Happen on Thursdays gives that side a brief lead, and ends 2-1 in their favour. Locations of James Bond's Romantic Encounters goes to the Cartophiles by 2-0, and that's time! The Fell Walkers have 13, the Cartophiles have 15. A low-scoring but high-quality match.
This Week And Next
University Challenge returned this week, with a plasma ball in the middle of the studio, and Jeremy "Thumper" Paxman on emollient form, saying that some of this year's contestants will leave us wondering, "How do they know that? What does that question even mean?" Similar thoughts run through the contestant's minds: after the first bonus question is answered correctly, the next fifteen are dropped by the teams, and it was 55-40 after the audio bonuses had been heard (and missed).
Perhaps the nadir of this week's show came in the second visual round, on pictures of bridges. Having given the incorrect answer "Menai suspension bridge" to the prior question, the Aberdeen team were shown another bridge, and suggested this was the "Bridge over the River Kwai". No. That's the Menai suspension bridge. After that display, Aberdeen lose the little confidence they had, and Queen's Belfast emerged winners by 140-105. Last year's series was generally seen as "a bit disappointing"; this week's performance shows that very little has changed. A low-scoring match that wasn't entertaining, as Only Connect was.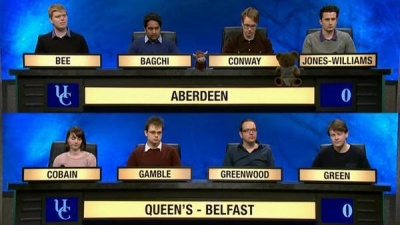 Aberdeen: Jonathan Bee, Ananyo Bagchi, Ben Conway, Benedict Jones-Williams.
Queen's University, Belfast: Suzanne Cobain, Gareth Gamble, Joseph Greenwood, Alexander Green.
Channel 4 hopes to have a hit television series. They've imported The Taste from CTV and ABC (Disney), along with judge Nigella Lawson. The show features judges picking contestants for their teams based on blind auditions, sampling food without seeing who made it. Other stuff happens, and a winner is eventually crowned. It's nothing like BBC The Voice, is it?
Last week, Jessie J announced that she was leaving BBC The Voice of Holland of UK. This week, it emerged that Danny Alexander was also going to be leaving the programme, to spend more time on his day job with Dr. Bunsen. Who will replace them? Well, Colin Murray seems to be at a loose end.
Other good news from the BBC: there will be three more HD streams, giving high-definition coverage of CBBC, BBC4, BBC3, Cbeebies, and News 24. Quite why we need the news in such clarity is, er, unclear, but at least we'll get to see Only Connect and Top of the Pops '79 in HD once more.
And alert viewers will have noticed that the BBC has changed its credit squeeze from small and unreadable writing at the bottom to narrow and legible writing at the side. After six years of squinting, we can finally see BBC credits and determine the format inventors. Hurrah! If only ITV would follow suit again: we think the music for Your Face Sounds Familiar was written by Pttty Mrrrrrrrryrr.
Didn't he make the Wimbledon final? An average of 10.3m saw the show from 12.50 to 6pm; peak rating was over 17m. The Apprentice made do with 7.5m, In It to Win It came second on 4m, and All-Star Mr and Mrs made 3.2m on Sunday, just ahead of Your Face Sounds Familiar, Tipping Point Lucky Stars, and All Star Family Fortunes. 2.6m for The Apprentice You're Fired on BBC2, 1.8m for Big Brother on Channel 5 – the top rating came on Tuesday, as Friday's eviction show overlapped with tennis on BBC1. The Million Pound Drop brought 1.03m to Channel 4, subtitled drama Les Rêvenants (The Returned) has 1.5m.
We find that Deal or No Deal (710,000) is less popular than Bit on the Side (730,000), and both are less popular than Only Connect (775,000). Skins had 870,000 for its much-hyped return to E4, but how many will have been turned off by the gratuitous and exploitative melodrama? Hell's Kitchen brought 685,000 to ITV2, and Mock the Week 390,000 to Dave. We'll be looking at Blue Peter You Decide next week; the opening episode had 200,000 viewers on CBBC, 30% as popular as Little Noely and on about 30% of the budget.
Something new to ITV daytimes next week: Take on the Twisters (5pm weekdays) has Julia Bradbury turning things over. There's also Secret Dealers (ITV, 3pm weekdays), more 8 Out of 10 Cats Does Countdown (C4, 9pm Fri), and the conclusion of Blue Peter You Decide (CBBC, Monday and Thursday).
To have Weaver's Week emailed to you on publication day, receive our exclusive TV roundup of the game shows in the week ahead, and chat to other ukgameshows.com readers, sign up to our Yahoo! Group.