Alesha Dixon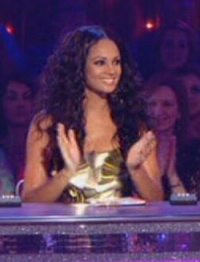 Biography
Born in Welwyn Garden City in 1978, Alesha Dixon became famous as part of the female garage band Mis-Teeq, popular in the early years of the 21st century. After the group split in 2005, she recorded a solo album for Polydor, but was dropped before it could be released.
At something of a loose end, Dixon entered the 2007 series of Strictly Come Dancing, and beat Matt di Angelo to win the title. It kick-started her recording career, allowing for the release of a solo album ("The Alesha Show, 2008); after the failure of "The Entertainer" (2010), Dixon parted company with her new record label.
Alesha Dixon returned to Strictly Come Dancing in 2009, replacing Arlene Phillips on the judging panel. This was met with cries of "sexism!" and "ageism!" by the anti-BBC press. Dixon returned for a total of three series, but as soon as her last contract had expired, she announced that she was joining the Britain's Got Talent panel.
Trivia
She has climbed Mount Kilimanjaro for Comic Relief, and endorsed charities working against bullying and leukaemia.
Web links
Feedback