Weaver's Week 2015-11-08
Last week | Weaver's Week Index | Next week
We've been paying a visit to our Texas correspondent, so this week's reviews are of game shows airing in the United States. Not all of the formats are unfamiliar.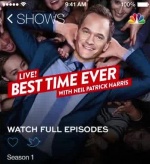 Best Time Ever with Neil Patrick Harris
ITV Studios America / Prediction for NBC, 15 September – 3 November
Our review is mostly based on the show of 27 October.
Best Time Ever? That's Saturday Night Takeaway re-interpreted for a new audience. Many of the features are familiar to SNT viewers: a guest announcer (this week, Kelly Ripa), a rundown of the show, and the host screaming "We're live! We're live!! WE@RE LIVE!!!!!".
Other gimmicks are new: a #besttimever dog at the bottom right through the show, and the "Best Suit Ever" visual gag: Neil transforms from civvies into a sharp suit by passing through a Perspex bar.
The live show opens with a very brief monologue, on the most popular Hallowe'en costumes: Donald Trump, and a rat carrying pizza. "Or, as they'll be known next year, Mr. President and Donald Trump." Ah-ha-ha. They've got to keep the jokes suitable for all ages, this show goes out at 7pm (8 eastern and pacific), peak family viewing time. And why Tuesday night? Very simply, there's no tradition of family entertainment on Saturday evenings. It's all sport, films, and filler.
"Who's seen every episode? What's your favourite bit so far?" This is episode 7 of 8, and NPH is beginning to reflect on the series. The best bits: the singing, the dancing, the way Jill Klein was credited on every show as an Associate Producer. Jill – who?
SEGMENT: Somebody's watching me
Amongst her family, Jill has a reputation as "The Hawk" – it's difficult to get anything past her. But how much has Jill spotted about unusual events in her life? She comes up to the stage, accompanied by Courtney and Eric, her twin son and daughter.
To Jill's astonishment, Eric and Courtney – and her husband – have appeared in the background of every show so far. Not only is this a way to surprise Jill, it's a way to remind new viewers what they've missed in the previous six weeks.
In true NTV fashion, the Best Time Ever crew have been secretly filming Jill's reactions in the living room: let's be watching you watching us. Daughter Courtney offers thanks, an excuse to spend time with mother, sappy, sappy. Hang on, where's Dad? Home watching the game, as tonight is the first round of The World's series of baseball matches.
Except he's not. He's in Sydney, where it's 10 in the morning, and Jill and co are going there for a massive new year party – all in association with Quantas and Visit New South Wales.
A flat beginning to part 2, where we meet NPH's co-host – Nicole Scherzinger off of The X Factor. She's wearing a monk's habit, and we can't see her. Except – the real Nicole is on stage. Intended as a comedy moment, we got lost.
SEGMENT: Singalong Live
SNT fans will know this. Viewers at home can win $1000 (£650) by completing the lyric to a popular song. Yes, it's the long-awaited revival of Sing it Back: Lyric Champion 2007! The contestants don't know they're playing, and one is wearing short and alarmingly tight shorts. All three are in the Eastern time zone.
"Here with the most iconic movie theme of the past thirty years, it's Ray Parker Jr!"
Brilliant! What's he singing? "My heart will go on"? The theme from Jurassic Park? That hum from Schindler's List?
Er, no. It's "Ghostbusters". From 1984, fully 31 years ago. Ray Parker Jr is in the studio, leads the studio, viewers at home pick up the song and anyone who fills the lyric gap wins $1000. The segment is in association with Skype. It's a very simple segment, and more powerful for needing no explanation.
Another segment familiar to British viewers is Ticket to Slide – Best Time Ever plays this some weeks, but not this week. We do have a running gag about Kelly Ripa arguing with trick-or-treaters at her commentary booth. Those pesky kids were Little NPH and Little Nicole, they also feature in
SEGMENT: Neil Versus
Joining the Adults and Littles is Meredith Viera from The Meredith Viera Show. The challenge is how well the Littles know their Adults. We get clips of the kids learning – Neil's a harsh taskmaster, Nicole goes in for pampering.
Little Neil and Little Nicole were asked some questions earlier: their answers written down. Older versions get the same questions and a point if their answers match. Why, yes! It's the Big Star's Little Star revival the country has been calling for.
After four questions (perhaps a bit too long) Nicole wins 2-1. The Neils are to open the trick door, twelve hands emptying cans of silly string into their faces. The treat door is for the Nicoles? A giant bag of candy, large enough to rot your family's teeth for generations to come. There's one for everyone in the audience, courtesy of Hershey's.
SEGMENT: Get Lucky
Win the Ads, basically, including a big commercial for Amazon Prime. The 16 prizes aren't linked to any television programme, and range from decent to superb – the worst is a large bag of candy or a chocolate fountain. "Computer will stop in 3-2-1", bringing Alison down. 60 seconds of questions about this week's news, heading to the all-or-nothing gamble. Neil has slow questions – he gets through 8 in the half-minute.
Make-or-break question, without knowing what she's won, naturally. Adele has released a new video. It's the most watched ever, breaking whose record – Taylor Swift or Beyonce. Alison gives the wrong answer, her consolation prize is a Best Time Ever sweet.
SEGMENT: End of the Show Show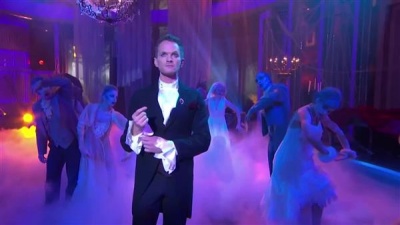 A choreographed performance, featuring a cast of vampires and brides, with Kelly Ripa as the damsel in distress, and NPH doing magic – turning a candle into a rose, a variant of the sawing-in-half trick. Live vocals from Nicole. That's the one they'll take for the interwebs.
We enjoyed this show a lot – it's bright and breezy, and it's fun undemanding telly. NPH tended to get on Our Texas Correspondent's nerves, but that may have been his character in How I Met Your Mother. We might actually prefer it to the UK version, because there are no dud segments like the Supercomputer, Ant Versus Dec isn't up every week.
And the programme's complete in one hour. With adverts and credits, Best Time Ever needs about 40 minutes of material each week. The most recent series of Saturday Night Takeaway was in an 85-minute slot, somewhat more than an hour of actual transmission for each edition. That might explain why BTE was still fresh to the end, and SNT pales after a couple of episodes.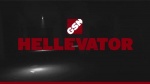 Hellevator
Matador / Blumhouse Productions / Lionsgate Television for GSN
The sample episode we watched was "Asylum". And we warn that this review contains discussion of archaic mental health treatments, electric shocks, straitjackets, leeches, things going down the drain, and schlock acting. If this isn't your bag, jump now to the UK news
Hellevator comes from the producers of many contemporary horror movies; the trailers cite Paranormal Activity, whatever that is. The result is almost a checklist of the most obvious horror tropes ever.
What happens? Three friends get in a lift, and take it through a tall building. On the way, they'll meet some unsavoury characters.
This week's edition is set in an abandoned asylum, ruled by the sadistic Nurse Brixton. And with a name like that, we're already chortling into our cushion: Brixton is an area of London, both tougher and much more civil than this fictional character.
Play is guided by Jen and Sylvia Soska (in character as The Twisted Twins), a two-headed version of David Walliams, and dressed almost as gaudily. On each floor, one player will leave the lift and attempt the challenge. They can communicate with their colleagues in the lift by walkie-talkies. Covered in cockroaches, tick this off the list.
One by one, our players follow a trail of lights to their challenge, each more difficult than the last. On the way, they might meet patients at the facility, or insects, or other tropes from the checklist.
Each challenge is introduced by a "creepy" tale. According to the narration, Nurse Penge used to "treat" her patients by electric shock therapy. The contestant needs to free herself, by powering the equipment back on. (How does that work, exactly? Don't ask: the narrative is rubbish, with holes large enough to drive an eighteen-wheeler through.)
The first challenge is to put six power cells in the right coloured slot. The player needs to keep to narrow beams above the ground, otherwise they'll make earth and get a mild electric shock. There's also a shock if they put the battery in the wrong place.
Back in the lift, the team have a handout to explain what's where, by means of clues "purple is two apart from orange, green is three away from blue", that sort of thing. There's a generous time limit of 7 minutes to complete the challenge – and get back to the lift before the doors close. Our player experiments to find the right answers, then runs back to complete the challenge.
This particular challenge is somewhere close to The Crystal Maze, we can work out how they might do a less-shocking version in the forthcoming real life version.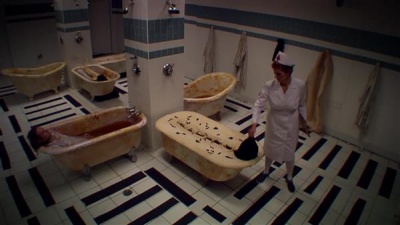 He'd struggle with the Making a Cup of Tea game.
Round two, water torture. The token male contestant follows a rope through the dark, past spiderwebs and actors as asylum inmates. He ends up trapped in a bath, with clues on the floor – they'll be revealed when he takes the plugs out. Running water and leeches are there for show. The contestant is hopeless, takes forever to take the plugs out, and ends up getting locked in. We're almost sympathetic to his plight at the hands of Nurse Croydon. Almost.
Challenge 3 is to work through a maze to find a key. The player's head is encased in a perspex box and she's dragging a metal contraption through the maze above her head. The companion in the lift has a map of a maze. As soon as contestant hits a dead end, a rat drops down into the cage.
Ooh, nasty. So we've had leeches, spiders, rats, cockroaches. All we need is a set of tigers and we can call Fort Boyard bingo. However, none of these drop into the cage, and the player gets out without too much difficulty, so the two survivors have won $20,000. We have no idea what Nurse Addington's motivation was, the plot never makes much sense to begin with and has now completely gone missing.
And, yes, there's another idea in there for The Crystal Maze live. If they're being spectacularly evil, and want to ruin people's memories.
So, three challenges played, two challenges won, twelve minutes to fill. How's about a bonus challenge: get out through "the labyrinth". This is a proper labyrinth, a twisting passage without false leads.
The team are given a bag to put money in, There's $17,000 in cash hidden in places en route, and a straitjacket to restrain Nurse Whyteleafe. The players go through a room with wodges of money attached to live electric wires – and a light that only illuminates at producers' convenience. Waiting 30 seconds to proceed just so the show comes out on time? Don't make it so blatant.
Our intrepid adventurers go past patients, who throw coloured water. Into a pit of mess, and a tunnel filled with dirt, and end up splashing around in a bowl of GSN soup. According to the screen, our players make it back with a couple of seconds to spare. $20,000 in the games, plus the money in the labyrinth, so $30,080 (£20,000) in total.
To be honest, we weren't so impressed with Hellevator. There's nothing overtly wrong with it, it's just that we've seen most of these things before. Mostly on the French edition of Fort Boyard, where everything above would be entirely in character. The scares followed the Hollywood "book of schlocky scares" closely, and the plot was missing without a good reason.
Our Texas Correspondent suggests "Fear Factor" as a point of reference; we're also getting a blast of Release the Hounds (UK; we didn't get to see the local version).
There is an audience for this sort of obvious horror thing, we're not sure that audience includes us. The scares were all "something jumps out at you", there's very little menace in the narrative. We can see that Hellevator would fit on one of the minor Freeview channels in the UK.
This Week and Next
Back in Blighty, we've a few points of interest.
Congrats to Olav Bjortomt, who retained the European Quiz Championship this weekend. Mr. Bjortomt sets high-quality questions for University Challenge, The Chase, The Times, and others.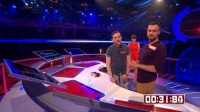 Liam Humphreys of Channel 4 spoke at a broadcast conference, saying that after The Million Pound Drop, Channel 4 entertainment joined "the game show arms race", and the channel's output became more homogeneous. Our take is similar: that Channel 4 primetime fell into the trap of insipid panel shows, all with the same boring faces, and without much human interest. Dave has that market sewn up.
Liam Humphreys also said that a recommission depends mostly on ratings but also "originality, creativity, critical acclaim, reputation and more". So ratings help, reviews help.
We're pleased to hear that Channel 5's head of entertainment is to take a long hard look at Big Brother. "It could become very different", says a BB fansite. Again, this would be good news. We have fallen out with Channel 5's programme, this year's series was the worst bits from previous years, truncated by about a week, and absolutely no fun.
The X Factor continues, which is news to some of us. ITV appears to be losing faith in its talent show, the head of light entertainment says that this year's changes "went too far". It's difficult to keep the perennials fresh each time, and radical change was needed on X Fac because only the faces have altered since 2009. Too much change this year? Possibly. Too little in previous years? Almost certainly.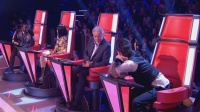 Still in B-list singing show news, we have a statement regarding BBC The Voice of Holland of UK. It's from the BBC, and reads in full,
"The BBC is incredibly proud of The Voice, but the fifth series which starts in January will be our last. We always said we wouldn't get into a bidding war or pay inflated prices to keep the show, and it's testament to how the BBC has built the programme up – and established it into a mainstay of the Saturday night schedule – that another broadcaster has poached it."
CBBC has lifted the curtain on its new season of programmes. One of interest to this column, Pocket Money Pitch appears to be a junior version of Dragons' Den. The reliable Myleene Klass shares her knowledge on the mentoring panel (but doesn't host, as we originally said). The host is actually Steph McGovern from Middlesbrough and Breakfast.
Quiz Update
Two matches on University Challenge. The second repêchage match saw Southampton beat Queen Mary of London by 235-120. "How many of you are doctors over there?" asked Paxo when QMU suggested knuckle dice rather than ankle dice.
The second round proper began with a near-walkover, as Imperial College trounced Sidney Sussex Cambridge by 305-75. It was all over at 12 minutes 33 seconds, when Paxman said, "Sidney Sussex, there's still plenty of time to come back."
We understand that a number of universities are holding preliminary auditions for their teams for next year's series. The very best of luck to everyone involved, we hope to celebrate with many readers next summer.
Only Connect had its final Second Round match, Scientists beat Athenians by 18-17. A lucky win for the Scientists, they lost each of the first three rounds by a point or two, but the lead was undone by two errors from the Athenians in Missing Vowels.
In the Elimination Round, the Cluesmiths defeated the Mixologists by 22-14. Just two correct answers in the Connections round, in spite of some lovely questions (Microsoft Office products, ivories, and deprecated Dewey classifications all evaded the teams). The Cluesmiths' four point lead lasted through to Missing Vowels, where the Mixologists went for it and went down fighting.
Just the one episode of Mastermind, won by Stephen Porter. The edition had been saved for 6 November to dovetail with the BBC's FA Cup (Men's) coverage, as Mr. Porter answered well on the FA Cup. Joe Errington, Ruth Page, and Shelagh Campbell all did well on their specialist subjects, less well on general knowledge.
Ratings highlights are by channel number:
BBC1 has Strictly Come Dancing (10.85m on 17 October) ahead of The Apprentice (7.95m for the 14 Oct launch) with HIGNFY and Pointless Celebs around 4.5m.
University Challenge (2.8m on 12 Oct) was BBC2's top programme that week, and 3.05m on 19 Oct the top audience of the series so far. Bake Off Masterclass and Only Connect both around 2.5m, 2.3m for The Apprentice You're Fired, 2m for Mastermind, and a peak of 1.8m for Dancing on Two. QI continues to struggle, 1.55m saw the 23 Oct episode, but it'll rate well in reruns.
The X Factor was still in preliminaries: 6.8m on 18 Oct for the last Super Six show, but 6.1m and 5.55m for the following weekend's live selection. All-Star Mr and Mrs and The Chase are hanging out at 2.5m.
Channel 4's only game show of note is Come Dine with Me, 850,000 for a good episode.
On non-PSB channels, there's 1.33m for Celebrity Juice on ITV2, 800,000 for Hollyoaks Does Come Dine with Me on E4, and 290,000 for Masterchef Australia on Watch.
It's Children in Need week, so there's a celebrity special of Only Connect (BBC2, Mon), a concert involving Welsh singing stars (BBC1, Thu), and the telethon proper (BBC1, Fri). We've also got the final of Eternal Glory (ITV, Tue), and a new run of Masterchef The Professionals (BBC2, Tue-Thu). No Pointless next Saturday, but we do have new Catchphrase before The Chase with Celebs.
We return to UK television next week, with Eternal Glory scheduled for a review.
Photo credits: ITV Studios America / Prediction, Matador / Blumhouse Productions / Lionsgate Television, BBC, Wall to Wall and Talpa, Remarkable Television (an Endemol company).
To have Weaver's Week emailed to you on publication day, receive our exclusive TV roundup of the game shows in the week ahead, and chat to other ukgameshows.com readers, sign up to our Yahoo! Group.