Weaver's Week 2015-11-15
Last week | Weaver's Week Index | Next week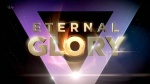 "Watch this show, Gail Emms off of badminton stood on one leg for over three minutes! It was incredible."
Two Four for ITV, 6 October – 10 November
Back in the day, there was a European Cup of football. It was shown on ITV of a Tuesday night. Men loved it, even though English teams didn't do well, because it was men's football. Feel the testosterone, stay for the shaving commercials. ITV loved it, because many of the people watching would never see any other ITV programmes, and would never see any ITV adverts.
Now that the European Cup has been abolished, ITV has a hole in the schedule. They also have a bit of loose change, because these nights weren't cheap. Putting "sport" and "that's had a bit of money thrown at it" together, we get Eternal Glory.
Richard Bacon hosts the show, assisted throughout by sports coach Professor Greg Whyte. The competitors are eight sporting Superstars: James Cracknell (rower), Liz McColgan (long-distance runner), Christian Malcolm (sprinter), Fatima Whitbread (javeliner), Shane Williams (rugby), Gail Emms (badmintoner), Matt le Tissier (footballer), and Jade Johnson (long jumper).
Or should that read "eight sportspeople who would appear in a version of Superstars"? There's a mixture of household names who recently retired, and people currently successful at obscure games. Shows based on sports haven't been able to afford really big names since the 1980s, the BBC's revival of Superstars in the last decade suffered from just this mixture of retirees and C-list sportspeople.
Each show is split into four challenges. All play in the initial challenge, one of endurance. Players might be asked to balance on one foot, or adopt a certain crouching position. The winner is the one who lasts the longest. This trial is usually complete in about five minutes, and the winner gets a small advantage in the next round.
And by "small advantage", we mean "need a magnifying glass to see it". A five-second head start in a ten-minute event? The smallest advantage since Simply the Best over a decade ago.
This second test might be of co-ordination, or ability to control heart rate, or something equally obscure. None of the events are traditional athletic tests: there's no sprinting, no hitting a ball, nothing that might give any player an advantage.
This is fair for the players, but means that Richard and Greg have to explain the game to the viewers, then explain it to the players, then keep reminding us viewers of the rules because it's not clear why some players can run when their heart rate is high while others cannot. Some of these challenges are far too complicated for a casual viewer, or one who isn't giving the show their full attention. Like, for instance, a viewer who wants to watch a nice simple game of football and doesn't care for this larking about on a cliff-top in Croatia.
Richard and Greg keep up a running commentary on the events, often whispering into their microphones. They tell us how the players are putting every effort, how this is hurting them, how they're at the limits of human endurance. But with only ten minutes allowed for each event, we can only catch glimpses of this effort.
All too often, it feels like Eternal Glory tells us how hard a show it is. We don't see the difficulty for ourselves. And in a sports programme, that's fatal. What's meant to look like hard effort comes off as sterile, and lacking in excitement.
This second event produces a loser, and that loser will come back in the final part. Everyone else goes on to the third event, usually a bit more spectacular. There was swimming, there was climbing, there was an effort to recreate the Reflex final by firing tennis balls at players. Worst performer here is also back in the final part, everyone else is through to next week.
Part four, just for the two losers identified in parts 2 and 3, takes place at night. It's the "Night Duel", a test of extreme patience and reaction speed. At some point tonight, something will happen. It could be that one rod out of five will be illuminated. It could be that some balls will drop from the ceiling. It could be that your opponent will throw a glass volleyball over the fence. Whoever grabs the rod / catches the right ball / doesn't drop the volleyball will win the round, and first to two points wins the match. Loser goes home.
The problem: "at some point tonight". Players could be kept a couple of minutes, they could be on their toes for hours and hours. They just don't know. We just don't know: was it two minutes, was it twenty, was it hours? Richard's narration never tells us. And yes, this is important: a marathon runner will know that their event is measured in hours, and that there's time to recover. A sprinter finishes after the "b" in "bang", and might be impatient for their moment.
Some of the shot direction was beautiful. Much of the editing was not. We're told that players are on the edge, we don't really see it. They use extreme music to point out that something important is about to happen, it's coming soon, the music's stopped to really grab your attention, and there it is! Look now! The important thing has happened!
Eternal Glory told us something about television and sport in the mid-2010s, and we're not quite sure what it is. Yes, the show confirms its thesis that some sportsfolk remain competitive even after they retire from their best sport. Yes, the show was a test of psychology and endurance and generic skills.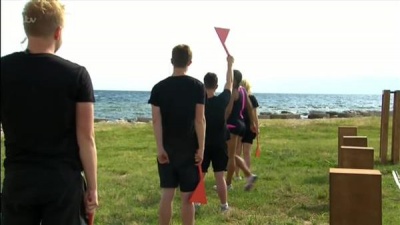 Retired sportspeople wait for someone else to lower their flag. This is prime-time entertainment on ITV.
We may assume that ITV commissioned Eternal Glory to attract different viewers. The audience is likely to contain more men than a typical ITV show. It'll be a little younger, possibly a little more upmarket. Some of the audience won't watch other ITV programmes. Some of the audience will have come for the rugby and stayed for this show. (Or, they would have done if ITV had promoted it heavily during the rugby. Which they didn't.) ITV hopes that some of the audience will come for the rugby, stay for Eternal Glory, then come back for Paul O'Grady Goes Wuff or The X Factor.
But Eternal Glory wasn't a sporting event. It didn't feel like a sporting event. The programme was recorded some time ago, and edited to fit a timeslot. The key point of sport is that it's best enjoyed live; failing that, watch it on +1 or highlights without knowledge of the result. We could record Eternal Glory and zap through the adverts, or skip parts we didn't want to see. It felt like a documentary or a highlights reel, it lacked the uncertainty of live sport.
When the sport doesn't come to television, television can make its own sport. The X Games takes "extreme" and "edgy" sports (snowboarding, skateboarding, motocross, snowmobile). Some of these events have been accepted as legitimate sports in their own right (snowcross and BMX racing, to name two).
Gladiators (1992-99) was another made-for-television event, and proved far more successful than Eternal Glory. The events were simple for viewers to understand, and each bout was complete in no more than a minute. On Eternal Glory, events were complex, and had to be edited for time. Gladiators featured athletes at the peak of their abilities; Eternal Glory was mostly populated by people whose best achievements were in the past.
Academic theory says that mass media in general (and sport in particular) has four roles: entertainment, information, social integration, social change. Eternal Glory provided information (results of each show), and perhaps a little entertainment – some viewers will have found the show helped them switch off from reality.
But with no-one watching, it didn't integrate society – viewers couldn't discuss amongst themselves, because there were no viewers. And because no-one watched, it couldn't hope to change the world at all. Less than two million viewers is very disappointing for ITV primetime, though it's typical for 8pm on Tuesday, and only about half of what the football got.
When the final result came, badminton's Gail Emms proved victorious, defeating James Cracknell in the final match. We don't think she'll be able to defend her title on Eternal Glory 2016. On the other hand, ITV appear to have recommissioned the woeful Play to the Whistle, so there's hope for Eternal Glory yet.
The Eurovision Shows Contest 2015
Nominations are out for the Rose d'Or awards. The gongs, previously known as the Golden Rose of Montreux, are now sponsored by the Eurovision network, and move from place to place. This year's ceremony will be in London, hosted by Paddy O'Connell.
The television game show nominees are:
My Mom Cooks Better Than Yours – FremantleMedia Ltd (United Kingdom)
Sweden's Greatest Know-It-All – Sveriges Television (Sweden)
Wild Things – Zodiak Media, IWC and Mad Monk Productions (United Kingdom)
My Mom Cooks Better Than Yours? Us neither.
Other game shows up for awards:
The Great British Bake Off – BBC (in Reality and Factual Entertainment)
Friendly Fire (Mein Bester Feind) – Endemol/Shine Germany GmbH (Entertainment)
The UK's guaranteed a win in the Comedy category.
British broadcasters will also take four of the five Radio awards, including Radio Game Show:
9 December for the victory parade.
This Week and Next
The second round on University Challenge continued with Warwick facing Nuffield Oxford. We expected this to be a walkover for Warwick, but Nuffield kept them close, leading on and off well after the music round. Once Warwick stopped scoring their penalties for incorrect interruptions, they still won the buzzer race, but couldn't provide enough correct answers. And once Warwick started losing the buzzer race, they were lost.
And so the mighty Warwick, one of the most storied names in recent University Challenge history, fell to debutants Nuffield Oxford. 160-120 the final score, and Nuffield are assured of at least two more games! Blimey, didn't see that coming.
The Children in Need of Assistance edition of Only Connect was a Mary Whitehouse Experience special. The Music Monkeys (Clemency Burton-Hill, Philip Henshaw, David Baddiel) beat the Chess Pieces (Bonnie Greer, AN Wilson, Hugh Dennis) by 23-16.
A small lead for the Pieces during Connections was wiped out in Sequences, in spite of the Pieces getting an "accidental" buzz on Shakespeare's Henry plays. The Pieces didn't recognise Channel 4 News correspondents when they appeared on the wall, and Monkeys took the win during the (short) Missing Vowels round.
As usual on celebrity specials, the questions were mostly fun – "missing one finger" and a picture set leading to G-C-H-Q. Some were less fun, one on generations of new towns was "the dullest question I've ever heard in my life," according to Mr. Baddiel. The answer of the week: Mornington Crescent.
And if you enjoyed the show, or are Mrs Trellis of North Wales, you can support Children in Need at http://www.bbc.co.uk/pudsey
For that good cause, Blue Peter went on a walkabout round Salford on Thursday, visiting studio HQ2. Presenter Barney Harwood sat in the Mastermind chair opposite John Humphrys, and faced questions on the history of Blue Peter. It wasn't Mr. Harwood's finest hour, he couldn't even remember his show's theme tune.
All four contestants did better than Barney in the main show. Sharon Montgomery did best of all; a Perfect Round of 14 on the Pop Larkin chronicles, and a measured general knowledge round took her to 26 and a return ticket. Alasdair Lowe notched a very respectable 24, Owen Rees came good in the final minute, and David Murphy only lost it in his final moments.
BARB ratings in the week to 1 November.
Strictly Come Dancing surprised everyone with a Hallowe'en show! 10.85m viewers were kept on their seat.
The Apprentice continued with 7.25m. The X Factor had its first live show, but just 5.65m tuned in for the results, and fewer for the performances. Both this show and Dr Who are struggling to meet high expectations.
4.6m for Pointless Celebs and HIGNFY. University Challenge pulled a round 3m, Only Connect a pert 2.5m. The Chase and All Star Mr & Mrs both had about 2.75m.
An improvement for QI, 1.8m for this Friday's show. 1.7m for Celebrity Juice, and 930,000 for Channel 4's top game, Four in a Bed.
Less than half a million for The Xtra Factor, 470,000 for Come Dine on More4, and 385,000 for Release the Hounds (RIP Joey Essex).
Christmas is coming, folks. Ant and Dec shout I'm a Celebrity... Get Me Out of Here! (ITV and UTV Ireland, from Sun). Also: the BBC New Comedy Award concludes (Radio 2, Radio 4, Radio 4 Extra). Frances Quinn is amongst the stars on Pointless Celebrities (BBC1, Sat), and Simon Cowell asked his viewers for the theme of The X Factor. We look forward to Instrumentals Week. We also look forward to the Junior Eurovision Song Contest – shown in Ireland on TG4, on DAB across London on Fun Kids Radio, streamed at Radio Six International, and on community stations including Cotswolds FM.
Photo credits: Two Four, LWT, Zodiak Media / IWC / Mad Monk, Presentable
To have Weaver's Week emailed to you on publication day, receive our exclusive TV roundup of the game shows in the week ahead, and chat to other ukgameshows.com readers, sign up to our Yahoo! Group.