Weaver's Week 2016-04-03
Last week | Weaver's Week Index | Next week
Series 42, The Final
A new set of graphics for this year's final: the contender's name and details swing in from a side view, it's not the head-on shot we've seen for the past decades. The impact is dulled because we saw the graphics in Celebrity Mastermind last Christmas.
By tradition, each finalist makes a short film explaining their passion, which we see before the specialist subject round.
Alan Heath faces questions on the Thunderbirds series. He's answering on the classic series, and visits the set of the reboot series that's filming in Slough. We also hear from Alan's wife, and the son of Gerry and Sylvia Anderson. The contender answers crisply, but drops one question part-way through his round. The score is 13 (0 passes).
Richard Tring takes England Test Cricket since 1970. For his film, he wanders around the outfield at The Oval in Kennington. His research includes the many works of Bill Frindall. One of the questions was about Andy Lloyd, whose Test career lasted about 30 minutes before being hit on the head. The round's almost as short, it finishes on 12 (0).
Christine Harrison answers on Elizabeth Gaskell. Some finalists get exotic locations, this finalist films in the John Ryland library in Manchester. It's about three miles from the studio, a mere ten to fifteen hours on the trams. Question two gives an error, and the contender never seems at ease in her round. But this is nothing new, she's looked nervous for every appearance, and it's not impeded her. 10 (1 pass) may not help.
Andrew Diamond tells us about the Seven Years' War, a battle between Britain and France in North America. We said that some finalists get exotic locations, and this contender visits Fort Ticonderoga in New York province. "The Seven Years' War is a tough subject," says the contender, prophetically. It soon becomes clear that the careful revision, spreadsheets and question-guessing, has fallen apart under the spotlight. A score of 3 (3 passes).
Ewan Paton takes us to The Belfry in Sutton Coldfield for the Ryder Cup. It's a golf contest between European men and American men, these days contested on the airwaves of Radio 5. He has a tactic to never pass, and when in doubt say "hamster". No surprise that he returns (0 passes), a couple of errors allow him 12 points.
Jim Maginnis is the last man up, he's chosen the Battle for Berlin, 1945. A member of the RAF himself, Jim looked quite emotional in the graveyard. He was fired up for this round, and slammed out correct answers for two minutes. He was perfect in his heat, he was perfect in the semi-final, and Jim Maginnis secures a third specialist Perfect Round in the final: 15 (0).
Andrew Diamond won his heat on 4 December taking Pete Seeger, and semi-final three on 26 February with Gerald Durrell. His tactic was always to answer or pass and move on: the final score of 13 (5) shows many more answers than passes.
Christine Harrison won on 2 October (American Silent Cinema of the Twenties), and semi four on 11 March (Women in the Olympics). Her strength was always the general knowledge round, 14 in the semi pulled victory from defeat. The magic seems to have deserted her tonight, as there are just a few more errors than usual. 22 (1) is exactly the same as her semi-final score.
Richard Tring won his heat on 20 November (Tom Kirk novels); he won the tie-break in semi one (12 Feb) answering on Brian Clough. Cool and calm, Richard looks to be the right sort of nervous when answering these questions; he can stop for a moment and think a question through to its logical conclusion. 25 (0) doesn't quite feel like a winning score, but one never knows.
Ewan Paton came through a tough heat on 11 September with Harold Wilson, and won semi two on 19 February (rock band Jethro Tull). He gets one correct answer, then thrashes around for a good thirty seconds looking for the next point. He never panics, but it looks like a capable contender has been defeated by these gaps in his knowledge. His final score is 20 (0).
Alan Heath took the heat on 21 August (I Claudius) and semi five on 18 March (British Olympic champs). Sixteen general knowledge points in his heat, and a confident run at tonight's questions. Confident, but it could have been a little bit better – a few errors in the closing seconds knocks his score back to 27 (0).
Jim Maginnis won his heat on 9 October (Bomber Harris) and last week's semi (History of Ulster) – and as we say, he was perfect in all three specialist rounds. General knowledge in his heat wasn't great, and a short run of errors early in the round puts additional pressure. But Jim visibly breathes deeply about half way through, composes himself, and scores some more. He kicks himself when answering "water" rather than "hydrogen" to the penultimate question. The final score: 27 (0).
We must pause to consider a slight problem. One of Jim Maginnis's questions was:
Q: Which singer, who died in nineteen [indistinct] eight, has the words "The Best is Yet To Come" – the title of the last song he performed publicly – etched on his tombstone?
Frank Sinatra is the right answer, and Jim Maginnis's offer of Ray Charles (died 2004) very wrong. The problem is John Humphrys's enunciation: the year sounded more like 88 than 98. The subtitlers heard 88, and we think Humphrys said something closer to 88. Is this a small blemish on the show? Most certainly. Would the contender have got the correct answer if he'd been misled by the error? Don't think so.
We.

Have.

A.

Tie.
Whatever, the result is determined. Except it's not. We have a tie.
Joint winners!
Mastermind does not allow for joint winners.
The drama could not be higher. Both contestants move: Jim goes out of the studio so he doesn't hear the tie-break questions.
And for the seventh time this series, Alan Heath returns to the chair. This tie-break isn't going to be shown, because it ends 3-3.
And for the eighth time this series, Alan Heath returns to the chair. He's asked about a fish. And a maiden. A novelist – Alan thinks long and hard about this. He can do this, the clock is not running. He's asked about a Welsh rock band, and a waterway.
Jim Maginnis faces the same questions. Cod, Galatea, Sue Townsend – and Jim thinks long and hard about this as well. The Manic Street Preachers, with Alan got. And the Manchester Ship Canal, which Alan also knew. But Jim missed both of those questions.
"It was pure hell". Alan Heath has won tonight's tie-break, by 2-0. And it means that Alan Heath is the 2016 Mastermind champion.
Quarter-final 4: St John's Oxford v Newcastle
"Nominate Harries." "Nominate Clegg." St John's took the first two starters, and then batted a question about as though it were a hot potato. St John's came through the top half of the draw, they beat St Catharine's Cambridge but lost to Peterhouse Cambridge.
Newcastle got just one of the first four starters, they lost to Liverpool but beat Nuffield Oxford. A good pickup on the picture round helped to keep their game alive. But just when they looked like they might draw level, St John's get a question about rivers whose names are formed by concatenated two-letter words – like "El+be".
St John's continue to put on points, and they're rewarded with diacritic marks in the orthography of European languages – accents and umlauts and That Kind of Thing. Newcastle will only be able to get back in the game if they shout "I love you!" at the host. The chance arises in a question about translations of messaging acronyms.
Newcastle need that, and they need a lot more besides. They get some starters, more than they had been answering, but they're going to need the luck of the gods. And the gods are not on their side, otherwise Newcastle would have got a set on Indian deities.
In the end, St John's win by 210-120. Three sides came through the bottom half of the draw (Peterhouse Cambridge and York), so either Peterhouse's semi is against a side they've already beaten, or they'll play the other unbeaten side Liverpool.
And this is another problem with University Challenge: the semi-finals are straight elimination. They could have it so St John's and York play an elimination match. Then Peterhouse and Liverpool meet for a place in the final, and the loser has a second chance against York or St John's. But no, the producers would rather have two play-in matches for high-scoring losers.
This Week and Next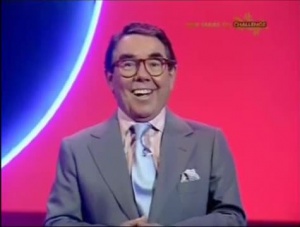 And it's goodnight from him.
Ronnie Corbett has died. In the week of the Mastermind final, our thoughts turn to another man who sat in a chair, alone in the spotlight. Corbett's chair was beige, not black, and he delivered a rambling monologue, telling one joke through many byways. The comedy actor is best remembered for his work with Ronnie Barker – as The Two Ronnies, they ruled Saturday night television from 1971 to 1985. He also appeared in Sorry!, the stage show The Boys from Syracuse, and the radio hit When the Dog Dies.
Corbett contributed to game shows – he was on Crackerjack in the mid-50s. In the 1990s, he played to his short stature on the age-gap communication show Small Talk. More recently, he was the voiceover for Ant and Dec's Push the Button. Corbett died on Thursday, aged 85. He's survived by his wife of fifty years Anne, and their two daughters.
...and then Pam woke up. Dermot O'Leary hosts The X Factor. There will be room auditions, and Nick Grimshaw will be on Radio 1's breakfast show. So what's changed? Did we dream last year's series, won by Cory Spedding?
Democracy season continues with the BAFTA TV awards. Game shows nominated include:
From this, we conclude that popular entertainment is ossifying. If they were people, half of these shows would be in secondary school. HIGNFY has left university and got a job in the brown suit factory.
BARB ratings in the week to 20 March.
Happy Valley remains the most-seen show of all, 9.35m viewers. The Voice brought 6.75 to BBC1.
Saturday Night Takeaway had 5.55m on ITV, and a further 1.55m on the separate ITV-HD.
Pointless Celebrities returned, 4.55m saw a weak episode. You're Back in the Room, 3.15m saw the episode (and we didn't).
University Challenge fell to 2.8m, and the Only Connect Sport Relief Special brought in 2.3m.
Celebrity Juice returned with 1.7m viewers, ahead of Penn & Teller Fool Us (1.05m) and Come Dine on Channel 4 (900,000). The Chase Australia came to Challenge, 155,000 viewers saw the chaser hang from the ceiling.
Lots coming up this week. Classics returning include The Unbelievable Truth (R4, Mon), Young Musician of the Year (BBC4, Fri), and Have I Got News for You (BBC1, Fri). There are new week-long contests about food: Too Many Cooks (C4) and Battlechefs (W). The Almost Impossible Game Show (ITV2, Wed) is also back, but you can do better than that. Britain's Got Talent, for instance (ITV, Sat).
Photo credits: BBC.
To have Weaver's Week emailed to you on publication day, receive our exclusive TV roundup of the game shows in the week ahead, and chat to other ukgameshows.com readers, sign up to our Yahoo! Group.