Weaver's Week 2016-08-07
Last week | Weaver's Week Index | Next week
Paxo, get stuffed. Quizzy Mondays has a new champion. By 2.214m viewers to 2.210m, Only Connect out-rated University Challenge.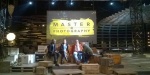 Artsworld, from 21 July
A continent-wide search for the best art photographer? Well, maybe.
Master of Photography is made by KYTV. The company now operates in Europe, so the same programme (with a different voiceover, we presume) airs on KYTV Deutschland and Good Old KYTV Italia. Applications were sought from anyone living in those countries, and from the overspill signals in Ireland or Austria.
Amateurs and professionals compete on equal terms, using equipment provided by the producers. There isn't a pro-am divide, like on Masterchef or Bake Off. The result: a panel of twelve people who know about photography. And who look like they know about photography.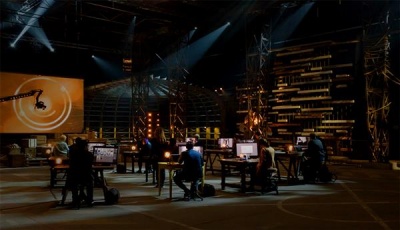 The studio set is a massive space. A cluster of desks are arranged to see a black screen. There's a haphazard perch for the judges, and a mass of black space. From this awesome set, Master of Photography could be a mean 'n' moody sci-fi drama.
The judges are Rut Blees Luxemburg, Simon Frederick, and Oliviero Toscani. One for each of the KYTV branches airing the show. Isabella Rossellini is the host. She provides a voiceover through the show, and introduces the week's challenge. For our review, we're looking at episode 2, Berlin Nightlife.
This week's challenge is to take pictures of the nightlife in Berlin. Yes, "Berlin" as in the capital of Germany. But "nightlife" might not be people in clubs: the pictures are to be taken on one Monday night in the depth of winter. Do wrap up.
To "inspire" the competitors, the judging panel show famous pictures of cities at night. Let's be honest, this is more to show the viewers what can be done with nightlife photographs. No-one explains why these pictures work, what distinguishes them from other efforts.
We're not even five minutes in, and Master of Photography is cutting us off. It assumes more knowledge than we have. It's not providing a ramp to help casual viewers. We're staring at a cliff – a beautiful cliff, made of gorgeous photos – and there are no ropes to haul us up.
Maybe they'll teach us while people are on the shoot. That segment fills about half the programme, cutting between the various competitors as they travel around Berlin. We see lots of people moving against the dark city, and some pictures are taken. Looks moody and atmospheric, we fear the photographers will bump into something horridble around the corner.
And there's moody music. Lots of moody music. It's mixed quietly, but the voiceover is quiet, and the comments are quiet as well. KYTV show their traditional ability to mess up the simplest tasks, they can't even get the sound balance right.
Was there explanation of what makes a good picture? The contestants gave explanations as they took shots, but these were brief and incidental. Master of Photography is going to have amateur photographers watching. Were there any tips to improve people's photos? We didn't spot any takeaways. We can cross off "educate" from the show's purposes.
After the night has finished, and everyone's had a good sleep, it's back to the studio for processing. In the new world of digital photography, "processing" involves cropping the images, adjusting the colour balance and brightness, and tinkering to bring about the photographer's vision.
While this happens, a "mentor" arrives to address the competitors, and work with them. Offer advice, pass critique. The edit gave focus to one contestant who disagreed with the mentor. A young upstart hero with a radical vision, different from the conservative old guard? Perhaps, but the edit made the mentor the fount of all wisdom.
And then the presentation. In turn, each contestants steps to the front, and displays their three photographs to the mentor, the judges – and to fellow competitors, sat at their desks. The contestant gives an explanation, there's cross-examination and critique from the judges.
No chance for the contestants to talk with each other, or discuss each other's work. We conclude that this isn't a "share what you know" show.
And then the judges retire to discuss their decision. And then they return to present their decision. Master of Photography uses the "musical chairs" format: one person leaves each week until the final.
So as to "build tension", the judges don't tell us what comment applies to what entry. It also means their decision is shrouded in mystery, handed down on tablets of stone.
But what is their decision based on? At no point have the judges said what they're looking for. Nowhere in the hour has anyone stopped to explain the difference between "a good photo" and "a bad photo". The criteria are like clouds: when we might have an idea, the judges shift and move.
The only hints came in the initial briefing. Have an "element of surprise", and some "atmosphere". The contestants are to "tell a story about nightlife in Berlin". And they must "be brave".
For all we know, the judges could be making it all up as they go along. They pick out two photo sets they liked, for praise. Then they criticise two sets they didn't like.
Back to our specific episode, and the judges tell us that they disagreed about their decision. They didn't tell us what others might have been criticised, because that would "give clues" about who was leading and losing.
We disagree with the judge's decision. In point of fact, we found the choice of one photo set as "poor" to be absurd, ludicrous, and completely at odds with the judges' earlier comments.
Outsiders have no hope to scrutinise the decisions, taken as they are on hunch and subjective opinion. Can we be sure the judges are being fair? Can we be sure the judges aren't motivated by nationalism or other prejudice? Frankly, can we be sure this is a genuine conversation and not some charade leading to a scripted conclusion?
The decision was taken on criteria that weren't explained, that we didn't understand, and weren't given the chance to understand. The viewers are groping in the dark, and the judges won't lift our blindfold. This column doesn't have enough evidence to dismiss a nagging doubt that the whole thing could be a stitch-up. We're sure that it's not, but we'd love some proper information.
Let's give praise where it's due. We appreciated the atmosphere, we enjoyed the studio set. And we appreciate the Europe-wide focus: Rome, Berlin, London. They must have season tickets for the Eurostar.
But the opaque decisions are injurious. Last year, we criticised the BBC's The Big Painting Challenge for not explaining its decisions. At least it had some tips to improve the viewer's painting.
Master of Photography doesn't have this soupcon of education. It's the arts world at its most insular. Pull the drawbridge up, staff the barricades, throw brioche to the hoi polloi. KYTV doesn't want a crossover audience.
Heartless Hotline
They're heartless blighters in Manchester. Bauer's local radio station in Manchester, Key 103, ran a "Heartless Hotline" contest earlier in the year. Listeners gave out a sob story, ending with a request for something – money or an item. The station would give the listener that prize – unless someone called in and claimed it from them. The contest originated in Australia back in 2009.
It's a competition for heartless blighters, as demonstrated when one selfish listener whipped £2000 away from the contestant.
After a couple of minutes tugging on the heartstrings, and pushing every emotional button, the contestant made their claim. "I want £2000 for divorce proceedings." Within seconds, a caller was on the line. "I want the money for a holiday," said the caller; the show did not require the caller to explain her reasons.
Heartless Hotline challenges the listener for an emotional reaction. It asks everyone about the social norm of "doing something nice" against "getting for myself". It's passive altruism against active selfishness.
Done well, this feature could ask some awkward questions about the mass media itself. Done well, Heartless Hotline could critique the way we're hit over the head by tales of woe. Emotional manipulation is part and parcel of broadcasting today. Gratuitous sob stories are everywhere – on charity appeals, on The X Factor, even on sports coverage. Some listeners find these stories compelling. Others reckon there's a surfeit of glurge.
But this feature wasn't done well. It was rushed: from football tickets to divorce proceedings in eight days. The listeners needed much longer to get used to the rhythm of the contest. They needed to feel highs and lows, to work out where they personally would draw the line. The listeners needed to set their expectations.
And Bauer needed more education. The on-air presenters were responsible for a life-changing event (and let's face it, £2000 would change that contestant's life). They needed confidence to handle the fall-out, and seven prior editions was not enough of a nursery slope.
Lest we forget, it took about three months before Deal or No Deal found its feet, before The Banker got his eye in and had the measure of studio players. Would Bauer commit to three months of Heartless Hotline, in one block or across a year? No, this was a desperate stunt to prop up falling ratings.
The competition's framing serves to ramp up emotion: organising company Bauer presents itself as beneficial, as a munificent provider. But that turns the initial competitor into a supplicant, begging for scraps. And we find that much more offensive than anything done by the intervening caller. Bauer could give away £2000 to every remaining Key 103 listener and still turn a profit.
This column supports difficult broadcasting, features that ask challenging questions. Difficult broadcasting is difficult, and this particular contest was not run well.
How badly was it run? Heartless Hotline came to an end after ten days. The listener won their prize because the hosts blocked the phone lines. The station had thrown in the towel, lost all confidence in the feature, and straight-out lied to its audience.
This Week and Next
RTÉ will not air another series of The Voice next spring. In its place, Ireland's broadcaster will make a local version of Dancing With the Stars, as Strictly Come Dancing is known overseas. Don't confuse with Strictly Irish Dancing, a whole other format entirely.
Does this mean the new run of The Voice will be available in two "territories" at once, and have to be called ITV The Voice of These Islands? We'll have to see.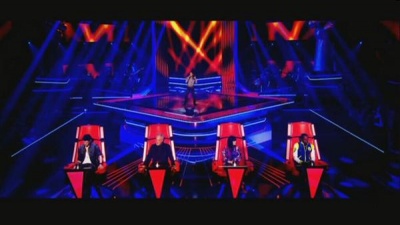 "We had a serious mishap tonight live on NBC's Got Talent. A very unfortunate mechanical failure but I am very fortunate to walk away from it." So wrote Ryan Stock, after being hit by a flaming arrow live on network television. Ouch! Don't try this at home, kids.
Fifteen-to-One is to have two more series. The hour-long quiz, hosted by Dame Sandi Toksvig, will be on Channel 4 for 100 weekdays next year. The latest champion will be named on Thursday.
"Do they normally have Oxbridge colleges from the same place playing each other in the heats?" asked Bother's Bar. "No", this week's University Challenge episode between Queens' Cambridge and Peterhouse Cambridge is only the second all-Cambridge battle at this stage in the Paxman era. The first was Sidney Sussex's defeat of King's last year.
There's not (yet?) been an all-Oxford affair, nor was there a match between two sides from Prifysgol Cymru. There have been two opening-round matches between colleges of the University of London. The London School of Hygiene and Tropical Medicine beat London School of Economics in 2014. Last year, the Institute of Cancer Research London bettered St George's London. We're not counting Arts London over Imperial London in 2010, as both are universities in London, not part of the University of London.
Events on screen included that rare thing, an all-male team. Queens' were the first team this year to be comprised of four blokes (Sam Booth, Lorenzo Venturini, Frank Syvret, Daniel Adamson). Peterhouse – the winning college last year – sent a mixed team (Ephraim Jacob Jacobus Levinson, Oliver Sweetenham, Natasha Voake, Xiao Lin).
Lorenzo Venturini wins this year's unusual study: "I'm from Italy and I'm reading engineering with a special interest in x-raying cheese." This week's verb count: study 3, read 5.
We'll note the first starter question: Q: Released with much publicity in 2015, which author took the title of her second published novel from the 21st chapter of Isaiah? Peterhouse: Go Set a... Harper Lee.
At the gong, Peterhouse beat Queens' by 160-150. The match may well have had a different result if the producers had rejected Peterhouse's opening half-answer.
Over on Only Connect, the more popular half of Quizzy Mondays, the Networkers (Frank Little, David Collison, Harriet Courtney) played Cousins (Michael Cannon, Emma Reeves, David Whitley). Networkers won the match, 18-13.
A low-scoring match, with the teams often being in the right area but not quite there. For instance, a sequence of sports ending in ___ball with this many players wanted a 6-player sport, and the teams offered 7- and 5-players. The Cousins didn't get the rub of the questions, and were beaten by an unusually easy Missing Vowels set on "Clichéd depictions of Victorian London".
The match contained cameos for Mark "The Beast" Labbett of the Rugby Boys, and for Timmy Mallett singing with Bombalurina.
Mastermind was won by Colin Daffern. He answered well on Benny Hill, and finished with a total of 27 points (and 0 passes). Grace Carley (23 with The Mitford Sisters), Lee Simpson (the Roman emperor Cicero), and Michael Page (Jacobite Rebellion of 1745) completed the show.
BARB ratings in the week to 24 July
Mrs Brown's Boys Live the most popular show of the week, with 8.8m viewers. Expect a series. Celebrity Masterchef the top game show, with 4.3m.
Dragons' Den returned with good figures, 3.35m. Robot Wars pulled 2.6m, perhaps not as good as had been hoped. Catchphrase 2.5m, The Chase 2.4m.
Paxo, get stuffed. Quizzy Mondays has a new champion. By 2.214m viewers to 2.210m, Only Connect defeated University Challenge. Mastermind had 1.25m on Wednesday.
Big Brother attracted 1.65m viewers for its Thursday peak. Matching episodes day-and-date against last year, we can see the 2015 series increased ratings by about 140,000 per night. Thursday's quotidian episode beat the 2015 final by 300,000.
On the new digital channels, top score for the Strictly Prom, 645,000 viewers. Amongst competitive games, Taskmaster finished with 525,000. Next most popular game show, Cbeebies' Swashbuckle, with 320,000. Master of Photography had 110,000 viewers.
Big Centre TV, the local television station for the West Midlands, have started reporting their viewing figures. That's going to be an error. The top-rated show goes out at 1.30 in the morning. You Bet Your Life stars Groucho Marx, attracts 7000 viewers, and is made in black-and-white. Indeed, the station's entire top ten is public domain repeats shown in the early hours. Having suffered the "entertainment" and "news" programmes, we understand why, and agree the station really is BC TV.
The BBC is giving a lot of time to events in Rio de Janiero, so Pointless moves to BBC2, Eggheads knocks on to 7, making a Quizzy Hour with University Challenge (Mon) and Mastermind (Fri) at 7.30.
Fifteen-to-One reaches its final (C4, Thu), and the BBC New Comedy Award heads to a finish (semi-finals: Radio 4 Extra, Fri and Sat; final: Radio 4 next Sun).
Photo credits: Sky, 12 Yard, Tiger Aspect, Talpa / Wall to Wall, RTÉ.
To have Weaver's Week emailed to you on publication day, receive our exclusive TV roundup of the game shows in the week ahead, and chat to other ukgameshows.com readers, sign up to our Yahoo! Group.