Beat the Crusher
Host
Co-hosts
Broadcast
Target Entertainment and Tiger Aspect Productions for Sky One, 21 September to 23 November 1998 (10 episodes in 1 series)
Synopsis
A format created purely for shock value. Melinda turns on the smiles while Starr makes random threats at members of the audience. Plenty of destruction of other things along the way, but Don't Forget Your Toothbrush and the like have done similar pranks before.
The format was scrapped when couples started buying second-hand cars before coming onto the show...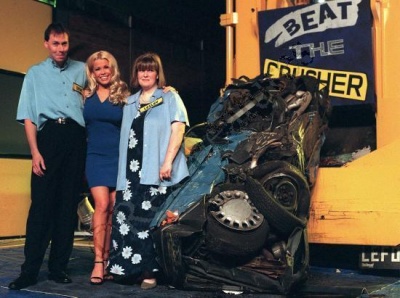 Melinda Messenger and contestants, in front of the remnants of what was a Ford Fiesta minutes ago.
Trivia
Before the show had even begun airing, a couple bet their current car in the hope of getting a new one. Apparently, the first couple to appear on the show still thought they were going to get some sort of consolation prize at the end when their Ford Cortina had been turned into a large metal box, but oh no... To make matters worse, it turned out that they needed a car because the lady in the couple had some form of physical ailment.
Feedback