Weaver's Week 2016-09-11
Last week | Weaver's Week Index | Next week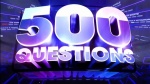 Wall to Wall (A Warner Bros Television Production Uk Company) for ITV, 22-25 August
Last year, ABC (Disney) piloted this show for its North American audience. It needed further work. Deutsche-speaking markets have also had a shot, and the ITV version was shot on their set.
The basic idea remains the same across borders. We see a grid of fifty questions, split into ten categories.
Straight away, we're going to ogle at the set. It is absolutely massive, five stacking layers of an inverted ziggurat, with mirrored clocks and many lighting angles. The move to Köln was worth it just for the set: anything less would lose the wow-factor.
So yes. Fifty questions, ten categories of five questions. One player takes the stand, plucked from a series of applicants in tests we don't get to see. A second player emerges, they're the "challenger" and will take part from time to time.
Both of these players are introduced with over-produced packages. The host reads out some "interesting" facts, we get to see the players' hands, or the back of their neck, anything except their face. By the time we do get to see the player, it's a relief, as the package is over and we can get back to the game.
The player picks a category, and hears a question. They've five seconds to give as many answers as they can. Should the player give the right answer, it's worth £500 for the prize fund, and they pick another category.
But should the player not give the right answer in time, they're assessed a "wrong". The cash pot disappears from the screen, and a big red X takes its place. And then the player picks again.
Get the next question right, and it's as though nothing ever happened: £500 in the prize fund, pick again. Answer in error, and trouble lies ahead. A second X heaves into view, and the next category is to be picked by the challenger, not the player.
Even on the final life, a right answer puts £500 into the pot and resets the "wrong" count to zero. But a third failure is terminal. The player leaves, the challenger takes their place. And on comes another challenger (and another of those oh-so-annoying packages).
It's £500 for each right answer, and three wrong in a row means you're off the show.
A few questions vary from the norm. The triple threat is the Popmaster final round brought to life. The only difference: instead of naming three hit singles by Victoria Beckham, the player's to name three children of Victoria Beckham. Ten seconds for the responses, and a correct answer is still worth £500.
The battle is the Who Dares Wins tie-break under an assumed name. In turn, player and challenger give answers that fit on a particular list. The question is lost by the first person to give an incorrect answer, repeat an answer, or fail to respond in time. Again, a win for the player is worth £500, a loss counts as one of their "wrongs".
Finally, the lightning round is ten quick-fire questions, drawn from all around the board. Only the first answer will be considered, and the time limit appears to be a little shorter.
These special questions pop up at the producers' convenience. The show claims they're hidden at random, but this is palpable nonsense. In any given show, we'll have two lightning rounds, three challenges, three triple threats, and all spread through the four parts of the show.
It takes an ITV hour to work through the 50 questions. 43 minutes announcement to closing credit; about 38 minutes from the contestant introduction to the result being confirmed. Using our question speed metric, that's about 28% of the speed of Channel 5's 100%. It's slow, but the lightning rounds provide a welcome change of tempo. We never found it too slow for too long.
Giles Coren is the host. An unusual choice, he's most often found working with celebrity lookalike Sue Perkins on BBC2 gastronomy shows. Giles understands the show, he has masses of confidence and doesn't pretend to be confuddled by the occasional awkward bit.
Giles exudes calm competence: we're assured that he knows what's going on. Compare the anti-intellectual bletherings of Paxman, who still doesn't understand the University Challenge group phase after seven years. Does Paxman just turn up and read whatever rubbish is put in front of him? (Don't answer.)
Giles seems to be playing a character that owes something to The Crystal Maze. "C'mon, that was easy. You had to put the teacup in the teapot, didn't you know that?" At times, Giles seems a little annoyed that the players aren't his intellectual equals. "The answer was of course Copernicus". "The Cutty Shark?!" "You muppet!"
It's a character. Possibly a little too harsh for the first episodes. It takes time to build a character so you can insult the players when they need it, or you do the Anne Robinson character from The Weakest Link.
Again, we can see where Giles is coming from. The questions on 500 Questions are difficult, any of them could be the £50,000 Stopper on late-order Who Wants to be a Millionaire. These questions are meant to be taxing, ITV didn't want to give away huge amounts of money.
On Wednesday's show, ITV didn't give away huge amounts of money. There was a run where players gave one correct answer out of 17 questions. That may be the worst performance on a primetime quiz since Myleene Klass tried to do Celebrity Mastermind in 2006. Between them, players got nine questions wrong in a row, enough to worry the makers of Avanti un Altro.
It set us wondering, how good would you have to be to survive in the game? Three wrong in a row ends the game, so we "just" have to model for that condition. A very quick Monte Carlo model reckons that a player getting 70% of their questions correct has an even money chance of lasting 50 questions. Between them, the questions and contestants combined to give about 40% correct.
In the ITV version, it's not necessary to survive for 50 questions to pick up money. Whoever is the player after question 50 will take home that day's prize. At a stroke, the ABC (Disney) problem has been solved. They don't pay out a penny until 50 questions (or, in later series, 30 questions). We on ITV are assured that someone will win thousands of pounds at the end of tonight's show.
Every episode builds to a proper conclusion. It's a story with a beginning (the board of 50 fresh questions). A story with a middle (the battles over every question, eliminations and lightning rounds and all that jazz). A story with an end (question 50, the board is finished, the challenger eliminated. And you, player, have won £LOTS).
For all that, there were some loose ends. The contestants had been cast for character, not for quiz ability. This came back to bite the producers on Wednesday night, as they ran down the list of players faster than a molten steel blade through butter. It felt like a never-ending parade of the inept and hopeless. At one point, it felt like they were going to score more on Twenty Questions Wrong than on 500 Questions Right.
We've no problem with "personality" contestants on a personality show. This isn't a personality show: the players aren't around long enough to really know them. And we've no problem with "demanding" questions on a demanding show. But the personality contestants weren't cast for their quiz smarts, and it all feels a bit off-kilter.
We criticised Alphabetical for being impossible to win. The prize budget for the whole show was £2500. 500 Questions gave away that much in a lightning round, every single night.
Giles Coren had a character, and it felt a little hammy. Some great television presenters are a very slight exaggeration of the real person. Giles' sister Victoria Coren Mitchell isn't really an alcoholic, but she does a very convincing impression of one. Richard Osman doesn't really know everything in the world, but he knows a whole lot and convincingly covers up the small gaps in his knowledge. Richard O'Brien didn't always think the mazers were incompetent, he just said what we at home were shouting at the screen. FFS! Teacup! Teapot!
All these characters developed organically, taking little seeds and letting them grow over a year or two. Giles will be able to play a better character after some reflection.
That's if he gets the chance. 500 Questions didn't rate so well, just over 2 million across the week. It's not a disaster, but nor is it good enough for automatic renewal.
Some have said that 500 Questions needs to drop back to teatime. Not in this format, The Chase audience expects questions at a rate of 50% or more, twice as fast as Giles delivered. Maybe the 30 Questions format used by ABC (10 categories, 3 questions in each) could fit daytime, as we'd expect to complete three boards in two shows.
There's something to build on, but our gut feeling is that 500 Questions won't be back. This owes more to the weak original format than anything ITV or Wall To Wall have done. ITV's variant is the first to tell a full story in each episode, and we think that is the biggest improvement yet made.
This Week and Next
Best of the Web. Ever wondered how they made the Blockbusters title sequence going through Hex City? There was a feature in the show's annual, reproduced by Dirty Feed.
From Kat Deabill, a plea from the heart. Stop harassing game show contestants. For many, it's their thirty minutes of fame, and without public contestants we'd have nothing more than All-Star Family Fortunes. (shudders)
Paul Sinha has been on The Chase for five years. He reflects on what's changed. The questions are harder, offers are negotiating tactic, and everyone in Crystal Palace watches the other side.
Eurovision Young Musicians took place last weekend, the first time it's been held in the autumn. The representative of TVP won, Łukasz Dyczko and his saxophone. The result means that TVP holds Young Musicians and Eurovision Young Dancers, and is still reigning champs of the Eurovision Dance Contest (disestablished 2008).
The BBC does not acknowledge high culture unless it controls it, nor does it acknowledge Eurovision outside that week in May. As a direct result of its hauteur, the BBC will not be showing this year's contest.
We assume the BBC will be showing the Senior Eurovision Song Contest. Next year's event will take place in Kyiv, the dates confirmed as 9, 11, 13 May.
Brett Smitheram won the World Scrabble Championship. He defeated Mark Nyman, the producer who got him into Countdown in 1997.
Quiz update
Double or quits on Mastermind? Let's do a double.
Michael Ward won heat 8, taking the Films of the Coen Brothers. His victory was on pass countback –27 points and 3 passes, against 5 passes from Alison Rawlinson. She'd scored 16 points on general knowledge, and could well be trouble if she survives as a high-scoring loser. The other players were Lyndon Easterbrook (Tom Waits) and Lynne Francis (Transatlantic ocean liners 1899-1950).
More high scores in heat 9, won by Lynn Edwards. She scored on the Forsyte Saga novels, and advanced to 30 (0 passes). Steve Lacey finished on 28 (1 pass) after taking the films of Peter Sellers. That leaves Steve at the top of the runners-up list, and almost certain of a return. Graeme Ross (Arthur Lee and Love) and Nigel Jones (Astronomy) both passed 20 points.
University Challenge was between Open (Rob Mitchell, Dale Crawford, Sarah Banks, Mags Adamson), and Salford (Robert White, Mark Sanders, Bradley Wakefield, Peter Smith). Two teams of relatively mature students, and two women –both on the Open side. The verbs: study 3, read 3, take 1, do 1.
Salford started strongly, but once Open got into gear, the match became very one-sided. An uninterrupted run of over 100 points propelled Open to a big victory, 210-115.
Only Connect cracked open Section B. Fire-Eaters (Andy Davis, Tony Moore, Jonathan Elliot) all like curry, Eurovisionaries (Ciara Kennedy, Aaron Boardley, Paddy Duffy) prefer the EBU's song contests. Fire-Eaters turned out to be this contest's TVP, winning by 26-14.
Fire-Eaters took command in the Connections round, scoring two on each of their questions. They also solved the wall easily, with enough time to think about the last two connections thoroughly. Eurovisionaries were unlucky to miss the subject of the Nobel award won by Marie and Pierre Curie (not chemistry but physics), and proved more adept at the difficult Missing Vowels questions.
Hive Minds came back for a second series. The star of the show is the hive, now shown in full-screen glory so we can play along at home without sitting two inches from the television. There are no changes to the game structure, which we find a bit of a missed opportunity.
This week's teams were the Cruciverbalists (David, Jane, Dave) and Ortographobes (Ravi, James, Claudia). Ortographobes took the early lead, and gained when the Cruciverablists hit the wrong letter –"Loadsamoney" doesn't begin with S. Ortographobes extended with perfection on the superhive of vegetables, and survived a good comeback from the Cruciverbalists in the buzzer round.
Not sure the show reached "very exciting", not when the grid appears and disappears like that. And not when we get through final-round questions at a speed of 115%, barely above the ambling pace of 100%. By comparison, Only Connect does Missing Vowels at around 200%.
BARB ratings in the week to 28 August.
Bake Off is back. 13.6m saw the show. The biggest audience of the year. Expect a series.
The X Factor is also back, 7.9m saw Saturday's show. The Chronicles of Nadiya followed last year's Bake Off winner to Bangladesh, 4.85m tuned in. 4m for Pointless Celebrities.
Bake Off hegemony spreads to BBC2, An Extra Slice attracted 2.95m viewers. Dragons' Den had 2.8m, University Challenge 2.75m, and Only Connect 2.55m.
Victoria beat Giles on ITV, as 500 Questions peaked with 2.35m. Go For It had 2.7m on Saturday evening. There were 2.1m for Channel 5's "Celebrity" Big Brother, and 1.6m for Catsdown on 4.
900,000 for Xtra Factor on ITV2. Coach Trip Road to Ibiza reached 485,000 on E4, Sarah Beeny's Four Rooms brought 390,000 to More4.
A good week for quizzes. The Chase with Celebrities comes back (ITV, Sun), Top Class (CBBC, weekdays) seeks the nation's brightest schoolchildren, and Cwis Pop C2 (Radio Cymru, Fri) finds the Welsh-speaking schoolchildren with good pop knowledge.
Elsewhere, Dating in the Dark returns (ITV2, Thu), so expect couples to fumble around with the lights off. ITV still has next Saturday under embargo, but Pointless Celebrities gives us a good impression.
Photo credits: Wall to Wall
To have Weaver's Week emailed to you on publication day, receive our exclusive TV roundup of the game shows in the week ahead, and chat to other ukgameshows.com readers, sign up to our Yahoo! Group.