Who Dares Wins
Host
Eamonn Holmes (non-broadcast pilot as The Rich List)
Co-hosts
Alan Dedicoat (voiceover)
Broadcast
12 Yard for BBC One, 17 November 2007 to 7 September 2019 (107 episodes in 12 series)
Co-produced by BBC Scotland, 2018-19
Synopsis
Former National Lottery tie-in (see Trivia) in which teams bid for the opportunity to list a certain number of things in a given category, a bit like Ask No Questions crossed with the auction round in Wipeout.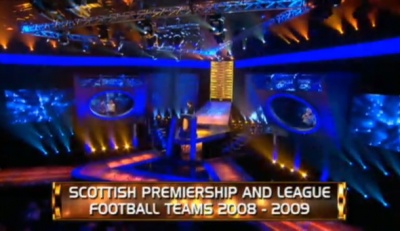 Here's a studio, here's a category, now let's put on a show
There are two teams, each team made up of two strangers paired up by the producers. The teams sit in soundproof booths. The host reads out a category, and the teams bid in turn on how many things they can name in that category. Whichever team "wins" this auction then name those things until either they win the round by fulfilling their bid, or lose by running out of answers or giving a wrong one.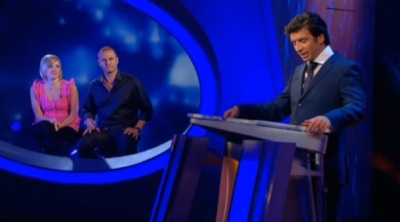 Nick Knowles parks his jet ski next to one of the soundproof booths
The game is best of three lists. If the first two lists are split, then the third list is played differently, with no bidding and the teams answering alternately until one is knocked out.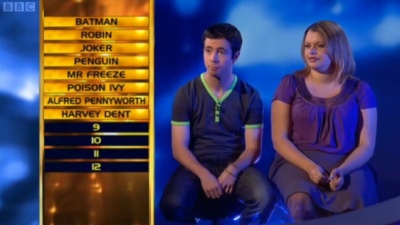 Well on the way to fulfilling a bid of 12 on "Named characters in the Batman films". This list was a bit of a "gimme" for the male contestant, who was actually wearing a Batman belt buckle at the time
The winning team then goes through to the money list, worth up to £50,000 (between the two). The aim is to name 15 things in a given category, with prize money increasing at every third correct answer. A wrong answer wipes out the prize money for that list.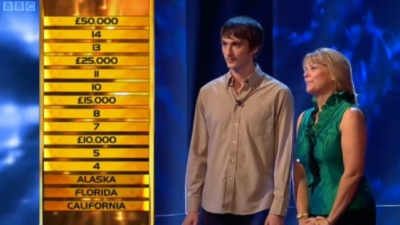 A money list in progress. The category is US states ending in "A".
The winning team stays on to face new challengers and in theory there is no cap on how many games they can play, although we strongly suspect one would be imposed if a team proved invincible.
This UK-originated format has already been made around the world under its original title of The Rich List and you're right - Who Dares Wins is an appalling title that says nothing about the format and could equally have been applied to practically any game show ever made. And what's more, brings back memories of Rory McGrath on Channel 4 back in the eighties. We tried to warn them, you know...
Key moments
On the 13 March 2010 edition, one list was "Countries in Asia" and at the end of the round this list of possible answers was shown. Spot the country that really shouldn't be on the list (hint: it's the one that Nick Knowles and everyone involved in Who Dares Wins lives in...)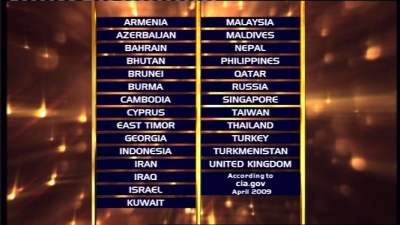 There is a theory that this has something to do with the Chagos Islands being a British territory, though that's a pretty fine technicality if so.
On 17 April 2010, UKGameshows.com's list of 100 Greatest Game Shows according to site visits was used as the basis for a list. The two opposing couples bid the total needed up to 18, before one couple went for it, and were successful. Clearly though, both couples don't visit UKGameshows.com as often as they should, or they could have bid far more. UKGameshows.com was again used as the basis of a list on 11 May 2019, this time asking for any game show or quiz show listed on our A-Z (see the site header).
Catchphrases
"It's on the list!" or, "It's not on the list!"
"An unfinished list is unfinished business!"
"...And you two have never met before?"
Inventor
Jim Cannon, Andy Culpin, Sam Pollard and David Young
Theme music
Will Slater and Rumble Music
Trivia
Eamonn Holmes, who recorded the pilot for the UK version, presented the US version under its original title. With a run of six episodes planned, it was pulled after just one episode. It received 4 million viewers. Three years later, it was revived under the name The Money List and did slightly better.
At the end of 2016, the BBC stopped showing the National Lottery draws on television. Of the four Lottery shows still running at that point (the other three being In It to Win It, Win Your Wish List and 5-Star Family Reunion), Who Dares Wins was the only one to continue on Saturday night BBC1. The remaining nine episodes of the ninth series, plus the entire tenth, eleventh and twelfth series, all aired without any Lottery references.
Future Gladiator Montell Douglas was a contestant in January 2012; she and her partner Eddie Murphy split £25,000.
Web links
See also
Feedback