Weaver's Week 2017-02-12
Last week | Weaver's Week Index | Next week
I thought I'd win the spelling bee,
And get right to the top,
But I started to spell "banana",
And I didn't know when to stop. — William Cole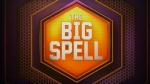 Remarkable Television (an EndemolShine company) for The Satellite Channel, from 8 January
Sunday teatimes on The Satellite Channel. What could be more typical of the light, undemanding fluff than (er) a spelling bee for middle-school children.
Sue Perkins and Joe Lycett host this particular contest. As seems to be the new tradition, they have very distinct duties – Sue does the front-of-stage business, Joe is backstage with the parents.
The parents? As is traditional, The Big Spell is for children. There hasn't been a spelling programme for grown-ups all century. (Well, there have been spelling programmes for celebrity grown-ups, but they may not count.)
Words are enunciated by Moira Stuart, an announcer, newsreader, and part-time Argond. Viewers of a certain age might have squeed when she said "Evaporate" and "Vortex", she plays this role with a very straight bat.
Recipe for success
Each show has a similar structure. The competitors divide into equal teams, and play a team challenge. They might face "Speed spell", where the team will spell as many words as they can in one minute. Or "Spell check", buzz in, spot the word spelled incorrectly, and provide the regular spelling. "Show and spell", identify a word from clues to its definition, then spell the word. And, when there were 14 players, "Word duel", where players go head-to-head and type spellings into a computer.
Winners in this challenge are safe for next week. On some challenges, teams queue up behind their buzzer, only the person at the front can play. Competitors answer as individuals, and are allowed to leave play once they've given a correct answer. No-one is safe until their entire team has given a correct answer.
The losing teams are not safe, and will play as individuals to remain in the contest. We've seen "speed spell" played by individuals. "Letter by letter" asks players to give the next letter in a word. "Spelling bee" is the traditional contest, players come up in turn and spell the next word.
On this show, each time round we find a winner, and continue until all the winners have been found and the last two are losers.
The upshot is that moderate spellers can be saved by better luck and stronger colleagues, and that excellent spellers can be put in danger by drawing a weak team. Frankly, it's a bit of a lottery.
We're reasonably sure that the final will feature stronger spellers than those who left in the first week. But we're unsure that the losers in week three are better spellers than those who left in week two, or worse than those leaving in week four. And we're not convinced that the series will correctly identify the single best speller amongst the twenty.
For no obvious reason, the show has adopted the hexagon as its theme. Teams stand in a large-scale mockup of the Hive Minds board, and a pathway of golden lights illuminates as players put themselves on the hot spot.
Upside-down pudding
So, having somewhat undermined the premise of the series, we turn to the presentation. At this point, we need to note that The Big Spell is not an original format. It's almost a direct copy of Great Australian Spelling Bee, which went out on Channel 10 in 2015 and 2016. It wasn't a rip-roaring success.
After a blizzard of publicity, Series 1 went out at teatime on Sunday, and was eclipsed by the intellectual demands of Cats Make You Laugh Out Loud. Series 2 was also promoted like it was the best thing since sliced bread, and was promptly demoted to Saturdays halfway through the series. No-one expects a series 3.
Last year, we noted how My Kitchen Rules was shot in a very Australian style, and how it felt out of place on Channel 4. We compared My Kitchen Rules to an attractive jumper with a little itch, growing more uncomfortable as it went on.
The Big Spell is also shot in a very Australian style, and it feels out of place on the international The Satellite Channel. We're going to compare it to a jumper filled with itching powder: hurts like anything to begin with, but we get a bit more used to its style as the series wears on.
Of course there's "tension" music, as predictable as any composition. Of course there are short videos of the competitors, including those who will leave us later tonight. Of course there are breaks in the obvious places, often manufacturing false tension where there is no natural break. Of course Moira will wait as long as she can before calling "correct", she doesn't want to talk over the canned orchestra – and they've lengthened the wait in post-production by splicing in extra shots.
There are frequent and fast cuts. Sue in the arena, to Joe backstage, often for just a few words. And then to a piece from the young competitor, expressing the thought the producers want. It's like we're trying to watch two or three channels at once.
We can compare and contrast against KYTV's coverage of sports. Arsenal kick the ball, and while we wait for it to come down, we cut to Joe Lycett in the stands talking to a player's parents. And then the ball lands, and Carter passes. Cut to a post-match interview with McCabe, saying "I've got to get this in. Must be a good shot." Back to the action for a split second, see McCabe let fly. And then, before the ball reaches the goalie, cut to commercials.
Viewers might want to play along with the programme, but we don't get the steady focus on the competition. Or we might want to hear reaction from the parents, but we don't get the clear view. The Big Spell is trying to merge live coverage, and reaction, and analysis, and throw it all into the one programme.
Misled
The show is over-produced, and the spectacle suffers as a result. It feels misleading. The children are competitive, they are nervous. But they are having a tremendous time, they wish each other good luck, and want to be friends for as long as they can. Sue Perkins picks up on this, gives fulsome and heartfelt praise to the week's losers.
But the losers in the first week were just dispatched, without a chance to say goodbye to their friends. That's either been re-filmed, or the competitors were ordered to stay on their marks. It feels fake, it's not the natural spontaneous reaction of friends.
"Speed spell" rounds are meant to last a full minute – in the opening episode, rounds were trimmed and pauses edited out. This didn't alter the result, it's difficult to hide someone spelling a complete word, but all "minutes" were between 50 and 55 seconds long.
And if the producers are going to mislead us about the length of a minute, what other tricks are they going to try? Television relies on good faith, it relies on everyone making a fair effort to tell the truth. Game shows don't invite to suspend disbelief very much, because if we start to believe the outcome is fabricated we may as well turn off and watch a proper drama. Even OFCOM – that great bastion of politically correct free market hokum – believes that factual shows should not be "materially misleading". The Big Spell is misleading, though we don't think it quite amounts to a material sin.
It's interesting to note why The Great Australian Spelling Bee didn't work. The timeslot wasn't helpful, people have other things to do on a Sunday night, and many other channels have established favourites in that slot. Here, 5.30 Sunday evening was once a family drama on BBC1, but that hasn't been regular since the early 1990s. It's not a hugely competitive slot, that begins with Countryfile an hour later. But it's vulnerable to one-offs like Avatar on Channel 4, or the regular live tiddlywinks on KYTV Sports.
The basic premise of the show was debated. Some critics reckoned that regular viewers don't want to be reminded that they're less good at spelling than a ten-year-old. Others noted that spelling is not taught well in schools, teachers don't break words down into their component bits, conflate sound-spelling and syllable-spelling, don't teach etymologies and derivation, or touch Greek and Latin elements. The Big Spell also refuses to educate the public, neither Moira nor Joe discuss the difference between "dys-" from Greek and "dis-" from Latin.
On this side of the world, The Big Spell has been ignored. The Satellite Channel is a pay channel. Once it was the sixth channel, it's now one of 200 choices. The channel has a few hits, but fills much of its schedule with anodyne and inoffensive shows. For the casual viewer, The Big Spell doesn't have a hook, there's no reason to tune in – and the choppy presentation gives a reason to tune out.
Semi-final 4
Here's a curiosity. Semi-final 1 featured the top person from the high-scoring losers' list. Semi-final 2 had the second-top person. Semis 3 and 4 followed that rule. If this rule holds, we project Alison Rawlinson next week, and Richard Aubrey two weeks hence.
Very little to choose between this week's contenders on heat scores, and only a couple of points between them on general knowledge. And very little to choose between them after the specialist rounds, as four of the contenders scored 8 points.
Colin Daffern has covered all bases this series, from Benny Hill in the heat to Alan Bennett tonight. His specialist round was going well until the first error, then it slowed markedly. His general knowledge round never picks up great pace, finishing on 17 (1 pass).
Gerald Chong offered "Novels of Dan Brown"; literary snobs accepted "Books of Dan Brown, but we're losing on the deal". This general knowledge set, like his specialist round, like his heat, plodded along without speed but never giving up. Felt better than 18 (0 passes).
Ian Fennell was the runner up. David Bowie in the heat, tonight he'd studied the conductor Herbert von Karajan. A strong start, faded towards the finish, and ended up confusing Celebrity Big Brother with The Apprentice. Easy mistake. 17 (1).
Lynn Edwards moved to Queen Mary of Teck. She did a little better at general knowledge in the heat, and repeats the feat tonight, closing on 21 (0).
We said four of the contenders scored eight. Tony Richardson scored eleven on the rock band Cream. Another strong general knowledge round in the heats, but an error and a pass for his first two questions tonight meant his advantage was already gone.. The questions continue to fall anywhere but the right place, and the final is 16 (3).
Lynn Edwards moves into the final, which we expect to see on 3 March.
This Week and Next
There's a thread running through much of this week's news.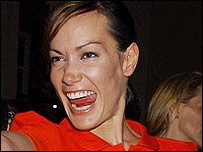 Tara Palmer-Tomkinson has died, aged 45. Best known as a friend of the royal family, the socialite appeared on the first series of I'm a Celebrity... Get Me Out of Here! in 2002. For our money, she was the star of the series, lively even in the face of Ant and Dec's challenges. Tara did further work for ITV, including Russian Roulette, and the Junior Eurovision Song Contest in 2003. The concert pianist, and reigning Comic Relief Does Fame Academy champion, was found dead in her home on Wednesday.
Back in 2014, Tara Palmer-Tomkinson was the first of many celebrities to withdraw from The Jump as it wasn't right for her. The new series began last Sunday, with reigning Big Brother champion Josie Gibson declining to jump as it wasn't right for her.
Even further back, in 1998, Tara appeared on a celebrity edition of Blind Date. This week, So Television intimated that it was making new episodes for Channel 5. Though widely rumoured in the press, we haven't been able to confirm the show's been commissioned. Not that this stops the press from speculating: hosts linked with the show include Olly Murs, Vicky Pattison, Helen Flanagan, and Kanye West.
Mike Adamle, the former NFL player and co-host of International Gladiators, is now 67 and faces apparent dementia. His broadcasting career appears to be over, and doctors think that his injuries stem from concussions while playing football.
Edinburgh and Birmingham met on University Challenge. The match began with tennis scores, Birmingham going from 40-0 up to 30-30. Edinburgh moves into the lead just before the audio round, and the sides continued to tussle for some starters. Earlier in the group phase, sides have run away in the third quarter; Edinburgh ran away in the final minutes, turning a 110-105 lead into a 220-125 win. Edinburgh's 18/38 bonus rate is slack, Birmingham's 14/21 more promising.
Fire-eaters and Verbivores in the Only Connect last-chance salon. Winners have to come back once more, losers get to leave us tonight. They're confident the winning captain is in purple. Both captains are in purple.
The first round features a long discussion about banned advertising slogans. The Verbivores suggest Joe Biden's campaign involved him dancing. Nay, that's Michael Flatley's presidential push: Make Riverdance Grate Again. It's 5-4 to the Fire-eaters after the connections.
Sequences begins with "1- Monaco", offered as the smallest neighbour of France. Even if you're accepting all the departements d'outre-mer as France proper, Monaco still wins. People on the internet debated it, as the answer they expected was "that many land borders".
Sound the Five Point Klaxon! The Verbivores think a capital Sigma and 13 leads to a P on its side and 16. And, whaddya know, they're right! They have a 13-9 lead after the round.
Why did they rabbit on about adverts? The walls are solved quickly, and the Verbivores extend their lead to 23-16. Missing Vowels goes in the Fire-eaters' direction, but not enough – the Verbivores win by 26-22. The wall, the five pointer, it all helped.
BARB ratings in the week to 29 January.
Call the Midwife (BBC1, Sun) remains top of the list, with 9.8m viewers. BBC The Voice (ITV, Sat) the top game show, 6.45m tuned in.
Let It Shine (BBC1, Sat) was falling, 5.1m saw the final heats. Pointless Celebrities (BBC1, Sat) was close behind on 4.9m. Over on ITV, 5.6m saw the National Television Awards (Wed).
Series best score for Ninja Warrior (3.7m, ITV, Sat). The Chase (Thu), Through the Keyhole (Sat), and Dance Dance Dance (Sun) all brought about 3.5m to ITV.
Springwatch disrupted BBC2's quiz schedule. University Challenge (Mon) fell to 2.3m, off almost a million, and below Dragons' Den (2.7m, Sun). Only Connect (Fri) reached 1.7m, the lowest score since new episodes came to BBC2. Eurovision You Decide (Fri) scored 1.3m.
Catsdown (C4, Fri) improved to 1.65m. Big Brother (C5) peaked on Thursday with 2.35m.
Top digital game show was Hell's Kitchen (ITV2, Tue, 385,000), ahead of Four in a Bed (More4, Sun, 355,000) and Portrait Artist of the Year (Artsworld, Tue, 340,000). That last is the top game on a pay-tv channel this year.
In Ireland, Dancing With the Stars (RTE1, Sun) scores 490,000 on overnights. Celebrity Masterchef is reported to have 77,000 viewers – it goes out on TV3 at 10pm on Monday nights, which just feels wrong.
Artwork returns to BBC1, The Big Painting Challenge is back (Sun). More hidden camera stunts on Remotely Funny (2) (CBBC, weekdays). Fifteen-to-One starts a new series (C4, weekdays), and Countdown puts Rick Astley into Dictionary Corner. Rachel will have to work with 25 letters, because Rick's never gonna give "U" up.
Photo credits: Remarkable Television (an Endemolshine company)
To have Weaver's Week emailed to you on publication day, receive our exclusive TV roundup of the game shows in the week ahead, and chat to other ukgameshows.com readers, sign up to our Yahoo! Group.