Weaver's Week 2017-04-30
Last week | Weaver's Week Index | Next week
The knives are out for Gordon Ramsay. Again.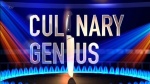 Humble Pie Productions (trading as Studio Ramsey) and Objective Media (an All3Media company) for ITV, from 17 April
Nine cooks are in a large studio. The contenders face out, standing behind individual chopping counters. Behind the players are some cookery areas, complete with sink and hobs. In the centre is a tower of dried ingredients.
We meet – and briefly talk to – the week's star chef. The contestants? They're just standing there, with name badges on.
Each contestant has a cloche, illuminated with a strip of flashing lights. Under that cloche is an ingredient. The star chef will set a task involving this ingredient.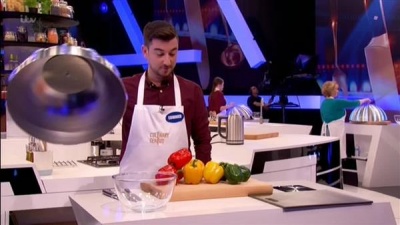 Today's ingredient is a veteran of Ready Steady Cook.
Before the contestants have a go, the star demonstrates what they want to see. It could be slicing and dicing peppers, it might be fine potato slices, it might be fine pear slices.
Spotting a pattern yet? Every opening challenge involves knives, this bit is a simple chopping challenge. Knives are also the hallmark of Gordon Ramsay, who devised this format and whose production company makes it.
Five minutes for this chopping challenge, during which the chef has a quick chat with host Fern Britton, and tours the tables. The chef has already told us what they want to see – uniform slices, quality will beat quantity, precision will triumph over all.
After time expires – five minutes in the studio, about three minutes on screen – the chef tours the nine stations and reviews the work. Only now do we see details of the players – name, age, occupation. It's a brisk introduction, no less and no more than players on Fifteen-to-One.
At this stage, they're seeking three losers. The worst choppers in the chopping challenge are chopped. Their lights go out, and the show's ominous – and slightly scary – music plays once more.
Part two is a bit similar to part one. Beneath the cloche is a main ingredient – in the sample shows we've seen, it's always been fish, but we guess they must have other ingredients. The professional chef delivers another lecture in how they want to prepare the fish.
The chef's masterclass is a lecture without questions – the contestants don't ask any clarification on screen. We viewers do get to see some captions, outlining the main points of the lecture. Useful for people who are just watching the show and perhaps not listening. And useful pointers for the contest, these are the main points for judgement.
Ten minutes for this challenge. Again, Fern has a chat with the professional chef, before they go on tour around the cooks. This time, the players will talk while they're cooking. While the contestants can't ask questions, the chef can give encouragement and make "useful" statements.
Again, judgement is passed, and three players are dropped from the show. The remaining trio are to cook a dish – using the main ingredient they prepared earlier. There are other dry ingredients in the Culinary Genius larder. Players can visit it before cooking time starts, but cannot go back afterwards. (Wet and chilled ingredients can be taken when they're needed – it's not good to leave cream sitting out under studio lights for 25 minutes.)
The challenges are shot in real time, but edited down for the programme. There's not a lot of editing, we see about half of each challenge, plus the judging and tasting in full. Compare this to other cookery shows, where a two- or three-hour challenge comes down to 15 minutes on screen.
At the end of the show, someone will be named the winner. The last three contestants have cloches in front of them. Lift the cloche to reveal the winner. The losers come round to congratulate the winner, and it all ends in good spirits.
They're clearly going for as much drama as possible. Not sure they achieve it, or that this is a good move. The tension is limited to a few moments, and feels somewhat manufactured. Vaguely operatic music doesn't add anything, and "what ingredient is under the cloche" is hardly the most important reveal.
Culinary Genius is shot in the round, with an actual audience in the studio. We're not sure what value they get from the show, and as they're out of shot, they don't add a tremendous amount.
But these are minor criticisms. Culinary Genius is a thoroughly solid show. There's very little wasted time, the programme maintains a brisk pace throughout. Each judge explains their reasons, both at the start and as they look at the various offerings.
The whole show exudes confidence. It's not a bold programme, it doesn't break any boundaries. But it is sure of where it wants to go. It's like a tour guide, striding out with a big coloured umbrella and asking us to follow on the journey.
The small amount of drama is offset by lots of technical advice – how to chop something, how to prepare something else, and some important tell-tales of when a dish is done. We also learn each judge's individual foibles – Rosemary Shrager likes her food well-seasoned, Gordon Ramsay is impressed by presentation.
Overall? We've been impressed with Culinary Genius, and it looks like the viewers have also enjoyed it so far. Ratings have been promising, and the trend seems to be up.
This Week and Next
The second semi-final of Radio 4's Brain programme. Another week, another Mastermind champ faces the game. This time, reigning Discovery Mastermind champion Michael Penrice went up against Stuart Cross, Paul Church, and Judith Jung. We saw a little grousing when Michael Penrice won his heat on a tiebreak. He interrupted the question to say, "Jose Mourinho the manager of Chelsea FC". The answer they wanted was "Chelsea FC", and other quizzes would have marked him wrong. Not that this mattered, we'll see the runner-up again as well.
Stuart Cross led after the opening round, and he and Michael Penrice pulled away a little in the next round. Michael Penrice gained from other people's bonuses, and took a lead after round three. It's a middle-distance race, and he pulls a couple of points away in the next two rounds. By the final round, it's a foregone conclusion. The final scores. Paul Judge 5, Judith Jung 8, Stuart Cross 9, Michael Penrice 15.
Thing we didn't know: Romesh Ranganathan and Frank Skinner used to be teachers. 30-34-36 is the percentage of blue, white, and red on the French tricolore (a winning submission to Beat the Brains).
The Chase is on a break. Like Ross and Rachel, we're being allowed to see other people. Such as Babushka, hosted by Rylan Clark-Neal. It's a guessing game, a bit of a quiz, and a way to play probabilities. We'll give a review at the end of the month.
Let's get one thing clear. We are on a break! If we want to hang out with other people, like Rylan with the piercings from the X-centre, we can do!
Unfortunately, some of the dead tree media have deliberately misled their customers. Let us clarify.
The Chase will return at the end of the month.
The Chase is on a break. It's not been "cancelled", it is resting.
The Chase is on a break. It's not been "axed", it is recovering after Thursday's close match.
The Chase is on a break. It is still in production, it makes daisy chains, and sings in the ITV house choir.
"Newspaper" readers have taken to social media and blamed Rylan for "cancelling" The Chase. They were misled by sloppy and emotive writing.
For now, Rylan has decided to withdraw from social media. We wish him well, and cannot blame him. We can blame the dead tree press, for whom facts are less important than ratings.
BARB ratings in the week to 16 April.
This Territory's Got Talent returned, pulling 10.2m viewers (ITV, Sat). Line of Duty (BBC1, Sun, 8.5m) the top non-game show.
Masterchef (BBC1, Wed) scooped 5.4m, and Pointless Celebrities (BBC1, Sat) 4.45m. Take Me Out (ITV, Sat) came back to 3.05m.
University Challenge (Mon) topped BBC2's lists; 3.5m beats The Chase (ITV, Fri, 3.45m). Bake Off Crème de la Crème (Tue, 2.65m) and Me and My Dog (Wed, 1.45m) rolled on, but Robot Wars (Sun, 1.3m) feels a little low for all the hype.
A one-two punch for ITV2: Celebrity Juice (Thu) had 1.04m, This Territory's Got More Talent (Sat) 955,000. Imported Top Model (Thu, 355,000) gives a rare top three finish for UK Living; the domestic edition goes out on Lifetime to 225,000.
While The Chase is on a break, we have Babushka (ITV, weekdays). Great British Menu returns (BBC2, from Tu), and there are Celebrity Eggheads (BBC2, from We). The finals of Top Class (CBBC, We) and Ffasiwn Mecanic (S4C, Fr).
Photo credits: Studio Ramsey / Objective Media, Potato, BBC.
To have Weaver's Week emailed to you on publication day, receive our exclusive TV roundup of the game shows in the week ahead, and chat to other ukgameshows.com readers, sign up to our Yahoo! Group.