Weaver's Week 2018-08-26
Last week | Weaver's Week Index | Next week
"Hello, Europe."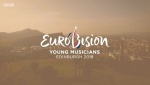 BBC Studios Cymru Wales for EBU and Euroradio, 18, 19, 23 August
Earlier this month, Glasgow hosted the Eurovision Sport Contest, with events in swimming and cycling and triathlon and gymnastics and more. Did they acknowledge the broadcaster branding all along the course and call it the Eurovision Sport Contest? Did they heck!
This week, the Eurovision camp has rolled along the M8, gawped at the new bridge at Harthill services, and come to rest in Edinburgh. It's in town for the biennial Eurovision Young Musicians contest. Eighteen great instrumentalists will perform their solo recital, and six will play with a major orchestra.
If all you know of Eurovision is the Senior Song Contest in May, then there are a few differences. Eurovision Young Musicians is a test of performance and virtuoso-ness. The aim is to find the best performer in the classical music idiom. Everyone will use existing classical works, mostly written hundreds of years ago.
A somewhat more sober affair than the Senior Song Contest, Young Musicians has no glitter, no LED screens, no video effects. The scoring system is 100% jury vote, and the jury is in the hall to see the performers as they play.
This year, 18 competitors took part. They were selected by Eurovision broadcasters, most had won a local competition to get here. Ten of them worked with bowed string instruments; there were also two saxophones, two pianos, a guitar, a flute, a harp, and a percussionist.
Semi-final time
The BBC producers chose to split the players into six semi-finals, and give each 18 minutes to perform. A piano accompaniment was allowed, if required. Most heats featured a 'cello and a violin, and something other than a stringed instrument.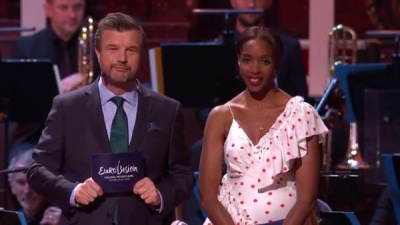 Petroc Trelawney and Josie D'Arby are here to guide you through the event. Think of them as Graham Norton, with some smidgeon of knowledge.
These semi-finals were introduced by Petroc Trelawney, in a live broadcast on BBC Radio 3 and on EER Radio 2. Petroc's script was brief and to the point, he introduced each performer and told us what they were going to play. There were no attempts at humour, no self-indulgent video presentations about building bridges, and no extended skits where Lynda Woodruff goes in search of the Wild Haggis.
We didn't watch all six hours of the semi-finals. At random, we picked hour 2 to gauge what was happening.
First on the stage was Nikola Pajanovic representing RTVSLO. He plays the violin, and opened with a lively Paganini number, demonstrating his ability to move at speed, and deal with technically demanding passages. We wouldn't want to meet these "slurred arpeggios" after a night on the Edinburgh tiles; Pajanovic dealt with them easily. A chatty piece by Kreisler and a sombre Ysaye sonata showed the texture and timbre of his playing. No surprise to see him progress to the Thursday final.
Francesco Stefanelli and his 'cello returned for SMRTV, the one competitor back from 2016. He kicked off with Penderecki's "Violoncello totale". It's a piece explicitly written for competitors in competitions like this, the performer needs to pluck the strings and play the case like a drum. A risk he needed to take, a piece designed to expose a performer's flaws will do just that.
A Brahms allegro acts as a sorbet, waking us up after that technical piece. Stefanelli is required to leap all over the stave, with a jerky theme in irregular time. We didn't get much passion from this extract. More rapid arpeggios in Fauré's "Papillion", and these are sober arpeggios, less rum and more coke. Britten's piece for 'cello and piano might have been a mistake; like the Brahms, it shone equal light on the piano accompaniment. We didn't see any reason to prefer him for the final.
Marta Chiebicka represented TVP on the flute. CPE Bach's "Hamburger sonata" was trilling, plenty of demisemiquavers to show off her nimble fingers. It's a jaunty piece – and a particular comparison after the sonorous 'cello just before. Perhaps we did need an interval feature, something to clear the mind a little. Popp's "Rigoletto fantasie" showed ability to tell a story, maybe it sent a little too much work to the piano.
We watched this show on Sunday morning, and ordered the performers as Pajanovic, Chiebicka, Stefanelli. The jury agreed with us, advancing Pajanovic to the Thursday final. The final was an accurate microcosm of the heats – two violins, one 'cello, a double bass, a saxophone, and a piano. Everyone performed with the Scottish Symphony Orchestra under Thomas Dausgaard.
The big final!
So, let's watch it! BBC2 Scotland, and BBC Red Button elsewhere. They only added the latter a few days before transmission, and we fear that many fans will have missed it.
Birgitta Elisa Oftestad (NRK "Norway") – Elgar – Cello Concerto, 4th movement
A movement made famous by Jacqueline du Pre, and now part of Yo Yo Ma's concert. It's a musical struggle, the 'cello treads a lonely path amongst a confident and insensitive orchestra. The 'cello tries and fails to join the orchestra's melody line, before introducing its own theme, and peeling instruments off to join it. An extended 'cello solo reprises the orchestra's earlier theme, before giving a desperate cry.
More: BBC Music's guide to the whole concerto.
Birgitta looks pained early in the performance, and makes light work of the difficult fingering a little later. At times, the performer looked on the verge of enjoying the experience, which is not in character, and there might have been a few tonal faults in there. This column isn't expert in these pieces, and we might miss some slight errors, so anything that we spot must be obvious to the jury.
Nikola Pajanovic (RTV "Slovenia") – Tchaikovsky – Violin Concerto, 3rd movement
"One of the most difficult violin concertos there is", "explosive violin gymnastics", "smells of vodka". Just some of the descriptions of this piece. In this final movement, the violin is used as a folk fiddle, and leaps about all over the place. It's a test of the soloist's skill and speed and precision, and needs to inspire people to dance.
More: Kenneth Woods explains the history.
Now, regular readers will know that this column has been cheering for Lindsey Stirling, a violinist and dancer. She's chosen to set aside violin virtuosity, and become a much loved entertainer. It's a valid decision, we don't fault her for it. Nikola, we reckon, is the flip side of Lindsey, technical mastery with a side order of zip 'n' verve. When the pace needs to slow, it slows. When the pace needs to pick up its feet, it properly stomps on the stage. We didn't spot notes out of place, and the overall impression was a level better than the first performer.
Indi Stivín (Czech TV "Czech Republic") – Stivín – Bohemian Suite for Double Bass, 2nd & 3rd movements
What did we say earlier? "Everyone will use existing classical works, mostly written hundreds of years ago." Strike that. Stivín has written a suite in three movements, performed all three movements in the semi-final, and repeats the last two here. The judges don't have a frame of reference, so they can't say "not as good as Auer" or "reminds us of du Pre". Will the unfamiliar work help to disguise any technical failings? Is it written to shine light on the contender's strength?
Anything for the double bass will be sonorous, it's a low instrument, doesn't make the zippy noise of the violin. This piece is lively, but we can't dismiss the idea that Indi has chosen it to remain comfortable. We appreciate the kilt, but there are no marks for presentation. Doesn't feel like a winner.
Mira Foron (WDR "Germany") – Sibelius – Violin Concerto, 3rd movement
A widely recorded piece, and we're interested in the tempo. Sibelius composed the movement at "allegro ma non tanto", around 112 beats per minute, but the most famous version by Ginette Neveu went at a slower pace. Written as a lively piece, the slower tempo can emphasise the violin excellence. It's a march to war, a brooding and violent piece, and Mira needs to bring out the meaning and nail the technical aspect.
The concerto requires lots of bow technique, and work from the left hand to damp the violin's strings in just the correct place. The notes leap up and down, far faster than the normal violin repertoire. As any rubbish karaoke singer will say, it's difficult to keep with the accompaniment at the best of times, and it's even harder with this violin piece. The kettle drums and lower strings play at one rhythm, the violin plays the exact opposite rhythm, and there's often 3/4 against 6/8 time. Basically, don't try this at home.
More: What makes the Sibelius Violin Concerto difficult to play?
The performance starts off brightly, but seems to get bogged down after a couple of minutes. The orchestra's crescendo clears the air, allowing Mira to move again. Is this a march to war? Are we ready to follow the Merida-lookalike into battle? Not entirely convinced. We've had more sprightly violin playing already.
Máté Bencze (MTVA "Hungary") – Ibert – Concertino da Camera for Saxophone
It's a difficult piece, technically challenging, and something all saxophone students will know – it's a staple for students auditioning for prestigious music colleges. Composed in 1935, the piece takes influences from contemporary jazz and blues.
Máté has a much smaller orchestra than the others (that's why it's a "concertino", a small concerto). They perform a complete work, the only finalist to give us a musical world in twelve minutes. It lets Máté show off how to work supporting an orchestra, and then dominate them in a commanding solo section. We don't know if there are any little flaws in the sound, but emotionally it went many places. Good, and could be a prizewinner.
Ivan Bessonov (RTR "Russia") – Tchaikovsky – Piano Concerto No 1, 3rd movement
Nikolai Rubenstein, the dedicatee of this work, ripped it apart when he first heard it. He had a few points: the soloist has to cope with difficult elaboration, many of the passages are virtually inaudible, and the piece is formal nonsense. It's almost as if Tchaikovsky wrote a violin concerto for the piano.
This third movement is energetic, based on a skipping dance from Ukraine, and full of fast piano tricks. A double octave passage requires dexterity – both hands are playing the same note in 4 different places on the keyboard. Over 200 recordings are commercially available, so the judges have plenty of room for comparisons. A brisk pace helps express the lyrical content, but beware of the changes in tempo.
More: Programme notes from the New York Philharmonic
Ivan makes this piece look easy. Tickles the ivory, brushes the ebony, nails the double octave passage, and delivers a technically sound piece. And the emotional heft is there – when the piano needs to skip, it skips; when it needs to carry the melody, it does just that.
The BBC decided to show the Young Musicians final on a delay, allowing the judges 30 minutes to make up their mind. Though they marked each contender on given criteria (technical accuracy, quality of sound, interpretation, performance), the judges could still over-rule the numbers if they thought it necessary. Jon Ola Sand moderated the discussion.
The audience on stage watched a performance of "Hedwig's theme" from the Harry Potter score, we viewers got a visual recap. In the end, the judges didn't need 30 minutes, they announced the result quickly.
Ivan Bessonov is the winner, the pianist was judged the best. Are we comfortable with this result? Very much so; we had it between Ivan and Nikola the earlier violinist. Just to put the icing on the cake, we late found out that Nikola had won the second prize.
The best academic quiz on the BBC returned for a new series. The show is half buzzer-and-bonus questions on academic subjects, there's a puzzle round, a specialist subjects round, quickfire buzzers. And, to redress the academic bias, teachers are quizzed on the pupils' culture. Here's what happened in the first four episodes.
Cardwell from London (Wisdom, Kimberley, Richmond, Pharrell, and Miss Sullivan) drew with Stanley Road from Worcestershire (Noah, Mahima, Luca, Sophie, and Mrs. Mann). Cardwell won the tie-break question. Highlight of this show was when Miss Sullivan swapped the answers Justin Timberlake and Shawn Mendes in two questions.
Valley Gardens Middle in Tyne and Wear (Reuben, Charlie, Joseph, Fred, Mr. Burnside) lost to Cedar Park from Buckinghamshire (Betsy, Saima, Michael, Samuel, Mr. Smith) by 31-30. A game of very small differences, won by the teachers' pop culture knowledge.
Seaside from West Sussex (Liam, Nas, Grace, Oliver, Mr Purveur) beat Liff from Angus (Niamh, Darnell, Monica, Andrew, Mrs. Stewart) 36-34. Seaside always went ahead, Liff always pulled them back, but never quite took the lead.
Tipton Green Junior from the West Midlands (Mia, Irfaan, Amira-Nadia, Fiza, Mrs. Brownhill) lost to Y Bont Faen from the Vale of Glamorgan (Toby, Milli, Izzie, Jack, Mr. Winwood) by 35-30. Tipton won all but one of the starter questions, but didn't put away the bonuses. When Y Bont Faen got the chance to score, they scored heavily – with a jaw-dropping nine on Test the Teacher. Y Bont Faen won it on the final buzzer round, reversing a five-point deficit.
More primary school quizzing on CBBC every Sunday, and here next month.
This Week and Next
In other Eurovision news, Senior Song Contest winner "Toy" has gone to the top of Billboard magazine's Dance Club Songs chart. It's the first entry from any Eurovision contest to make a mark in the Americas since the last century.
The last few entries on Strictly Come Dancing have been confirmed.
Lee Ryan, from pop band Blue.
Lauren Steadman, athlete.
Susannah Constantine, fashionista.
Charles Venn, Jacob Masters from Casualty.
Fifteen contestants will be reduced to one as Tess and Claudia put everyone through their paces. The Strictly launch show is scheduled for 8 September, with competition likely to begin on 29 September. The other staples may be in their usual places, with Bernstein night scheduled for 3 November, the Trip to Blackpool Sponsored by Northen Rail down for 17 November, and Hallowe'en will be marked on 8 December.
BARB ratings in the week to 12 August.
It is Stephen Mulhern's world, we are but living in it. How else can we explain Big Star's Little Star rising to the top of the game show world (ITV, Sat, 3m). OK, it's a bit behind Coronation Street (ITV, Mon, 7.35m), these are mere details.
Dragons' Den is second (BBC2, Sun, 2.9m) and The Chase a comfortable third (ITV, Wed, 2.75m). No University Challenge this week, it made way for the Eurovision Sport Contest.
Catsdown did well (C4, Fri, 1.5m), and Blind Date continues to pull in the punters (C5, Sat, 1.15m). It's followed by Gino's Win Your Wish List (C5, Sat, 830,000), which beat The Crystal Maze (C4, Fri, 800,000).
True Love or True Lies started well (MTV, Tue, 345,000), but fell away to 185,000 by the end of the week. Steadier numbers for Come Dine with Me and Four in a Bed (More4, Sun, 305,000 and 270,000).
Just the one new series this week, The Great Breadxit Burn-off spreads more money-shaped fug across Channel 4 (Tue and Fri). Or, if you prefer, The Great British Bake Off shares Paul Hollywood's wisdom with the world (C4, Tue and An Extra Slice Fri). The X Factor also moves into new episodes (ITV, Sat). We're looking forward to Hannah Fry's documentary about The Joy of Winning (BBC4, Tue), game theory for beginners.
Photo credits: EBU / BBC.
To have Weaver's Week emailed to you on publication day, receive our exclusive TV roundup of the game shows in the week ahead, and chat to other ukgameshows.com readers, sign up to our Yahoo! Group.