Weaver's Week 2018-09-30
Last week | Weaver's Week Index | Next week
The good news: our crash course in Dutch was enough to make us understood. The bad news: everyone wanted to speak English, and we ended up explaining the difference between the intense "alstublieft" and the more gentle "please" to a waiter. Sorry about that.
Sorry voor Alles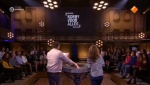 Warner Brothers Television for AVROTROS
Winner of last year's International Emmy for non-scripted entertainment. Winner of this year's Eurovision Golden Rose for Greatest Game Show in the Known World, Sorry voor Alles has been sold around the Nederlands-speaking world. We're not reviewing the original on één, but the version shown north of the border. To the best of our research, there are no major format differences.
The show is a hidden camera game, with a competition built in. But it's got more levels, there's an emotional journey as well. To tell this story, we'll follow the premier episode from start to finish. (The old maxim applies: stick your best episode first in the series.)
We viewers start by seeing the host Jan Smit in a studio, there are lots of lights. And we see a short video montage of this week's subject, a young woman called Yurena, an aspiring actress and dancer. Right now, she thinks she's getting changed for a salsa lesson. Then the back door of the changing booth opens, and Yurena is on network television. "What the actual..?"
The host and victim have a brief chat, a little time to help her calm down and get over the inevitable shock. No, you're not going to salsa dance, you're going to spend an hour watching your life. We also meet some of the more important people in Yurena's life: her boyfriend and parents, and a couple of friends. More on these people later.
For the past month, these people – boyfriend, friends, parents – have been involved in the setup for the show. They've been tipped off about hidden camera stunts, and sometimes given roles to play. Later in the show, we'll meet some properly famous people.
Sorry voor Alles is a game show, there will be points to earn and prizes to win. The prizes are tailored for each contestant. One point – one point across the whole programme – will earn Yurena a singing lesson. Three correct answers is a slap-up meal for two. Five points will award an acting masterclass, and eight points is worth a shopping spree. Eleven points will see Yurena jet off to Barcelona for a weekend, and the maximum fifteen points wins the jackpot prize – salsa in Cuba. These prizes are additive, so Yurena won't have to choose between acting and shopping, she'll get both.
After about ten minutes of introduction, we're into round one, "Gezegd is Gezegd" (What's said is said). Sorry voor Alles doesn't pick its contestants at random, they all apply for a different and fictitious programme. Part of the application form was for the player to predict how they'd behave in certain situations. For instance, would you recognise your mother's home cooking anywhere?
Let's put it to the test. Let's take Yurena's mother to a swanky restaurant, and let her make her favourite soup. They put hidden cameras in the restaurant, and even hide the show's name in the placemats. Sorry voor Alles pays great attention to detail, and is confident enough that it'll risk giving its own game away on the very first day.
Confidence? Sorry voor Alles has confidence. This show swaggers through its own production, it's quite prepared to risk something strange happening. It relies on the contestants not expecting to be on the show; even when Yurena notices the word "Sorry" on the mats, she doesn't put two and two and two together to get twee hundred en twee en twendeg.
We've not seen this fine detail since The Mole.
Back in the game, did Yurena notice her mother's home cooking? Er, no. If given the chance to cheat in a game, would Yurena? She wouldn't, and that lets the team set up a test. Yurena and her boyfriend are shown a machine common in Dutch cities, it keeps hot food hot and gives cheap hot snacks to slightly drunk people stumbling out of bars. (Very nice they were, but we digress...)
The machine is about 30 sealed metal boxes, each with a front door. In one of these boxes is €100 in cash; the rest are empty. If Yurena (or her boyfriend, who knows where to avoid) can find the cash on the first box she picks, she'll keep it. Just before the opening ceremony, the gamesmaster receives a call from the production team, leaving Yurena alone with the machine. Will she be tempted to look inside the boxes? She isn't, that's worth a point in the game, and that's already earned the singing lesson.
Round two follows, "Kun je weten" (Do you know). All of the answers in this round were given to the player at some point in the past month. We know this, because we've seen film of it. In this case, the question is about a fitting for bridesmaid's clothes, and we don't quite understand what they were counting. There's also a question about which fish were all around the trip Yulena took to the beach. These questions are multiple-choice, but you'd need an eidetic memory to remember such details from a month ago.
"Jou kennende" (You oughta know) is round three. Here, a friend or family member tries to predict how the subject would act. For instance, Yulena goes to a casting call, where she's asked to fake a breakdown in an otherwise empty room. How long did she continue sobbing and weeping and crying? "Over 30 minutes", the answer no-one expected.
Sorry voor Alles can get emotional in a dangerous way. The reveal at the start of the show could go wrong, the player might say "What the...?" and react badly. People might get hacked off that they've been lied to by friends and family. Or, as in this case, the player might be asked to make herself look a little histrionic on network television. Editing helps to reduce the negative impact, we never see Yulena for more than a few moments, there are lots of shots from the team backstage marvelling at her persistence. Indeed, the editing throughout the show is spot-on.
The show also gets star guest cameos – another question in this round involves Achmed Akkabi, a familiar star to NPO audiences.
Round four, "Echt gebeurd" (What happens next). The friends and family have been doing some strange things, too. In our example, Yulena's boyfriend has been taking dance lessons. Was it to have a videoclip go viral? Has he been re-enacting the "Uptown funk" video clip? This sequence might be all about the boyfriend, we found it tremendous fun.
And then there's a question about Yulena's grandparents, who she hasn't seen for ages. What are they doing tonight? Wrong! They're here in the studio, for a tearful reunion. Sometimes, Sorry voor Alles won't steer away from the emotional punch.
But there's still a game to play. Yulena's won seven points so far, one away from the big shopping trip, and eight from Cuba. With the end of the show nearly upon us, it's time for the quickfire final round "De laaste kans" (the last chance). True or false questions about what's been seen on the show for one minute, with a very quick photograph to prove the answer for we viewers. Yulena wins the jackpot with some time to spare, and is congratulated by her friends and family.
What's the secret of Sorry voor Alles? There's a lot of heart, the whole show is done in a positive and uplifting spirit. The aim is for Yulena to become the star of the hour, and to have good-natured pranks played on her. No-one is asked to do anything nasty, or malicious, or evil in any way. The host plays about third fiddle to the contestant and their collective crew, the host's job is to keep the show moving and the emotional level even.
From this column's perspective, we keep thinking back to hidden camera shows of the past. Make My Day trod very similar ground on ITV at the start of the century, and the stunts' wholesomeness reminds us of Saturday Night Takeaway at its recent best. Sorry voor Alles feels like a meticulous production, every last detail has been checked and nothing's been left to chance. We don't get that sense of fastidiousness from entertainment shows on this side of the channel.
Could there be a version on screens here? We'd like to think so, but we're not sure where it would go. This is a mass-appeal game skewing young, and feels too old for ITV. Channel 4 would have lapped up the format about fifteen years ago, but these days they'd just slap on Alan Carr when they needed someone much more subtle. BBC3 with a quick repeat on BBC1 primetime, but is it too expensive? Channel 5, if they can afford the budget?
We can see why Sorry voor Alles won the Golden Rose ahead of its ITV competitors. 5 Gold Rings – in its first series – was a work in progress, many of the weaknesses have been addressed in the new run. What Would Your Kid Do? was another show to construct its reality, but only pushed a few emotional buttons – Sorry voor Alles can go anywhere, and often does.
Other European shows
Last week's big launch was The Talent Project (RTL4), the latest singing performance show. The difference: The Talent Project is about seeing a singer become a star, their abilities are honed in a hothouse environment until a final performance decides the winner. Think Fame Academy without any eliminations along the way.
Für Immer Kult (WDR), a panel show discussing the 70s, 80s, and 90s. Silly questions, anecdotes in German, quizzy rounds, and the show ends with a daft dressing up game.
Late night on NOS has The Quickest Quiz (BNNVARA), asking 20 true-or-false statements in one minute. The show then takes seven minutes to discuss the answers and give scores, before running another similar round. A final quiz minute is six questions, three answers, given as we go. Lots of chatter, lots of contestants drinking from their glass of wine. But 46 questions in 18 minutes? That's only 61% of the 100% rate. Hmph.
Foute Vrienden (RTL5), in which one of four friends is wearing a hidden earpiece, and the others suggest silly things to do. Hidden cameras show the public reaction. Tie a balloon to a man's jacket? Throw paper balls into people's shopping bags? There's a forfeit for the worst performer. Sam and Mark have this down to a fine art.
And we caught the last few minutes of Miljoenenjacht (RTL4), just enough to see the dream of a perfect ending (the top prizes of €2m and €2,5m still in play, then the €2m went), and an eight-box deal for €147 000. And then the prove-out without additional offers, because none of these players will return and The Banker doesn't need to influence their behaviour.
But there's more! The Miljoenenjacht home game has to be finished, and the show's representative knocks on someone's door. The old lady inside has been watching herself on telly, and now finds she's incredibly wealthy. Miljoenenjacht may be the only show to bring a glitterfall out of the studio and into your living room.
More shows from Europe next week, as we review Chase the Case and Gareth Malone's All Star Music Quiz (both BBC).
This Week and Next
We were sorry to hear about the death of Chas Hodges, from Chas and Dave. Absolutely everywhere in the early 80s, as comfortable on Top of the Pops as on Blankety Blank, and his game show connection is writing a proper theme song for Crackerjack.
To the surprise of no-one, ITV2 won't make another series of Survival of the Fittest. The winter answer to Love Island went out in January, and was ignored by pretty much everyone.
UKTV has decided not to renew Go 8 Bit, the video game show. There's lots of love for this show from people we know and respect, and it's a shame there won't be another series on Dave.
BARB ratings in the week to 16 September.
Bodyguard remains the most-seen show (BBC1, Sun, 12.6m). Burn Out returns to the top of the game lists (C4, Tue, 8.55m).
Strictly Come Dancing had a retrospective documentary (BBC1, Sat, 5.55m). Celebrity Masterchef (BBC1, Thu, 4.45m) and Pointless Celebrities (BBC1, Sat, 3.5m) also rated well.
The Chase (ITV, Fri, 3.15m) beat Dragons' Den (BBC2, Sun, 3m) and Five Gold Rings (ITV, Sun, 2.7m). A series best for Great Local Menu (BBC2, Tue, 2.16m) propels it past University Challenge (BBC2, Mon, 2.14m).
Channel 5's top game was the Celebrity Big Brother final (Mon, 2m). Friday's launch of the civilian show pulled 1.25m.
Digital leaders were Celebrity Juice (ITV2, Thu, 1.15m), Taskmaster (Dave, Wed, 875,000) and A League of Their Own (The Satellite Channel, Thu, 795,000).
Normality returns to Friday nights, with the return of Mastermind (BBC2, not Wales) and Have I Got News for You (BBC1). Last in the (present?) run of !mpossible Celebrities (BBC1, Sun). Dame Sarah Greene and Anne Diamond-badge are on Pointless Celebrities (BBC1, Sat), and Strictly Come Dancing gets movie week out of the way already.
Photo credits: Warner Brothers / AVROTROS, Endemol Shine
To have Weaver's Week emailed to you on publication day, receive our exclusive TV roundup of the game shows in the week ahead, and chat to other ukgameshows.com readers, sign up to our Yahoo! Group.