Weaver's Week 2018-11-18
Last week | Weaver's Week Index | Next week
How many questions can you answer in a strange amount of time? BBC1's new family show finds out. We pay our first visit of the series to Splott, look at which shows are seen on internet telly, and say a final "Excelsior!" to a legend.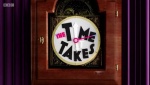 Hat Trick Productions for BBC1, from 3 November
September 2011 was our excuse to review BBC1's new Saturday night entertainment Epic Win. Alexander Armstrong's challenge show was enlivened by Joe Lycett, and his slightly camp catchphrases ("Zero pounds"). After that, Xander went off to save the world with a hamster and a genius jellyfish. Joe went off to hone his comedy chops.
Even further back in 2002, we watched Big Brother, the year where it was the most popular show of all. Kate Lawler, Jade Goody, and at the start of the series Alison Hammond. She's since done panel shows, daytime shows, and got a regular gig on ITV's This Morning with Schofe and Goph as Gordon's fitness consultant.
It's been too long since Joe and Alison graced our game show television. So let us welcome our returning heroes: we may not have had an excuse to write about them in years, but we greet them like old friends. Joe hasn't changed a bit: he's still sharp, laconic, unflappable, and there's just a touch of surreality about him. Alison hasn't changed a bit: she's still bouncy, loud, entertaining, and completely trustworthy.
At heart, The Time it Takes is a general knowledge quiz. Players answer general knowledge questions against the clock, and whoever gets the most answers right in the round will win. Joe Lycett proves to be adept at asking questions, he can keep going with equanimity and balance, whatever chaos happens around him.
There's a point of difference: these questions are sharp and witty. "Praying mantis: holy figure or leafy bug?" In seven words (seven words!) the writers have come up with a proper general knowledge poser, and they've put a humorous idea into our head. OK, there are some workmanlike questions ("How many millimetres are there in 10 metres?") and some surreal ones "In a game of musical statues, what do you imitate when the music is paused?" And these examples are just from one round.
There is an art to writing good questions: concise, interesting, entertaining. Every question on The Time it Takes meets at least two of these criteria, and they're all pitched at just the right level – the whole family can play along. Your six-year-old is an expert at musical statues, your granny knows not to kneel on a mantis.
The Time it Takes has one difference from other quizzes: each round is measured by some action taking place in the studio. All are entertaining in their own way, so if you don't enjoy the questions, you can still enjoy watching the action on the screen.
How long will it take to squeeze a pint of juice from this can of baked beans? Transfer blueberries onto the top of an ice cream sundae using a straw? Hang up a squad of football shirts? That's the question for players to consider, even before they answer any of Joe's proper questions. Joe will continue asking questions until Alison has hung up all the shirts, or squeezed out the last drop of bean juice, and then he will stop because the round is over.
And the crucial point: these timers have different length. It might take Alison 45 seconds to move the fruit, 60 seconds to hang up the shirts, and 80 seconds to squeeze the juice. Can you pick the right timer to maximise your score?
Later rounds are variations on this theme: a set of video clips, one where you choose the challenge for your opponent, and the final involving a celebrity guest. There are proper catchphrases, too: "Bring forth the timer!" calls Joe as each round sets up. "My timers, your choice," swishes Alison with a wave of the hand.
"Swishes" is the feel of this programme: it's got some old-fashioned glitz and glamour. There's a sparkly backdrop of the sort we haven't seen in years, and we almost expect Ms Hammond to be in an elegant evening dress by Great Charles of the Queensway. The show straddles the divide put forward by Fingers on Buzzers podcast, it's both tracksuits and smoking jackets.
The prize for the losers is quotidian, a The Time it Takes tea-towel. The winner gets to expand their horizons and go on holiday – a lunch or a day prize themed around their destination, upgrading to a weekend, one week, a full fortnight at their chosen place. But that requires five correct answers before Ore Oduba crushes thirty tin cans. Heck, that requires hearing five questions while Ore Oduba crushes thirty tin cans.
The Time it Takes is in the Family Game Show slot at about 5.45 on Saturday night. It's been home to such successes as Gladiators and Dr Who, and such epic fails as Len Goodman's Partners in Rhyme and Epic Win. The key to success here is to draw in three generations of viewers – have something silly for the young children, something undemanding for the grandparents, and something sane enough that parents don't resent the show. We reckon they've hit the nail on the head.
Twenty years from now, we won't be holding up The Time it Takes as a masterpiece of high art. It's light and disposable fun, and is brilliant fun. We'll be able to watch the same episodes on repeat six months down the line and still enjoy them. Indeed, it feels like the sort of show that will let the 2038 Digits on Devices gabfeed look back and say "Yeah, I really enjoyed that."
The good news is that Only Connect has returned to its top half / bottom half structure, a double-elimination tournament reduces the 16 teams to 8 quarter-finalists. This update covers the first matches in the top half of the draw.
Poptimists (Oliver Levy, Bob De Caux, Matt Loxham) beat Hotpots (Paul Jackson, Jo Beattie, Paul Richardson) by 31-19. A low-scoring first round, but the Poptimists scored on most of the Sequences, and ran away with Missing Vowels. Question of the week was about the placing of the letter V in phrases.
LARPers (Martel Reynolds, Kiwi Tokoeka, Ronny Jackson) beat Durhamites (Adam Robertson, James France, George Twigg) 24-15. Again, Sequences and Missing Vowels proved the difference between the sides. Moment of the week was when Victoria ate a chocolate bar while talking about pictures of big cats.
Pyromaniacs (Suzy Turner, Jeremy Turner, Dave Ryan) beat Cartoonists (Edward Gilbert, Patrick Telford, Ben Broadribb) 24-22. Cartoonists opened up a lead in Sequences, but lost ground through missing one connection on the Wall, and the Pyros had just the better of Missing Vowels. Obvious joke of the week was in a Missing Vowels set of "Infractions on Just a Minute"; missed picture of the week was a chance to put Booboo Stewart from Disney's Descendants on primetime BBC2.
Time Ladies (Charlotte Jackson, Emma Harris, Rebecca Shaw) drew with Motorheads (Brian Shaw, Thomas de Bock, Stanley Wang) 24-24. Motorheads opened a thin lead in Connections, but were pegged back in Missing Vowels. Only Connect is a knockout tournament and cannot stand a draw; Time Ladies won the tie break. Sharp intake of breath of the week came when the offer "add 96 to make a familiar phrase" came for the sequence "phrases misread as binary". As this was offered after two clues, and the Only Connect style requires sequences to be established after two clues, this was allowed by the adjudicators.
If we've got the calendar right, we'll see the losers in matches 9 and 10 sometime around Christmas, winners in matches 13 and 14 in the new year. More Only Connect in four weeks.
This Week and Next
The death of Stan Lee, comic book genius. Stan had a game show connection, he was the inspiration behind Who Wants to be a Superhero (Sci-Fi, 2007-8; CBBC and BBC2, 2009-10). The basic idea was that members of the public create their own superhero characters, able to save the world at one bound, albeit with some human qualities. The contestants are tested on their ability to behave in heroic ways: to be a leader by example, to overcome their own fears, to inspire others to work for the greater good. Basically, to embody the virtues Stan Lee promoted, and to help build a better world for all.
BARB ratings in the week to 4 November.
Strictly Come Dancing is still top of the television pile (BBC1, Sat, 11.15m).
The Grate Breadxit Burn-Out reached the end of the current series, and made its way into the Ten Million club (C4, Tue, 10.35m). Jo Brand's spin-off show Extra Slic had its biggest viewership of the year (C4, Fri, 2.45m). Celebrity Hunted had a halo effect, lifted to 3.4m immediately after the main show.
Some changes lower down. Have I Got News for You is now the third-biggest game show (BBC1, Fri, 5m), eclipsing The X Factor (ITV, Sat, 4.85m); a sound problem on ITV meant we thought we were watching Skaro's Got Talent. Pointless Celebrities (BBC1, Sat, 4.65m), Would I Lie to You (BBC1, Fri, 4.55m) and The Chase With Celebrities (ITV, Sun, 4.05m) all did well.
Over on BBC2, a new leader. Only Connect (Mon, 2.4m) comfortably beat University Challenge (Mon, 2.2m), and Paxman was almost beaten by Dragons' Den (Sun, 2.1m). On Channel 5, The Great Model Railway Challenge (Fri, 1.2m) beat out Big Brother (Fri, 1.05m).
Digital leaders: Celebrity Juice (ITV2, Thu, 970,000), Taskmaster (Dave, Wed, 710,000), A League of Their Own (The Satellite Channel, Thu, 375,000). More commissions: Landscape Artist of the Year (Artsworld, Tue, 265,000), Don't Hate the Playaz (ITV2, Thu, 235,000), Got What It Takes? (CBBC, Mon, 150,000).
Which shows gain from the new internet measures? Broadly, the younger the audience, the more online they are. Got What It Takes? has 11% of its viewers online, QI 5.5%, Dragons' Den and Bake Off about 4% – and without those internet viewers, the latter wouldn't be in the Ten Million Club. Daytime shows have an older audience, and are still dependent on traditional telly – Tipping Point and The Chase have 0.25% of viewers on the net, Pointless and Letterbox about 0.4%.
Nick Knowles! Anne Hegerty! John Barrowman! Just some of the game show hosts joining Dec and Holly on I'm a Celebrity... Get Me Out of Here! (ITV and TV3, from Sun). There's a promotion to primetime for The Imitation Game (ITV, Fri), and new Takeshi's Castle on Comedy Central (Thu). Junior Eurovision is up next Sunday, ESC Insight will be reporting from the dairy farms of Minsk, and there are preview shows on TG4 (Sun) and S4C (Fri).
Photo credits: Hat Trick, NBC Universal / CBBC
To have Weaver's Week emailed to you on publication day, receive our exclusive TV roundup of the game shows in the week ahead, and chat to other ukgameshows.com readers, sign up to our Yahoo! Group.