When Do You Get Off?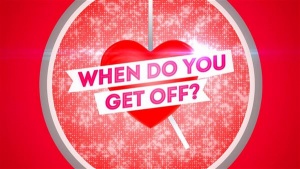 Host
Narrator: Trystan Gravelle
Broadcast
Keshet Productions UK for ITVBe, 14 October to 16 December 2015 (10 episodes in 1 series)
Synopsis
A young woman meets four young and single men in their place of work. She then chooses to meet one of them after work. On some shows, it's a young man visiting four young and single women.
The game element is that a choice is made, a winner is named and taken on a proper date.
The primary entertainment comes from the couples interacting. We also see how others live (will a fashionista dare to talk to a cleaner?) and the nonsense job titles people have these days (what does an "ideas consultant" do, anyway?). The Welsh lilt of Trystan Gravelle adds a knowing voiceover in the established style of Come Dine with Me.
When Do You Get Off? follows so many of the conventions of dating and reality shows that we could call it "derivative", but that would be unfair. The show is efficient and brisk, and never strays from its simple premise.
Inventor
Devised in-house at Keshet Productions UK.
Title Music
Nick Foster is credited as "composer".
Trivia
To promote this programme, ITVBe paid YouGov to run a survey about people's ideal dates. David Beckham (retired footballman) topped the list, and "politicians" were the least popular occupation. Countdown regular Rachel Riley was as popular as Emma Watson (acts), Taylor Swift (sings), and Victoria Cohen-Mitchell (sic).
Web links
The show publicised the hashtag #wdygo.
Feedback