Your Face or Mine?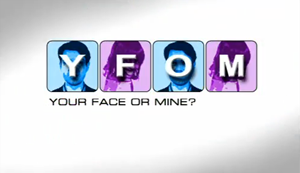 Host
Jimmy Carr (all series)
June Sarpong (2002-3)
Katherine Ryan (2017-19)
Broadcast
Talkback for E4, 2 September 2002 to 23 May 2003 (45 episodes in 2 series)
Talkback for Comedy Central, 17 May 2017 to 11 December 2019 (66 episodes in 6 series)
Synopsis
Shallow but secretly quite good fun ego bashing show.
A couple could walk away with £4000 if they are good judges of appearance. In the first round they are given ten pairs of celebrities and they have to guess which ones the audience thought were better looking. They have a minute to get through all ten, and each correct answer is worth £10.
In round two they must compare themselves to people in photos. The male partner is compared to male photos and the females female. Meanwhile, it's their partner who must predict which way the audience will vote. A correct answer here is worth £25. There's at least one embarrassing moment when they slag off someone in a photograph only for that person to be in the audience.
In round three each question is worth the total value from rounds one and two so the money racks up. Now their partners must judge between their partner and some mystery guests bought into the studio. Whilst these start out as random people, they very quickly become people the couple know (friends, housemates and naturally, ex-partners).
The exciting climax is double or nothing. They must decide between them which one of them is the better looking, whilst goaded on by Carr and Sarpong.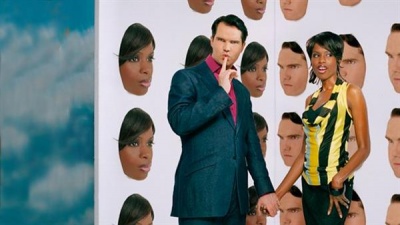 A publicity shot with faces of Jimmy Carr and June Sarpong.
Episodes were churned out for then-pay TV channel E4 but soon found their way as time fillers on Channel 4, and later on 4Music.
The format was revived in 2017 for Viacom's network, premiering on the pay TV Comedy Central channel. There were slight changes to the format: contestants judged themselves (not their partners) against other people, and the question about which of the couple is better looking comes earlier in the game. The final question of the show is a chance to double the money won so far.
Web links
See also
Weaver's Week review (2017)
Feedback