Britain's Got Talent
Line 33:
Line 33:

==Champion==

==Champion==

-

Series 1: Paul Potts- Singer who won with Nessun Dorma ([http://www.paulpottsofficial.com/ website]) <br>

+

Series 1: Paul Potts ()

-

Series 2: George Sampson- Dancer who won with Singin' in the Rain

+

Series 2: George Sampson

== Trivia ==

== Trivia ==
---
Revision as of 21:17, 31 May 2008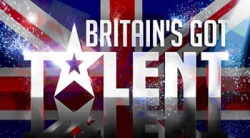 Synopsis
A search for a talented performer, with the prize of an appearance at the Royal Variety Performance and £100,000.
Simon Cowell leads a team of light-entertainment deities (and former tabloid editor Piers Morgan) around the country in search of fine talent. Unlike every other talent contest ever, the performer need not be a singer. Dancers, ventriloquists, clowns, people who play the spoons, people who carve sculptures out of ice are all welcome to audition.
The key gimmick here was that each judge was issued a large X, linked to a buzzer. When the judge had had enough of the performance, they pressed their buzzer, and their X lit up. If all three judges buzzed in, the act was entertaining no-one, and terminated. Any resemblance to the gimmick of Let Me Entertain You is surely a coincidence.
The first half of the series followed the usual route of showing people who were either very competent or very poor at what they did. The latter stages returned to a more traditional theatre setting, with a public phone-in to determine who would advance to, and ultimately win, the final.
Inventor
Champion
Series 1: Paul Potts (opera singer) Series 2: George Sampson (dancer)
Trivia
Contestant Richard Bates, an impressionist and organ player, was removed from the programme by producers when Lancashire Police contacted ITV to inform them that he was listed on the Sex Offenders Register, following an unspecified offence in December 2005. [1]
After the semi-finals, drag act the Kit Kat Dolls were disqualified after the News of the World claimed three of the members were part-time escorts.
Web links
See also
Feedback