How Do You Solve a Problem Like Maria?
Host
Co-hosts
Featuring: Sir Andrew Lloyd Webber
Judges: John Barrowman, David Ian, Zoe Tyler
Broadcast
BBC One, 29 July to 16 September 2006 (12 programmes on 7 nights)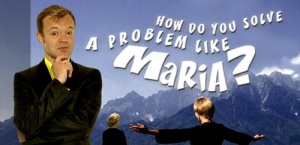 Synopsis
Theatre impresario Andrew Lloyd Webber planned to open a new version of The Sound of Music in autumn 2006, and asked Scarlett Johanssen to take the role of Maria. Julie Andrews, who made the role famous in the 1960s film, was unable to take the role. Scarlett Johanssen was also unable to take the role, leaving a rather large hole in the cast. So, how did Andrew Lloyd Webber solve the problem of his missing Maria?
By holding a Pop Idol / Fame Academy / The X Factor singing contest. The shows followed the traditional routine - a number of regional heats, a national elimination contest, followed eventually by ten performers singing live on national television.
Tradition was maintained in the judging panel - there was Good Judge (John Barrowman), Nasty Judge (David Ian, the co-promoter of the Sound of Music musical), and Technical Judge (Zoe Tyler, voice coach). They had no vote, but the public did - there was a telephone vote, and the bottom two - sometimes three - would sing again for Mr Lloyd Webber to save one.
The defining point of Maria was that it was fun from start to finish. If Pop Idol was a Victoria sponge, Fame Academy was bread pudding, and X-Factor was a rock cake with added cement, then Maria was a chocolate élair - light and delightful, but completely insubstantial and rather leaving us wanting more. Graham Norton's presentation was simultaneously cheeky and respectful.
At heart, How Do You Solve a Problem Like Maria? was a sixteen-hour promotion for Andrew Lloyd Webber's musical theatre production. It was also a boost for the BBC's regular radio programmes on musicals, and for the genre as a whole. Oh yes, Maria was also a ratings spoiler to stop X-Factor - which started three weeks into the run - from building up a huge lead.
Some critics pointed out that the winner was guaranteed just two shows a week for the first month of the show's run, as professional Emma Williams had been engaged for the part in some shows. After Connie Fisher - herself a drama graduate - was confirmed as the winner, Miss Williams withdrew her services, allowing Miss Fisher to take all performances.
Trivia
The BBC's first game show to be broadcast in high definition.
Champion
Inventor
Gigi Eligoloff
Web links
Opening titles from the BBC Motion Graphics Archive
Pictures
See also
Feedback