Paul Ross
Line 41:
Line 41:

Paul is the other Ross that occasionally pops up in front of the cameras, although lord knows how many others in the Ross clan lurk behind the scenes.

Paul is the other Ross that occasionally pops up in front of the cameras, although lord knows how many others in the Ross clan lurk behind the scenes.

-

Paul trained as a journalist, and most of his early TV experience involved covering and editing popular news and current affairs stories.

+

Paul trained as a journalist, and most of his early TV experience involved covering and editing popular news and current affairs stories.

-

For two series, he was editor of the outrageous Channel 4 yoof show ''The Word''.

+

, he the .

== Trivia ==

== Trivia ==
---
Revision as of 02:19, 24 August 2017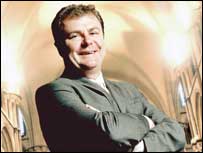 Biography
Paul is the other Ross that occasionally pops up in front of the cameras, although lord knows how many others in the Ross clan lurk behind the scenes.
Paul trained as a journalist, and most of his early TV experience involved covering and editing popular news and current affairs stories. For two series, he was editor of the outrageous Channel 4 yoof show The Word.
In 2014, he hit the headlines when he admitted to a year-long gay affair.
Trivia
Paul owns a copy of every Frank Sinatra record ever made.
Once hosted a talk show with Natasha Kaplinsky as the sidekick.
He is the brother of Jonathan Ross and brother-in-law to Amanda Ross.
Web links
Feedback