Sandi Toksvig
Line 3:
Line 3:

<div class="box">

<div class="box">

== Shows ==

== Shows ==

+
+

[[Call My Bluff]] (team captain)

[[Call My Bluff]] (team captain)
---
Revision as of 17:27, 18 June 2010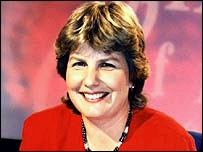 Biography
Super-cosmopolitan Sandi Toksvig was born in Denmark, brought up in the USA but eventually settled in the UK, becoming a household face in kids' show Number 73, and a household name thanks to Whose Line is it Anyway?. She was also quite brilliant as a team captain, opposite the late Alan Coren, on Call My Bluff, nearly always managing to score points over him (in more ways than one) and adding plenty more spice to the proceedings by means of the props that she used to use and the mini-plays that she quite often wrote and performed, the latter with the help of host Bob Holness. It was a real shame that Sandi was eventually replaced by Rod Liddle: the show suffered considerably as a result and never fully recovered. More recently, she has concentrated on writing novels and talk radio.
Trivia
In 1995, she sailed around the coast of Britain with former hostage John McCarthy.
When Neil Armstrong set foot on the Moon, she (as an 11-year-old girl) was holding the hand of Neil Armstrong's secretary in Mission Control.
Books / Tapes
The Travels of Lady Bulldog Burton (paperback, fiction)
Flying Under Bridges (paperback, fiction)
Whistling For The Elephants (paperback, fiction)
Gladys Reunited (paperback, non-fiction)
Contact
United Agents, 12-26 Lexington Street, London W1F 0LE
Web links
Feedback