The Apprentice
Host
Mark Halliley (voiceover)
Co-hosts
The boss: Alan Sugar
The board: Nick Hewer and Margaret Mountford
Adrian Chiles (The Apprentice: You're Fired)
Broadcast
Mark Burnett Productions / TalkbackThames for BBC2, 2005-
The Apprentice:You're Fired! BBC3 / BBC2, 2006-
Synopsis
When Willy Wonka wanted an apprentice, he didn't advertise the post in the usual way. Nothing so conventional for the inventor of the everlasting gobstopper, oh no. Instead he picked five youngsters at random, drew them into his world and whittled them down by slowly eliminating those that were too greedy, too obnoxious, too incautious or just too damn fond of squirrels (huh?), leaving just the quietest, poorest and, if we're brutally honest, most boring one to become his new protege. It's a pretty dumb method of recruitment, but with a few minor tweaks - increase the intake from 5 to 14, up the age range a little, and replace the chocolate factory with a Sugar empire (ahem) - it turned out to make for 12 weeks of compulsive viewing.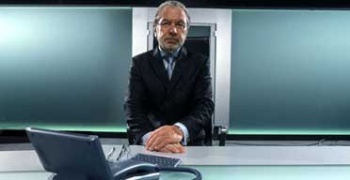 Sir Alan M. Sugar
Each week the would-be tycoons are split into two teams and given a task to carry out, after which someone on the less successful team gets booted out. Tasks include devising a children's toy, obtaining items on a shopping list for the lowest possible price, making food to sell at a farmer's market, and so on. All good, solid Game Show Tasks with a range of possible strategies, plus the advantage of a consistent (if ever-dwindling) set of contestants whom we "get to know" as the weeks pass. Think of it as a bit like Big Brother, but without all that tedious sitting around and loops of birdsong.
It was the contestants that really made this show work. A few archetypes were established very quickly: the motormouth, the plainly-out-of-his-depth, the cold-but-capable, the very quiet, and of course the blatantly unemployable. Why, it almost made you feel sorry for the man who had to employ one of them at the end. (Almost. Actually, he lost our sympathy when it turned out that he watches 4:3 broadcasts stretched to 16:9. Yeah, we understand that he doesn't usually have time to watch telly at all, but really: the guy's made millions out of consumer electronics and he can't even set up a TV properly? Shame on him.)
Anyway, to completely rip off an observation we once saw someone make on another site, the appeal of The Apprentice turned out to be not dissimilar to This Is Spinal Tap with real people. Yes, you'll CRINGE! as one of the contestants pushes ahead with a disastrous scheme against all advice. You'll CRINGE AGAIN! as they attempt to justify their actions to Alan Sugar. You'll SHAKE YOUR HEAD IN UTTER DISBELIEF as a certain person whom we shall not name for legal reasons repeatedly manages to avoid being kicked off the show. And you'll CRINGE YET AGAIN! because it's just that kind of show, really.
Of course, at the end the quiet one won, and Willy Wonka's recruitment methods were vindicated. Though the producers strangely chose to break away from Mr Wonka's masterplan at that point and failed to set the second series in a great glass elevator, which seems a bit of a wasted opportunity if you ask us.
Catchphrases
"You're fired."
Inventor
Based on the US show of the same title, devised by Mark Burnett.
Champions
| | |
| --- | --- |
| 2005 | Tim Campbell |
| 2006 | Michelle Dewberry |
Theme music
The opening theme music is Dance of the Knights from Prokofiev's Romeo and Juliet.
The tension music and closing theme are by Dru Masters. The music from the boardroom sequence and end credits can be heard on his website.
The piano piece frequently used as incidental music throughout the series is Black And White X 5 by Bill Conti, from the original score for the 1999 remake of The Thomas Crown Affair.
Merchandise
The Apprentice (updated edition 2006) - tie-in book by Alan Sugar (also the original 2005 edition)
Web links
See also
Feedback