Weaver's Week 2009-05-24
Last week | Weaver's Week Index | Next week
To This We Are Going It Eurovision To Win!
"Are you enjoying screaming yes at whatever I shout?" A reference making no sense to BBC television viewers.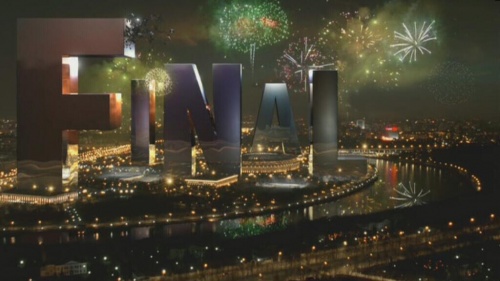 We'll begin by quickly running through the semi-finals. On Tuesday, Iceland won, and that's never ever happened in an EBU contest before. They pipped Turkey by two points, 174-172. The other automatic qualifiers were, in order, Bosnia and Herzegovina, Sweden, Armenia, Malta, Israel, Portugal, and Romania. Czechia failed to score, Belgium got one point, and the UK managed to give its points to all the qualifiers. Again, that's never happened before.

Macedonia finished 10th, but the jury put Finland through to the final from three points and two places further back. No surprises to find that MKTV (Macedonia) are hopping mad at this development; in the past two years, very moderate songs from Macedonia have been excluded under the jury rule, benefitting equally moderate songs from Sweden and Finland. It's been posited that the rules (two semi-finals, voting blocs divided as equally as possible between the two) were put in place squarely to address the perceived problem of Macedonia sending very moderate songs, receiving lots of points from their neighbours seeded into the final, then crashing again on Saturday. This happened every year from 2004 to 2007.

Norway (201) and Azerbaijan (180) went big on Thursday, with Estonia, Greece, Moldova, Ukraine, Albania, Denmark, and Lithuania going through by right. Serbia finished 10th, but they, Ireland, and Poland were all eclipsed by Croatia. Had the semis been run by Condorcet voting amongst the national top tens, Montenegro would have replaced Finland from Tuesday, and Ireland beat Croatia and Serbia on Thursday.

And so it goes. The show opened with a demonstration by the Cirque du Soleil, a reprise of last year's winning song by Dima Bilan, and – ten minutes after the Te Deum began – the hosts finally deign to stroll onto stage. "How's Moscow treating you?" asked Ivan Urgent. Don't ask, it would be rude to mention how the police treated a small group of protesters.

25 Finland 22pts

And the next-to-last shall be last. When Waldo's People went through on Tuesday, we reckoned it was because the spectacle outdid the weaknesses in the song. It turned out not to be, we suspect got through because the juries and televoters mostly agreed, and the little difference split in their favour. It's an argument to make the semis closer to a 50-50 split. Still, 22 points is no mean achievement, in many other years it would push the entry well clear of the bottom. Eight from Iceland, but neither Estonia nor Sweden gave more than 4.

23= Spain 23

23= Lithuania 23

Spain are in deep trouble with the EBU at the moment. They pestered Mr. Svante Stockselius for permission to move from Tuesday to Thursday's semi-final, but didn't air it live. No, they stuck it out on a tape delay of just over an hour, but still held the same phone-in so that they could rake in the euro. Even Antan Dec aren't that blatant. Even worse, the jury's votes were leaked onto the interwebs on Friday afternoon, in a memo that appears to have come from one of the panel. A rough-and-ready translation gave us our title this week, and we'll be mentioning the memo again later. The televote in Andorra worked, so Spain got their 12; seven from Portugal was also to be expected. It wasn't quite nul point-worthy, but three feels about right for what was – by a very long chalk – the worst song of the night.

Lithuania did nothing to offend anyone, but did nothing to excite anyone. It opened the show in a rush of "meh". Sevens from Ireland and Latvia, and four from the UK.

22 Malta 31

21 Sweden 33

The battle of the big-voiced women was decided by melisma from the penalty mark. Chiara's third entry never caught light, the draw meant she was eclipsed by Estonia. Sounds like a Disney film score crying out for an animation. It's the sort of thing that's appreciated where they know a good song, or where it's still 1984: five from Ireland, six from the UK, seven from Serbia. One year, we'll be booking tickets to Valetta. Not this one.

Marlene said in her press conference, "the higher you can sing, the higher your bank balance." Not true at Eurovision, where the higher you can sing, the higher the chance of people turning over. Seven from Finland and six from Estonia was as good as it got.

20 Germany 35

19 Romania 40

18 Croatia 45

Germany gave us the least successful burlesque act in Eurovision history. Every year since 1981, we've seen presenters disrobe, turn their skirts into streamers, the works. Alex Swings Oscar Sings got Dita Von Teese in to do a striptease, but it was almost entirely done off camera, and that's not going to help a mildly sexist tune. Not even Oscar's foil trousers help. We hated it, so no surprise to find the UK gave as many marks (7) as any other country; even Ireland gave one, but New Eurovision (countries debuting since 1992) awarded just five points. As we'll see much later, the jurors loved it, but they saw the dress rehearsal, where Ms. Von Teese suffered what we might politely term a "clothing failure".

Romania's Elena was completely overshadowed by Svetlana Loboda (Ukraine) before and Jade Ewen (UK) afterwards. UK commentator Graham Norton suggested that the vocals weren't being provided by the apparent lead singer. The inevitable 12 from Moldova, seven from Spain, bits and bobs from elsewhere included two from Ireland.

Igor and Andrea were the less unsuccessful light opera performers, though the Spanish reckon it's "an expensive B of single of Julio Churches of year 74". As we said, crept into the final by obscure reasons, and got crucified for its pains: 12 from Bosnia and Herzegovina, ten from places that weren't once Yugoslavia.

We'll take the first interval now, the one coming half-way through the performances. It began with a visual joke about not being allowed to film in a public place, then inviting various Muscovites to sing for the camera. It wasn't that funny to begin with, though very well-edited, and would have been better if the commentator hadn't yammered over the top of it.

17 Albania 48

16 Israel 53

Albania made no sense in the semi, and no sense in the final. Apparently, it's meant to be a dream sequence, which does explain something. Ten from Turkey, points from near neighbours, and a smattering of applause from elsewhere.

Israel was a grower, we didn't rate it from the semi-final, but by the time we re-heard the song this week, we were tapping along with it. Ten from France and 8 from Belgium was expected; 8 from Bosnia and Herzegovina was not.

15 Portugal 57

14 Moldova 69

Portugal was our most disappointing result of the night, all things considered: this song just utterly worked on the television, not surprising as the singer also did the graphics for the colourful backdrops. It was a song that polarised opinion: ten from Switzerland was the highest, there were seven top-five placings, and just three other scores.

There's not much we can say about Nelly from Moldova: it's traditional Moldovan dancing, designed to bring out their expats at the expense of casual viewers, even those who reckon the verses sounded like "Wild Dances". Twelve from Romania is a given; twelve from Portugal is understandable, and eleven smaller votes.

At this point, we'll jump far ahead, to two more comedy pieces. While the lines were open, viewers were treated to a visual humour piece: "Moscow has lovely weather," said the announcer as it snowed in the background. That sort of thing. Again, it would have worked better had Norton either let her get on with it or talked right over it.

During the voting, the same presenter had a pre-record of some of the finalists preparing to perform a traditional Russian folk tune on traditional Russian instruments. It was cleverly written, artily shot, and with a wicked denouement. It relied on two pieces of knowledge: that we'd heard the setup at the start of the piece, and also that we'd seen Tuesday's interval act. Thanks to the BBC production values, we're not gonna get it.

13 Denmark 74

12 Ukraine 76

For Denmark, it's a Ronan Keating cast-off, performed by a Ronan Keating tribute act. He wanted to believe in something bigger than Just the Two of Us, so that'll be another pro-celebrity singing class off the schedules. Eights from Norway and Slovenia were top weight: traditional friends Iceland sent just four points, as did Ireland.

Ukraine forced the presenters to fill while they set up the props, and as much as Europe loves bare-chested men, they didn't think that much of the song. Was there an actual song in there? Difficult to say. The leaked Spanish memo praised "an intelligent hunting action" from this song. Tens from Poland and Azerbaijan, eight from Hungary, and only 23 from Old Eurovision.

11 Russia 91

10 Armenia 92

Anastacia's daddy is very rich. And a record producer. And songwriter: this one was about growing old, apparently. The daughter gave off vibes of "We don't want to host your damned contest next year", and was entirely respectable without ever looking remotely like a winner. Twelve from Armenia, ten from Estonia, and 74 from the New Eurovision entrants.

"Everybody move your body" intoned Inga and Anush, clearly aiming for people who think Diane Warren is too taxing. Picked up points from unexpected places: 12 from Czechia was a surprise, 8 from Israel perhaps not. Twenty national panels expressed some sort of opinion, and 53 of the points came from Old Eurovision.

Spatwatch

Armenia and Azerbaijan had a really large spat. Apparently, the postcards contained a montage of various buildings, landmarks, and structures in the competing countries. One of the items shown before Armenia was a statue in Nagorno-Karabakh, a pyramid and cube with faces on. This area is disputed by Armenia and Azerbaijan, and the Azeris complained sufficiently loudly that the EBU edited out the monument from the montage in the final. Armenia responded by showing the statue on the video screen as they awarded their votes, and by putting it on the back of their announcer's clipboard, which she deliberately flashed into vision. So far, so tolerable. Azerbaijan, it's claimed, said on screen that their viewers could not vote for Armenia; if this is correct, it clearly distorts the vote in Azerbaijan, and clearly runs contrary to the spirit and letter of the rules.

9 Bosnia and Herzegovina 106

8 France 107

We're disappointed that Bosnia and Herzegovina aren't higher: Regina had strong lyrics based (in part) on their enforced separation during the country's war of the 1990s, and the best staging of the night. Picked up 56 of a potential 60 from former Yugoslavia; Croatia, Serbia, and Montenegro sending the maxima. Nothing from the UK in the final, but the semi-final voters did send something. We'll be singing it in the green-grocer's on Monday. And getting some odd looks.

Graham Norton had a good set of performances: he struck just the right note between laughing with and laughing at the contest, and didn't interrupt the singing once. The crowd wasn't so respectful for Patricia Kaas, jumping in when she started singing, and again when she reached what passes for a chorus. "France has touched to a mortal third place to it", claimed the Spanish memo. We found it a very Gallic performance, ten from Russia, three from Ireland, and a point from the UK. France3 were no Graham Norton: the broadcaster tried to squeeze an interview with Patricia Kaas into the 90-second break during the songs, and ended up talking over almost half the Moldovan entry.

7 Greece 120

And at the third time of asking, Sakis and his giant stapler and his well-miked backing singers had their worst result ever. Not that seventh is anything to moan about, it's just that this was Greece relying on their traditional votes: Cyprus, Bulgaria and Albania all sent 12s, countries with large expat Greek communities gave it something (6 from Germany, 5 from the UK, nothing from Ireland), but dribs and drabs thereafter.

6 Estonia 129

Estonia haven't graced the Saturday night stage in far too long, but they've not sent anything as good as Urban Symphony in far too long. Melodic and haunting, the sort of thing that would crop up on those chill-out radio stations. (Hint.) Twelves from Finland and Slovakia, and six from Ireland; most of the points came from the Baltic basin.

Voting was opened by the cosmonauts on the International Space Station, proving that the Eurovision Song Contest is so out-of-the-world it reaches the parts other game shows can't reach. The presenters were asked to fill for 67 seconds after the various reprises ended. It was the longest 67 seconds of our life; Ivan Urgant grabbed someone's mobile telephone and sent an SMS for Your Country, something he couldn't do in the UK because the BBC still doesn't believe SMS voting works. Eventually, time expired and we were treated to the interval act. Seven minutes of gymnasts and dancers swimming in a large transparent plastic pool, suspended just above the audience's head. It might have worked in the hall.

5 United Kingdom 173

Well! Look who's popped up! If it isn't Jade Ewen and her angsty little number. Never mind the moment where she was struck by one of the violinists on the steps, look at the points. Look at all the points. Twelve from Greece, four tens (including Ireland), and a positive reaction from thirty-one countries. It's the first time since 2002 that the UK has topped the Big Four, and almost twice as many points as they've secured in the previous six contests put together.

4 Turkey 177

It's normally Portugese songs that we completely don't get, and refrain from commenting too much upon. Over the past couple of years, the blind spot has moved to the other end of the Med, resting here. For us, the sort of thing we'd tolerate as quiet background music in a club. For voters in six countries – France, Switzerland, Belgium, Macedonia, Azerbaijan, and the UK – it's the best song of the night. Three others called it second-best, but fifteen omitted it from their top ten. Again, we suspect a little expat voting has made a big difference.

3 Azerbaijan 207

What do you get after following the home side on stage? Arash. Ho ho ho. We still don't see the brilliance in this song, but there must be something in there. The group are very popular in the Eastern bloc, but we must confess they've not passed our radar before, and we won't be seeking them out again. Turkey was the only country to give 12, but eight twelve-points shows it was Eastern Europe's second choice. Three from the UK.

2 Iceland 218

Seventh on the stage, second on the night. Picked up votes from 34 juries, including top marks from Malta, Norway, and Ireland; the UK sent 8. It was a simple song, it was very well performed, and by far the best slow song in the contest.

1 Norway 387

"He's got a face I'd like to slap," said Norton. Very cute young man, very sunny young man, dancers doing their press-ups on stage, lots of fiddling. Twelve from Spain was a surprise, ten from Belgium and twelve from his native Belarus not a shock. With the minor votes going to all corners of the field, the fact of Alexander Rybak's win was clear already, and confirmed when Iceland gave the fifth top mark from eight panels. He ended with 16 top votes, nine runner-ups, and only six places outside the national top three.

The total of 387 points is the highest in contest history, eclipsing Lordi's 292 from 2006. It's 78.65% of the possible maximum, the fourth largest score in the "douze point" era – Brotherhood of Man (1976), Nicole (1982) and Katrina and the Waves (1997) were all more popular. Alexander Rybak does have the greatest points margin of victory – the previous record of 70 was set by Katrina in 1997, it's fallen by a full 99 points. It's the largest percentage margin in the current scoring system, fully 43.7% ahead of the next song. It's the first winner since 1997 (but the fifth song) to receive a vote from each other jury. Quite a remarkable result.

Other awards were presented: the official Marcel Bezencon Awards went to Alexander Rybak (journalists' favourite), Aleksander Covic (Regina, composers' favourite), and Patricia Kaas (artistic impression).

The presentation of the voting was up to the same high quality as the rest of the show: for the first time since compressed voting was introduced, we could just about follow the scoring as it unfolded. The scoreboard was clear, and the zoom-in on the top-scoring country was mercifully abolished.

A few other notes on the UK television presentation. Graham Norton could hardly have been worse than that banker who used to do the job: he mixed the laughter and the serious bits at just the right time, and made very sure not to crash the song. We're less than convinced by the rest of the presentation: blethering over the setups to the jokes was unwise, and having a backstage chat with the UK's composer immediately before the results were announced was just asking for trouble. Norton and Lloyd Webber were linked via satellite via London, in spite of being in the same building, and very nearly crashed the voting. They certainly obliterated Ivan Urgant's interaction with the crowd, and the inevitable chat with the chief umpire Mr. Stockselius.

The final minutes left a rather sour taste: Norton continued to blether when Mr. Rybak was delivering a (very brief) victory speech. The Corporation chopped the reprise and the credits part-way through so that they could show something of ground-shaking importance: a commercial for The Apprentice. Wrong call, Auntie: try to keep the credits in full, and certainly let the reprise run its course.

That the worst we can say about the BBC's approach to this year's Eurovision Song Contest is some criticism of production decisions at the margins of the show is actually a compliment. For the first time in many years, we've not sought out a less annoying alternative to the BBC presentation, and this decision was (just about) vindicated on the night. We do expect the loose ends to be polished up by next year: interval acts in the semi, the full show on all nights. The red button is wasted by providing subtitles when it could be showing the live feed from the hall.

If we're ranking Norton on a scale from 42nd (Wogan) to 1st (the fairytale perfect commentary), we'd probably put him somewhere around 5th. There's room for improvement, there's many years of hurt to undo, but he's obviously, gloriously, clearly on the right path.

So is the BBC's approach to the contest. Getting in composers of popular tunes (as opposed to pop songs) was an inspired choice, showing that there is an awful lot of talent in the UK. We reckon that something a bit less angsty and more jolly should be on the cards next year, and we'd still tap Mika as our preferred performer. Failing that, we wonder if Xenomania would be interested.

Fact pack: counting both the semi-final and final, Hungary presented the European standard vote, followed by Cyprus and the Netherlands. We know that one country used a jury on Thursday, and Albania's votes are the most bizarre; Macedonia and Turkey were also unusual. In the final, Norway couldn't handle the telephone calls (you can't vote for yourselves!) and relied on the jury votes. Last year's Eurobarometer, Poland, remains in the top ten of the standard list, but the hold-outs of the UK fell into line, finishing in the middle of the pack.

The EBU claimed that 122 million people saw the show live within their territory. By comparison, this week's conclusion to the Pop Idleus series was seen by a mere 22.6 million people. The Eurovision Song Contest is the world's biggest game show: is it the biggest annual entertainment show anywhere?

A couple of years ago, we wondered if Eurovision votes might be decided by sales of digital downloads, rather than votes by telephone and SMS. If the UK's votes were decided by sales between Saturday night and Monday evening, here's how the points would have been awarded:

12 – Norway (official result: 10)
(UK)
10 – Iceland (8)
8 – Germany (7)
7 – Finland (0)
6 – Estonia (0)
5 – Turkey (12)
4 – Azerbaijan (3)
3 – Sweden (0)
2 – Armenia (0)
1 – Portugal (0)

Ukraine (2) and Greece (5) are just behind.

While we don't have televote-only results, we do have results from the European juries. They show that Norway would have won with 312 points, Iceland had 260, and in third place with 223 ... the United Kingdom of Third! France had 164, and Estonia was best of the rest on 124. Turkey and Azerbaijan plunge to seventh and eighth, and Armenia also plunges. The main gainers are Denmark (13th to 6th), Israel (16th to 9th), Malta (22nd to 13th), and Germany (20th to 14th). Bottom of the pile was Spain, with just 9 points.
So to the map of Europe, showing countries that repeatedly vote for each other; we evaluate this on a five-year rolling average. Almost inevitably, there are changes this year, mostly caused by Azerbaijan's entry into the contest. The Azeris have established ties with Turkey, Russia, and Moldova. Turkey has also confirmed relationships with Bosnia and Herzegovina, and with Albania The on-again-off-again relationship between Greece and Bulgaria is on this year. Serbia's lost her ties to Russia and Ukraine, which owed more to the quality of Serbia's entries. Bosnia and Herzegovina hasn't had the chance to vote for Slovenia for many years, and their relationship also ends. The relationship between Romania and Hungary has fallen away this year: Romania couldn't send votes, and Hungary didn't.

The most interesting change is that Hungary has entered into a significant voting arrangement with Iceland. People in Hungary vote for the Icelandic song, and people in Iceland vote for the Hungarian song. It means that there's a network of interlinked dependencies covering all the Nordic nations, all the nations previously behind the Iron Curtain (apart from Czechia and Slovakia), and all the other nations in the south-east of Europe, though not Israel.

The map splits into four groups with lots of interlinks: the former USSR (which includes Romania and Poland as tenuous links); a complex Balkan bloc centred on Turkey, Greece, Bosnia and Herzegovina, and Macedonia; and a Nordic block stretching into the Baltic. The Nordic joins with the Balkans via that Iceland – Hungary link, and the Balkans reach the USSR via a pair of links: Greece likes Armenia, Turkey likes Azerbaijan, and never the twain shall meet.

That's quite enough Eurovision for one year. We'll give coverage to the Dance contest in early September. And to the Junior Song Contest if any UK broadcaster shows it, presumably in a double-bill with the Eurovision Flying Pigs Display.
Second round, programme (er) three
Richard Heller is our first contender this week, and he's taking the Bonaparte Dynasty, the first attempt at establishing a pan-European culture. The founder was Napoleon, born (as the first question asked) in Corsica, and ended with the death of his grandson a century later. About half the questions are on the first leader, we don't quite reach the end of the tale before time expires. It's a perfect 16 (0).
Paula Keaveney will tell us all about Herbert Asquith, the Liberal politician and prime minister. He was PM for the first part of the First World War, and worked alongside such luminaries as Lloyd George and Churchill. It's a number ten round, scoring 10 (1).
Thomas Armer is taking Slade, the rock band who are probably the greatest export from Wolverhampton. You'll know them from such hits as "Cum on Feel the Noize", "Mama Weer All Crazee Now", and one of those records they dig out every flimmin' Christmas. No space for their co-write with Mike Read, mercifully, before the round ends on 8 (2).
John Benyon has the Life and Writings of Gilbert White, the ecologist and gardener. He's most famous for the book "The Natural History of Selborne", which is still the fifth most-reprinted book written in the English language. It's another perfect round, it's another 16 (0). Game on!
Mr. Armer qualified with the Le Mans motor race, and reminds us that Slade is still active, still performing, and still not giving up their day jobs subediting The Manchester Guardian. The round ends on 19 (3)
We'll split out a discussion of this point: was Chris Rea's song "Road to Hell" based on the M4 or M25? It was included in a question, and didn't affect the result. Our understanding is the M4, John Pidgeon in the BBC Books book "Classic Albums" (1991) said the M4. Robert Sandall said in the Sunday Times (1990-04-29, "The Rockbroker Belt") that it was the M4. Such actual facts are ignored when a certain other wiki loudly proclaims, without fear of contradiction, it's the M25, basing their claim on nothing more than a side-reference from a journalist. A journalist writing in that epitome of the typesetter's craft Het Grauniad, no less. We think the canonical answer is contained in an interview in Q Magazine from November 1989. If a possibly incorrect statement – and we're really not sure what the facts are – is repeated often enough, does it become true?
Paula Keaveney got here with "Seinfeld", and goes from the jumpy comedy to the laidback prime minister. If we correctly recall BBC4's Saturday night show ranking the twentieth-century prime ministers, we reckon he was nearer the top than the bottom. She correctly answer questions about indomitable Gauls and that other Norwegian legend at Eurovision, Jahn Tiegen. The Japanese translation for "Way of the Warrior" (bushido) evades our contender, and after a brief trip through the Vale of Pass, her round ends on 21 (6).
Mr. Heller took WC Fields in last year's last programme, and says that Napoleon wasn't short, wasn't bonkers, and didn't so much want to conquer the world as have it forced upon him. "It's always a mistake to try and invade Russia," says the contender, wisely. We wonder if the question about the Braves baseball team would have accepted Boston as well as Atlanta. It's just about the only unresolved poser in a very good round, ending on 29 (1).
Mr. Benyon had Rah! Rah! for Rasputin in the opening round. He tells us that Gilbert White disproved the belief that swallows would hibernate underwater. How could anyone possibly believe that? Or how Rasputin could heal the Tsarina's son? The host has to enquire whether the contender said "Home Information Plan" or Pack; the acronym HIP takes "Pack". The delay threw the contender off, and quite possibly cost him enough time to squeeze in an extra question. By such slim margins are the finalists decided: he finishes on 28 (1), losing by just a single point.
This Week And Next
Place your bets now: who will buy up Shark Tank, the version of Dragons' Den made by Mark Burnett, and coming to ABC (North America) this autumn. And then wonder why we get to see this bunch of foreigners dealing in a currency we don't even use and why we don't get to see the Irish equivalent. In other North American news, Ballroom With the B-List returns in a two-hour run, and The Biggest Loser is also bloated so as to fill two hours.
Stuart Murphy, who has been auditioning for his new job for a decade, has cancelled The Satellite Channel's least insignificant game shows. Gladiators has been finished after just two years; the version filmed in children's playgrounds never caught the public's attention. Don't Forget the Lyrics has also gone, it was a cheap and tacky remake of Sing it Back: Lyric Champion 2007 without the presenting skills of JK and/or Joel. Mr. Murphy said that he wanted to prioritise objectives and "introduce formats and genres not recently seen" on his channel, such as something that isn't blatantly sexist, commercialised, derivative, tedious, or promotional of his bosses' twisted morality. More on this next week.
Which brings us to Junior The Apprentice. Mercifully, this isn't going to be the unwelcome cross between Beat the Boss, Election, and Nevar, but will feature teenagers. It'll be on a screen near you next year.
Ratings highlights from the week to 10 May: Britain's Got Talent (12m), The Apprentice (8.45m), HIGNFY (5.5m). Apprentice Fired (4.2m) and Great British Menu (2.3m) had year's bests, as did Mr and Mrs (4.7m). Britain's Got Talent on ITV2 had a year's best 1.74m, Britain's Next Top Model had 365,000, and Takeshi Extreme was the best thing on Bravo, seen by 40,000.
Next week, Britain's Got Talent reaches its conclusion with live shows from Sunday night, and the final next Saturday. Channel 4's favourite daytime shows Coach Trip and Come Dine with Me fill the 5pm slot on weekdays. On Tuesday, there are tributes to Clement Freud (Radio 4, 6.30) and Jade Goody (E4, 10pm), and a Big Brother history quiz (E4, 10pm Friday) presages the start in ten days.
To have Weaver's Week emailed to you on publication day, receive our exclusive TV roundup of the game shows in the week ahead, and chat to other ukgameshows.com readers sign up to our Yahoo! Group.