Bill Bailey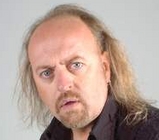 Biography
Long-haired comedian known for his musical bent and surreal flights of fancy. Hails from Bath and has acted in the sitcoms Wild West, Spaced and most famously Black Books. He trained as a classical musician until he decided to do stage comedy. One of his first sitcom roles was as Spinnij in Tygo Road. Bailey did regular slots on HIGNFY, Space Cadets and also the comic debate series Head on Comedy with Jo Brand. He replaced Sean Hughes on Buzzcocks in 2002.
Trivia
His first name isn't really Bill. It's Mark. Bill is a nickname, after the song "Bill Bailey Won't You Please Come Home".
He's asthmatic, and kept his inhaler with him on the Buzzcocks desk.
Apparently, he once took part in an unsuccessful panel game pilot for ITV called Pop Dogs. But we got that off Wikipedia, so don't go taking it as definitely true or anything.
His first TV appearance was playing a keyboard for a mind reading dog on children's Saturday morning show Motormouth. This fact being revealed much to Bill's embarrassment on his Room 101 appearance.
Contact
c/o PBJ Management, 7 Soho Street, London, W1D 3DQ
Web links
Feedback