Terry Wogan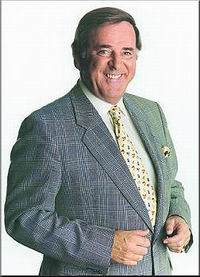 Biography
Like many television presenters, his route in to television was via the radio, although his first career was as a bank clerk.
Even today, mention the classic panel game Blankety Blank and people will remember the encounters between Wogan and Kenny Everett.
His three-times-a-week chat show on BBC1 was replaced by Eldorado, a disastrous soap opera. Terry later returned to the radio, although he still continued to present Children In Need night. He stepped down from The Eurovision Song Contest after the 2008 show, and in September 2009 announced that he would be leaving the Radio 2 breakfast show at the end of the year. He was replaced by Chris Evans.
Wogan continued to work on Radio 2, hosting a Sunday show and the Children in Need telethon. He died on 31 January 2016, aged 77.
Trivia
In his native Ireland, he hosted the RTE gameshow Jackpot.
He was one of the original Radio 1 DJs, hosting the "Late Night Extra" programme in rotation with other hosts including Bob Holness.
Terry's BBC Radio 2 breakfast show, Wake Up with Wogan, was the UK's most popular. His audience were known as TOGs (Terry's Old Geezers, or Gals) - visit the official website at http://www.togs.org/ for more info.
He hosted the BBC's outtake show 'Auntie's Bloomers' during the 1990s, which included some series relating to specific TV footage, such as 'Auntie's Natural Bloomers' and 'Auntie's Sporting Bloomers'. He did occasionally (and quite rightly, wethinks) show clips of his own on-screen gaffes, in particular the occasion on the first of his thrice-weekly 'Wogan' shows in 1985, in which he tripped and fell on his backside while walking over to greet Elton John, who duly helped Wogan back to his feet. Apparently, this incident rang considerable alarm bells within the production team, who were afraid that a gaffe like that meant that the future of the show did not bode well, but, as we all know, they were more than proved wrong, given that the show lasted 7 years.
He had a number of stand-ins during his time on 'Wogan', many of them associated with quizzes. They included Selina Scott, Ronnie Corbett, Kenneth Williams, Bruce Forsyth, Sue Lawley, Joanna Lumley, David Frost, Felicity Kendal, Jonathan Ross, Ben Elton, Anna Ford, Gloria Hunniford, Mike Smith and Derek Jameson.
He was made an honorary KBE in the 2005 Queen's Birthday honours list. He took dual British/Irish citizenship shortly afterwards, allowing him to officially be called "Sir Terry Wogan".
Various honours were bestowed upon him in December 2009, in the weeks leading up to the last Wake Up to Wogan. He received the John Peel Award for Outstanding Contribution to Music Radio from the Performing Right Society, who also inducted him into the Radio Academy Hall of Fame at a ceremony at which presenters of rival breakfast shows (including Chris Moyles and John Humphrys) lined up to pay tribute to him. He was also given a Lifetime Achievement award at the British Comedy Awards, and was awarded the Freedom of the City of London. He'd previously been awarded the Freedom of his home city, Limerick, and - the greatest honour of all - was the owner of a gold Blue Peter badge.
He's had three UK Singles Chart entries in his own right. His version of Rastrick and Brighouse Brass Band's The Floral Dance made #21 in 1978 and his and Aled Jones' version of Silver Bells made #27 in 2009. A jungle version of The Floral Dance - and yes, you did read that right - oozed on to the chart at #76 in 1995. We've forgiven but we haven't forgotten.
Books / Tapes
Wogan on Wogan (biography)
Is It Me? (autobiography) (paperback) | (hardback)
Web links
See also
Feedback