Michael Aspel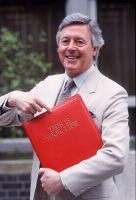 Biography
Michael Aspel began his career as a radio actor on the BBC's Children's Hour in 1954. He became a television and radio personality, first as a newsreader and subsequently as a presenter of programmes including Family Favourites, children's shows such as Crackerjack and Ask Aspel, and the ITV talk show Aspel and Co.
He presented This is Your Life for many years on the BBC, and fronted The Antiques Roadshow for eight years before stepping down in 2008.
Trivia
He once appeared in Hancock's Half Hour - or rather, Hancock, as it then was (having been shortened to 25 minutes in the hope of selling the show to the USA). He had a brief cameo as an announcer on Tony Hancock's television in the 1961 episode "Hancock Alone" (a.k.a. "The Bedsitter"). Aspel also appeared as himself in one episode of "The Goodies", namely 'Kitten Kong', in which he was reporting the giant kitten's destructive antics for the BBC News, before being knocked down by said kitten.
Aspel was awarded the O.B.E. in 1993.
He was diagnosed with Non-Hodgkin's Lymphoma in 2004.
He inherited not one but two of his most famous hosting roles from Eamonn Andrews - Crackerjack in 1968, and This is Your Life after Andrews' sudden death in 1987. Although he did not actually host the former immediately after Andrews' departure - Leslie Crowther did so in the interim (1964-68).
He turned down the opportunity to host Countdown after Des Lynam quit.
Books / Tapes
In Good Company (biography)
Contact
Shepherd and Ford, 13 Radnor Walk, London SW3 4BP.
Web links
See also
A profile in two parts from Weaver's Week.
Feedback