Michael Aspel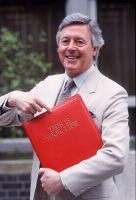 Biography
Michael Aspel was born in London in 1933, and was evacuated to Somerset during World War II. Following his National Service, he began his broadcasting career as a radio actor on the BBC's Children's Hour in 1954. His first appearances on television were as a newsreader for the BBC, working alongside the likes of Richard Baker and Robert Dougall, before he became a presenter of programmes including Family Favourites, children's shows such as Crackerjack and Ask Aspel, and the ITV talk show Aspel & Company.
Aspel was surprised by Eamonn Andrews for This Is Your Life in 1980, and had the unenviable task of taking over that show following Andrews' sudden death in 1987. He presented it for fifteen years, through its move from ITV to the BBC in 1994, until its demise in 2003. He also fronted The Antiques Roadshow from 2000 to 2008, succeeding Hugh Scully and in turn being succeeded by Fiona Bruce. And he deserves some kudos for his hosting of the three ITV Telethons, in 1988, 1990 and 1992 - eighty-two hours all told - even if the Telethons themselves deserve their less-than-sparkling reputations.
Trivia
He once appeared in Hancock's Half Hour - or rather, Hancock, as it then was (having been shortened to 25 minutes in the hope of selling the show to the USA). He had a brief cameo as an announcer on Tony Hancock's television in the 1961 episode "Hancock Alone" (a.k.a. "The Bedsitter"). Aspel also appeared as himself in one episode of "The Goodies", namely 'Kitten Kong', in which he was reporting the giant kitten's destructive antics for the BBC News, before being knocked down by said kitten.
Aspel was awarded the O.B.E. in 1993.
He was diagnosed with Non-Hodgkin's Lymphoma in 2004.
When he took over This Is Your Life, it was in fact the second time he'd inherited a hosting role that had previously belonged to Eamonn Andrews - the Irishman had hosted Crackerjack from 1955 to 1964, before Aspel took up that role in 1968 (Leslie Crowther hosting in the intervening four years). Aspel has said that he believed that when Andrews died, This Is Your Life would die with him - and he also initially ruled himself out as a contender to replace Andrews, due in part to his long-term contract with LWT (This Is Your Life being a Thames show).
He turned down the opportunity to host Countdown after Des Lynam quit.
Books / Tapes
In Good Company (biography)
Contact
Shepherd and Ford, 13 Radnor Walk, London SW3 4BP.
Web links
See also
A profile in two parts from Weaver's Week.
Feedback