Epic Gameshow
Host
Co-hosts
Voiceover: John Sachs
Broadcast
Talkback for ITV, 30 May 2020 to present
Synopsis
Alan Carr revives five game shows. They were:
The series got off to a wobbly start, Celebrity Play Your Cards Right suffered from awful luck on the cards. The Price is Right was exactly what we'd expect, and kudos for including all of the well-remembered games like Cliffhanger and Hole In One.
Take Your Pick was Alan at his finest, entertaining banter with the contestants and some very poor deals - he paid £500 for a part-used box of wet wipes. Strike it Lucky and Bullseye both gained new rounds to play for the jackpot.
Apart from The Price is Right, all of the shows featured an end game loosely based on a triangle. Complete rows on Play Your Cards Right to win money. Pick one prize from each row. Find a winning screen, or hit a triangular target as it spins. The prizes were also a common thread through the series: electric scooters, coffee makers, and home furniture turned up almost every week.
Fan reaction to the series was lukewarm: the rough consensus was that Take Your Pick worked, Strike it Lucky failed, and the others were valiant efforts. Viewer reaction was more positive, the series maintained a healthy audience throughout.
Key moments
Post-production mistaking Portia and Ore Oduba for Eamonn Holmes and Ruth Langsford.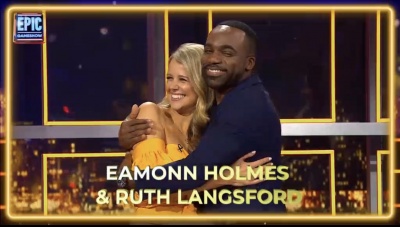 Not so much Epic Gameshow as epic
fail
. This error was corrected when the episode was repeated for the sign language crowd in March 2021.
Trivia
The series was recorded in summer 2019 with the intent that it premiere during April 2020. After it was decided to delay transmission, the promo had to be rerecorded with a new date. However, because Carr couldn't get into the studio as a result of the Covid-19 pandemic, it was very difficult to miss the reduction in audio quality between "starts Saturday the 30th of May on ITV" and the rest of the promo.
Two episodes from the second (2021) series were held over and aired after the first six episodes of series three on 6 and 13 August 2022.
Web links
See also
Gameshow Marathon, which covered similar vintage ground about fifteen years earlier.
Feedback