Cooking With the Stars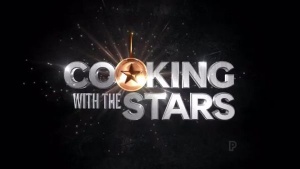 Synopsis
Eight celebrities are taken under the wing of celebrity chefs. The celebs get lessons in how to cook some dishes, and they're filmed while learning their new craft.
Grouped into pairs, the celebs cook a dish they've been able to practice beforehand. They're allowed to get help from their professional helper, but only for two minutes in the hour-long task. The other chefs - those whose celebrities aren't taking part - judge the dishes and name the best.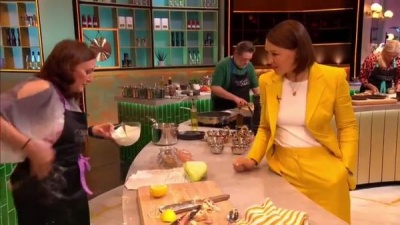 Emma Willis (right) with a contestant.
The losers from these heats go into the end-of-show cook-off, a dish they've not seen before. The celebs are provided with a recipe card to help, but must do all their work alone. The chefs go to another room, as they'll judge the food "blind", without knowing who has cooked which plate. Loser of this round is off the show, everyone else comes back next week.
Cooking With the Stars was funded by Marks & Spencer, the upper-middle-class retailer with a food department of high quality and high price. The corporate aim was to show off the range of food available at M&S, and to encourage existing customers to do more grocery shopping there.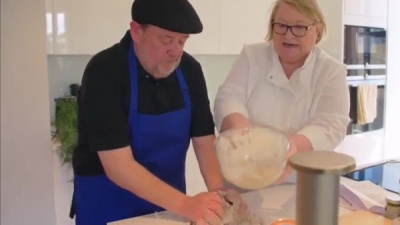 Johnny Vegas learns how to knead bread from Rosemary Shrager.
Judging from this programme, M&S are as conservative and unimaginative as the popular perception. After three decades of Masterchef, cooking against the clock is entirely clichéd. The show didn't have many practical hints we could apply beyond particular dishes; surely if M&S want us to cook from scratch, they need to bolster confidence as much as anything.
Cooking With the Stars was glossy, and edited too sharply - at times it felt like we were watching the show on fast-forward. The big reveal in the final was botched for most of the series, the celebs let slip who had cooked which dish rather than Emma revealing it with extra tension. And that's our abiding memory from the series: looked good on paper, was fun to make, but didn't quite gel as television.
Champions
| | |
| --- | --- |
| 2021 | Harry Judd |
| 2022 | Dr Ranj Singh |
| 2023 | Samia Longchambon |
Participants
2021
2022
Anton Du Beke (Strictly professional turned judge)
Anne Hegerty (Chaser)
Josie Gibson (Big Brother winner turned This Morning presenter)
Maura Higgins (Love Islander)
Dame Kelly Holmes (ex-Olympic runner)
Dr. Ranj Singh (This Morning doctor)
Joe Wilkinson (comedian)
Woody Cook (The Circle contestant and son of Fatboy Slim and Zoe Ball)
2023
Peter Andre (singer)
Chris Eubank (boxer)
Samia Longchambon (actress)
Joanna Page (actress)
Indiyah Polack (Love Islander)
Claire Richards (Steps singer)
Jason Watkins (actor)
Matt Willis (Mr. Emma Willis)
In 2021, the chefs were Joseph Denison Carey, Francesco Mazzei, Tristan Welch, Nisha Katona, Ronnie Murray, Judy Joo, Jack Stein and Rosemary Shrager. The last four of these returned for 2022, joined by Jean-Christophe Novelli, Tony Singh, Clodagh McKenna and Mike Reid. 2023 saw a line-up of returners Stein, Shrager, Novelli and Singh along with newcomers Michael Caines, April Jackson, Shelina Permalloo and Ellis Barrie.
Catchphrases
Tom Allen desperately tried to make "if it ain't on the plate, it ain't getting ate" a catchphrase, despite it going down like a lead balloon in the studio.
Trivia
Ronnie Murray was a replacement for Mark Sargeant, who was accused of sexual assault between the series being announced and broadcast.
Web links
See also
Feedback