Gok's Lunchbox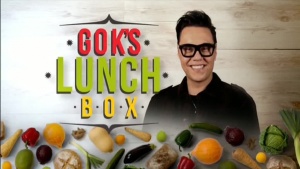 Host
Broadcast
Shiver for ITV, 28 March to 8 April 2016 (10 episodes in 1 series)
Synopsis
Take three cooks. Give them the same box of ingredients, and let them make a dish. Judge the results, and give a small prize to the best dish.
On The Box, or the round on Masterchef, this is a 15 minute task. Gok's Lunchbox has a full hour to fill. So we have to meet the judges (friends and family of the contestants), and hear about the contents of the boxes in extreme detail. Only after the first ad break do we hear the planned dishes, and then the plans will be spoiled by an additional ingredient.
Players cook in their own homes, so there's further faff with a re-heating session. Three contestants into one microwave doesn't go, it's manufactured and false panic. The judges don't know who made which dish, and score out of ten on taste, presentation, and impression. Gok Wan also scores, to break ties.
Ah, Gok Wan. The man whose name is on the show, and contributes more innuendo per minute than anyone on network television. All through the show, wisecracks. "Who's going to get their hands on my lunchbox?" "Are you ready to toss my noodles?" Something about meat and oil that sounds rude.
This japery gets tiresome. There's nowhere near enough story to fill an hour, the programme rattles like the last onion in an empty box. Gok's cabaret doesn't distract or entertain. We're even irritated by the way he teleports from one well-appointed kitchen to another well-appointed kitchen - of course he's cutting between film sessions.
The day's prize: £250 to the winner. Two hundred and fifty quid. Woot. Bullseye called from 1981 and said, "That's stingy."
Key moments
Gok saying "you're my favourite" to every single contestant on every single programme. Brucie would be proud.
One episode was livened up by a contestant's cat coming up and drinking water straight from the tap in the middle of Gok being there.
Trivia
Commissioned as Gok's Big Lunchbox.
The pilot series advertised for contestants in Hertfordshire, Essex, and East London.
Went out in the 12.30 lunchtime slot, while Loose Women enjoyed an Easter break.
One of the contestants in the first episode was Kerry Whelpdale, the wife of professional footballer Chris Whelpdale.
Together TV reran the series in September 2022; the series is sufficiently cheap that even they could probably afford to mount their own series of it.
See also
Feedback