I'll Get This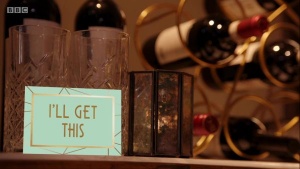 Host
No host, no voiceover
Broadcast
12 Yard and BBC Scotland for BBC Two, 6 November 2018 to 12 May 2020 (11 episodes in 2 series + 1 speical)
Synopsis
Five celebrities go out for dinner at an expensive restaurant. Each brings their credit card, and puts it in the middle of the table.
After each course, the celebs play a "fun and revealing" game. The winner removes their card from the middle. Whoever's card is left is paying for the meal.
I'll Get This turns out to be a very chatty show, everything is done by words, the stars of the show are the wagging tongues of the diners. All the games are verbal, no one so much as stands up, though there may be stunts with water or mints.
The games are as much miss as hit. One round asks the team to answer a personal question, with the challenge being to guess the question from the answer. "Fourteen, on a school trip to Bognor Regis" - first kiss? First night away from parents? Intriguing, and there are anecdotes to tell - but we wouldn't see them until Extra Helpings came out months later.
"Get a friend to text you the word 'caravan' without using that word" is one challenge: six months later, Stephen Mulhern's In for a Penny will set the same challenge and have a very different fun.
The players are trusted to run their own games, there's no Voice of Dinner telling them what's right and wrong. The shot direction is lovely, they've clearly thought about their angles and worked on the close-ups. The effect is glossy and upmarket, the show looks as expensive as the restaurant.
We found I'll Get This to be an entertaining programme, its strength is in some very strong casting rather than the challenges. We didn't expect to see Griff Rhys Jones and Scarlett Moffatt on the same show, but they made great entertainment together.
Key moments
Rob Beckett suggesting that it was acceptable to borrow up to £1,000 from a mate without giving it back and being chastised by Harry Redknapp.
Maura Higgins photoshopping Les Dennis on to a copy of All Star Family Fortunes' board game, handing it to Dennis during the Christmas special (which called for the participants to buy each other presents), and claiming "I'm young, so I only know Vernon" - despite the fact that new episodes featuring Dennis were going out as late as December 2002, when she was 12, and that a board game with Dennis on the front had been released that year. Ouch!
Trivia
The first series was shown as a 30-minute programme at 10 pm. Almost six months later, an extended (45-minute) show went out under the title I'll Get This - Extra Helpings. This wait was reduced to five days for the 2019 Christmas special and completely abolished for the rest of the second series, as first-run editions ran for 45 minutes. This was so that Newsnight could start 15 minutes later and use the same studio as the 10 O'Clock News, a resource-saving measure introduced as a consequence of the Covid-19 pandemic.
Johnny Vegas turned up on an episode having recently lost two front teeth, apparently from eating paté at his mum's house. That's some paté…
A special edition aired for Children in Need 2019, featuring Peter Jones, Sarah Willingham, Touker Suleyman, Tej Lalvani, and Sara Davies of Dragons' Den. It ran for 35 minutes, while BBC1 broke for the 10 O'Clock News, and comprised a 30-minute episode with a 4-minute Children in Need commercial. The original plan was that the dragons' donations increased by £1,000 after each game (so the 'loser' would have paid £5,000), however at the end of the night the dragons decided to each chip in £5,000. Good idea.
Not counting donations, the highest dinner bill was £958, paid by Richard Madeley, no thanks to Steph McGovern getting her card out early and then ordering some very expensive Champagne.
Web links
See also
Feedback