Len Goodman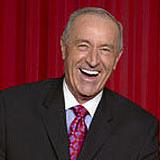 Biography
Born in April 1944, took up dancing after a foot injury put an end to his football career.
Len died in April 2023, aged 78.
Trivia
Along with Bruno Tonioli, he was also a judge on the US version of "Strictly", Dancing with the Stars.
Books
Better Late Than Never: From Barrow Boy to Ballroom (paperback)
Web links
See also
Obituary from Weaver's Week.
Feedback