Partners in Rhyme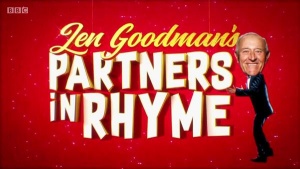 Host
Broadcast
Objective Media Group Scotland, Panda Television and Accidentally on Purpose for BBC One, 19 August to 23 December 2017 (12 episodes in 1 series)
Synopsis
A very simple family show, where the idea is to make phrases that rhyme. For instance, a pen from Len.
Before anyone can get their hands on this, there's a game to play. Two contestants join two pairs of celebrities, and Len Goodman hosts. To help the players warm up, and demonstrate the idea to the viewers, each celeb solves one of the riddles.
The contestants play "Find the Rhyme", a quickfire round on the buzzers to solve more puzzles like this. The winner has pick of the celebrity pairs.
Then into "Mime the Rhyme", where the celebs give clues to a rhyme they can see but the player cannot. One celeb gives clues to the name, the other mimes an action. Thirty seconds is not a long time to distinguish a chopping knife from a karate chop.
"Rhyme Watch" is a recorded film, with a number of rhymes embedded. Each is marked by a cutout of Len Goodman pointing. Teams write down their answers.
"News at Len" is the final round - the host reads out news stories, setting up a rhyming headline. On the buzzers, two for a correct answer.
The loser gets that pen from Len. The winner can upgrade the prize to a trip abroad, if they can solve six complex rhymes in a minute. It's possible, but difficult.
Good Man needs you!
There are problems with Partners in Rhyme. The pacing is back-to-front - we begin with the quick-fire buzzer round, and end with a series of slow-paced speeches from Len Goodman. Moving some rounds within the show might help to keep a consistent pace.
They've managed to book lots of familiar faces from BBC Saturday nights, and it's familiar and cosy viewing. And it's almost impossible to watch Partners in Rhyme without taking part. For the early evening family viewing slot, that's a success.
Inventor
Matt Edmondson, whose company Accidentally On Purpose is a co-producer.
Based in part on Edmondson's Obama Llama board game.
Theme music
Nick Hope and James Maracone, credited for "Music".
Trivia
Recorded at BBC Scotland Studios
The animations - manipulated photographs of celebrities - were done by Creative Nuts.
Audience reaction to the 12-episode commission was poor. When Strictly Come Dancing began, the early evening schedule lost space for a show. Schedulers preferred the surefire hit Pointless Celebrities and took Partners in Rhyme off after five weeks. The episodes resumed in November, after a six-week break. Panda's next commission, Wedding Day Winners, fared even worse, lasting just 3 episodes before being pulled.
Web links
See also
Feedback