Give Us a Clue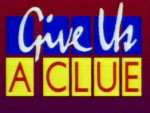 Host
Michael Aspel (1979-84)
Michael Parkinson (1984-92)
Tim Clark (1997)
Sara Cox (2011 special)
Co-hosts
Team Captains:
Lionel Blair (1979-92, 2011 special)
Una Stubbs (1979-86, 2011 special)
Liza Goddard (1987-92)
Norman Vaughan (stand in for Lionel Blair; 1980)
Joyce Blair (stand-in for Una Stubbs; 1981 special)
Christopher Blake (1997)
Julie Peasgood (1997)
Broadcast
Thames for ITV, 2 January 1979 to 1992
Grundy for BBC One, 10 November to 19 December 1997 (30 episodes in 1 series)
bbc.co.uk webcast, 5 to 6 March 2011 (24 Hour Panel People)
Synopsis
Charades! Err... that's it.
Oh, alright then. A team of four male celebs face a team of four female celebs in this prizeless, just-for-fun parlour game. The host shows whichever sucker whose turn it is the name of a book, play, TV show, movie, song, person or brand of soup upon which said sucker pulls a face. They then have two minutes to convey their given name by means of mime, with codified gestures to describe the category of item, the number of words and, if need be, each word in the title syllable-by-syllable.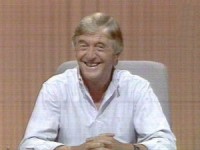 Michael Parkinson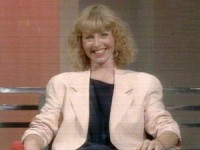 Liza Goddard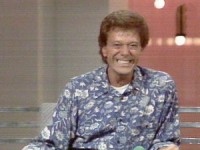 Lionel Blair
Three points for a correct answer in the first minute; two points for a correct answer in the second minute; one point on offer to the opposite team if they can guess the correct answer when the mimed-to team can't. Repeat until the time runs out, season with jolly giggles.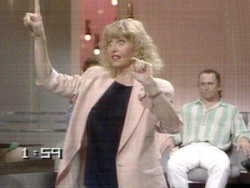 Liza Goddard takes the floor while actor Wayne Sleep looks on in the background
Like Blankety Blank, there was a very particular hierarchy in the way the guests sat. The usual order from team captain downstage went: (women's team), sitcom star, actress or writer, ditsy blonde; (men's team) comedian, TV presenter, dull footballer.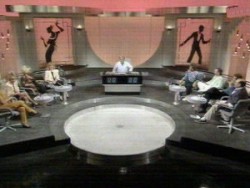 The set used in the 1991 series.
The more modern BBC re-make with Tim Clark tried to introduce a lateral thinking puzzle (which he could "give clues to") but it didn't really fit in with the rest of the show. Regardless of whoever the host was, cheating and favouritism by the host towards the women's team abounded.
Key moments
Celebrities trying very hard to remain reputable by not using rude parts of the body in their mime.
Editions when Michael would have his wife, Mary Parkinson, on the girls' team.
The infamous 24-word song titles they'd reserve for some comedian to mime (which, surprisingly, they'd normally get after word 3).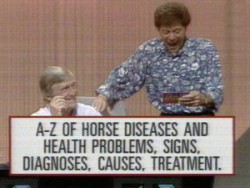 Parky gives Lionel one of his trademark stinkers
In the first two series, the teams would have three celebrities and a member of the public playing the game. They dropped the member of the public after an incident from the second show in the second series - the gentleman in Lionel's team read the wrong side of the card given to him, and thus mimed his own name!
Inventor
Vince Powell (comedy writer) and Juliet Grimm (the original producer)
Theme music
For some bizarre reason, an early version of the theme music (until the 1981 Royal Wedding special) was exactly the same piece of library music used by the BBC's schools com-dram Grange Hill (Chicken Man by Alan Hawkshaw).
After that, there was the glorious theme tune of the Parky version, composed by Thames TV's Musical Director Alan Braden. It incorporated the entire Ring Cycle and also a catchy show-tune sing-a-long as the team captains (including, inevitably, Lionel Blair) introduced each of their team members in turn. Courtesy of TV Cream, here's the lyrics:
Did Elvis sing it?
Or Basie swing it?
Old song or new?
Give Us A Clue!

Has Spielberg made it?
Have actors played it?
In theatres too?
Give Us A Clue!
Does TV show it?
Do bookworms know it?
One word or two?
Give Us A Clue!
Give Us A Clue!
Give Us A Clue!

With Michael Paaaaaaarkinson!
Liza God-dard!
And Lionel Blairrrr!

Give Us A Clue!
(and on my team today I have...)
Give Us A Clue!
(and on my team today I have...)

We're asking you!
Give Us A Clue!
Give Us A Clue!

The opening titles from 1988.
Trivia
Richard O'Brien look-a-like Tim Clark (also of sports show Under the Moon fame) had to change his name of Tim Burton because so many people confused him with the American film director of the same name.
For some bizarre reason, mainly that the script hardly changed in over 20 years, this programme was constantly referred to by chairman Humphrey Lyttelton in the radio panel game I'm Sorry I Haven't a Clue. The gag usually referred to some dreadful double entendre such as: "And I can still remember the look of glee on Lionel Blair's face as he was offered Howards End over Michael Aspel's desk."
Talkback Thames (as it then was) hawked around a revival in 2010 after a Dutch version (Hints) was a hit, with Kirsten O'Brien and Rufus Hound in charge of Andi Osho, Katherine Ryan and Mel Giedroyc and James Redmond, Paul Tonkinson and Charlie Baker, but to no takers. Maybe the broadcasters were put off by the pilot's host, George Lamb.
The distribution company "Network on Air" released nearly all of the Michael Aspel episodes on a 13 DVD disc set in November 2022. 98 out of the 106 episodes were featured in the collection. Eight episodes were not included due to the appearances of three celebrities convicted of sexual abuse offences under Operation Yewtree in the 2010s.
Merchandise
Give Us a Clue (DVD)
Web links
Pictures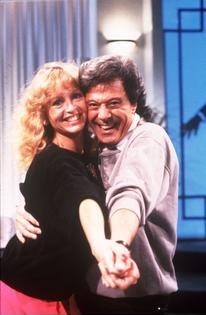 You won't see them together on Strictly Come Dancing.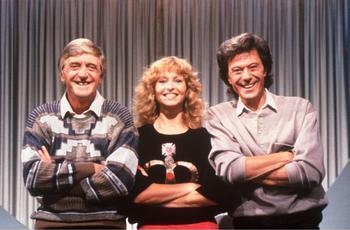 With Michael Parkinson, Liza God-dard!, and Lionel Blaaaaaaair
Feedback