Singled Out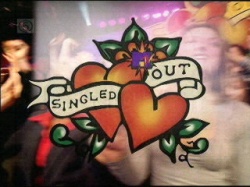 Host
Sarah Cawood and Richard Blackwood
Marc Crumpton and Tess Daly
Broadcast
MTV for Channel 5, 5 September 1998 to 2001?
Synopsis
"Trashy" Americanised MTV dating game show which C5 managed to turn to "rubbishy".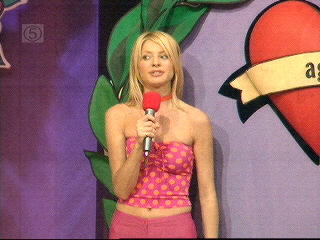 Tess Daly
Man sits in a chair and 50 people stand behind him. He is asked a question about what they like in a person, and whoever doesn't fit that physical characteristic is out.
The love seat.
When there are only eight people left, the lonely heart must reduce them to three, done by asking them to do silly stunts after which they can "keep them" or "dump them". They normally require a bit more talent then the ones on Blind Date. "I couldn't get on Blind Date with Cilla so I'm on an Americanised Channel 5 show instead. Tell me a poem as to why I shouldn't be suicidal..."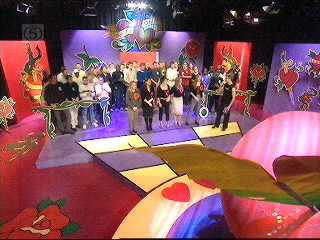 The set
The three people that are left then have to match minds with the lonely heart. They'd each be asked questions with two possible answers that the person in question will have answered on a card beforehand. If the answers match they can move forward a step.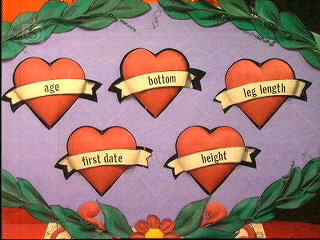 Yes, "bottom".
Whoever gets to there first wins a date with them, probably to somewhere exotic like, ooh... Essex. Then it would be done again but with a girl chasing 50 boys.
Inventor
Based on the MTV show of the same name.
Trivia
Sunday lunchtime screenings of the original US version went out on BBC2 for a short while during the mid 90s - it was around this time they were also repeating Shooting Stars in the same timeslot.
Pictures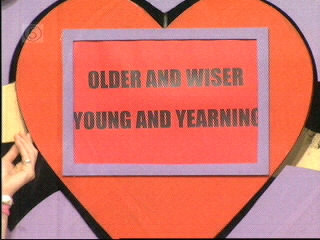 Justified and Ancient...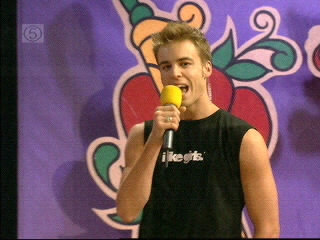 Marc Crumpton: Likes girls...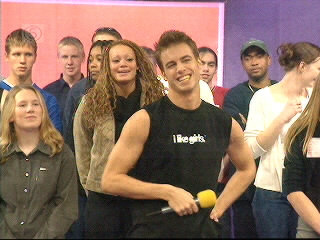 ...but mostly fancies himself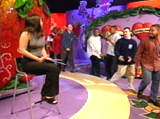 You're outta here - rejected contestants leave the studio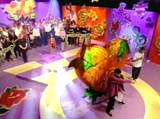 Playing the final round
Feedback