The Marriage Ref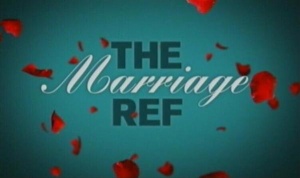 Host
Jo Brand (non-broadcast pilot)
Co-hosts
Studio voice-over artist: Simon Greenall
Broadcast
Zeppotron for ITV1, 18 June to 30 July 2011 (7 episodes in 1 series)
Synopsis
Dermot O'Leary hosts as couples involved in an on-going disagreement each explain their side of the argument to a panel comprised of guest celebrities. After each person has stated their case, the panel then decides who is the winner of the dispute.
If you can help us to expand this entry, please provide as much information as possible, using the feedback form below.
Inventor
Devised by Jerry Seinfeld, and based on the American programme of the same name.
Theme music
Mat Osman
Web lniks
See also
Feedback