Tony Hawks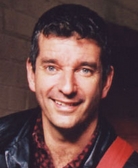 Biography
Comedian, songwriter and all-round funny chap, Tony Hawks is possibly best known for writing the controversial spoof record Stutter Rap which, under the title of Morris Minor and the Majors, reached the dizzy heights of #4 in the UK charts in 1987. A BBC sitcom followed.
His first book, Round Ireland With a Fridge, was a does-what-it-says-on-the-tin comedy travelogue which sold bucketloads, paving the way for similar other titles. He is a regular contributor to panel games on TV and particularly BBC Radio 4.
Trivia
He is co-founder of the Tennis For Free campaign [1].
He constantly gets emails from 11-year-old grungy teens from Brooklyn assuming him to be skateboarding legend Tony Hawk (singular). The confusion prompted Hawks to take Hawk as his specialised subject on Celebrity Mastermind.
He could have avoided such confusion if he'd stuck to his original surname, Hawksworth. We're guessing it's an Equity thing.
Like Ainsley Harriott, he has had involvement with the BBC sci-fi sitcom Red Dwarf - he was the studio warm-up for the first three series and, since he was there anyway, got roped in to do various bit-parts.
Books/Tapes
Round Ireland With A Fridge (book) / (tape)
Playing The Moldovans At Tennis (book) / (tape)
One Hit Wonderland (book) / (tape)
Contact
c/o Independent Talent Group Ltd, Oxford House, 76 Oxford Street, London W1D 1BS
Web links
Feedback