Weaver's Week 2012-02-12
Last week | Weaver's Week Index | Next week
And is there buttered toast for tea?
Silver River Productions for BBC2, 7.30 Mondays, 2 January – 6 February
There's something very old-fashioned about this show. It's a themed quiz, in which teams compete for the honour of winning, and nothing more. It's not in a tournament structure, each show stands on its own. When was the last time we had a team competition outside of a tournament? Ah, The Beat Goes On.
A Question of Taste is better than that, though not by a terribly large amount. Host for the programme is Kirsty Wark. Her reputation as a fierce investigator on the Newsnight programme is assured. Her reputation as a quiz show host, somewhat less good. She hosted the inferior, second, series of The Book Quiz (2008), and the decidedly mundane daytime filler A Question of Genius (2009-10). The quiz wants to be homely and family viewing, but it comes across as a teensy bit too strident.
There is, actually, a replacement already in the studio. William Sitwell is sitting at the far end of the set, in something called "Kitchen Corner". He's got his SquarePad laptop out, and will chime in with pertinent information about the questions as they're asked. Two game show tropes are combined here: the boffin on the sidelines is best exemplified by Susie Dent from Countdown, where she resides in "Dictionary Corner". And the information appearing on a laptop, that's familiar from Richard Osman of the frighteningly new Pointless fame.
The quiz itself consists of five rounds, selected from a menu of six. "See Food" is a collection of fifteen questions, each introduced by a picture. The teams could, for instance, be shown a shot of an aquatic beast, and invited to name that fish. Or they could see an extreme close-up of some dish, and race to the buzzers as the camera pulls out. Ah, Ask the Family, how we remember thee.
After the opening round has outstayed its welcome slightly, we're into "TV Dinners". Clips of famous television chefs are played, with some of their words bleeped out. Tell what happened next to win a point, and hope that A Question of Sport doesn't send down a note saying "We've been asking What Happens Next since you were in short trousers, tush."
By long-established tradition dating back almost ten weeks, the most popular round is round three, and we can doubtless expect A Question of Taste Smorgasbord Special before the year's out. In this round, teams are given ten foods or ingredients, and a clue that matches only five of them. One point per correct answer, but get one wrong, and the opposition can nip in to take the round. Most weeks, this round ends in a 1-1 draw, three points on your pools coupons. It's a bit like the auction round from Wipeout, only without any bidding, and without the ability for the team to stop and bank the points they've got.
Or, quite frankly, anything like as much interest. Even on subjects we didn't find interesting, Paul Daniels and Bob Monkhouse were able to make the question interesting. Here, Kirsty and William manage to suck out all the fun from the situation, interrupting the flow of the game to cram in yet another anecdote. When a food quiz is done entertainingly (see: The Big Food Fight of 2009), we will be entertained. When it's not good entertainment, we will quickly be bored.
Three more rounds to explore. "Food Clues" gives various clues to the identity of a dish. It's a bit like Going for Gold, but without the linguistic barriers. "VIP Recipe" asks the players to identify the ingredients in a dish. One round began by asking, "Is there spaghetti in the spaghetti carbonara?" And "Gastroknowledge" is two minutes of quick-fire questions on the buzzers. Teams of three compete, and the higher score leaves as the winners.
Two problems with A Question of Taste, really. One is that the whole programme is familiar, it's made up of bits and bobs of other shows. We've no objection to allusion and acknowledgement, they serve to spice up any programme, but there isn't enough original material to satisfy our palate.
The other problem: it's overstaffed. William Sitwell clearly has the knowledge to build a rapport with the contestants, make it like a bunch of food-lovers talking and playing a game. But then along comes Kirsty Wark to concentrate minds and ask yet another question. The show isn't big enough for both of them, and we reckon that William's the one to keep.
World Cup, Match 87: Pembroke Cambridge v Clare Cambridge
Pembroke's most recent match was a win against Balliol Oxford on 2 January; Clare beat Homerton a fortnight later. It means Clare is playing its second straight Cambridge derby. The winners here will be in the opposite side of the semi-final draw to Worcester Oxford, who qualified by beating England thanks to what the English press described as a dodgy LBW decision.
Does anyone remember former Conservative candidate for Dartford Miss Margaret Roberts? Pembroke get questions on literary figures from Peru. Yes, including Mr. Please-look-after-this-bear of Paddington. The humours of mediaeval medicine allow them to score further, and they Kant be wrong with a dead philosopher. Have they split the roles of Lord Privy Seal and Keeper of the Great Seal? We did not know that.
"A game the English have invented to give themselves some concept of eternity." Points in the direction of the introduction. There's questions on Copernicium, a new element synthesised from copper and some old underwear. Speakers of the USA's House of Representatives form the first visual round, after which Pembroke has pulled out its traditional early lead, 105-(-5). There are questions on fictional books, with the team confusing Monty Python with The Two Ronnies.
We know Pembroke traditionally get off to good starts, but now every member has at least one starter, which is one more starter than Clare have between them. This clearly cannot last, Clare finally gets a starter, and their bonuses are on hexagons. Wrong game show! Definitions of words that can be formed from "Kafkaesque" confuses everyone, including the player giving the correct answer, but Pembroke go on to score very big on questions about very small things. And on hexaform rotatable cylinders. Well, nuts to that.
Game over! as Thumper says "There's still plenty of time to come back" before the music round. There's never plenty of time, particularly if sides are going to give wrong answers, leaving Pembroke ahead by 185-10. Clare do manage to get a couple more starters, and do well on the works of Charlie "Fingers" Dickens, but they're never going to overcome that hugemungous deficit. Or are they? Actually, Pembroke only need a couple more starters to get securely past 200, and they're able to run down the clock on questions about women photographers without scoring highly. Clare strike back with the second visual round, questions on Abraham's family tree, and Pembroke's lead has been cut to 200-85.
We have no idea how any of the various things mentioned connect with coffee, and we don't think that the Pembroke player who suggested "coffee" knows either. But he does, and he's right, and it allows the team to take more starters, and run the clock down a bit further. 130 points the lead at the five-minute warning, Clare needs to get close to perfection from here on in. And, to be fair, they nearly manage it – Florence the city lifts them into three figures, pharmecuticals reducing things increases their score, and a picture in Manchester about football keep things going.
A bizarre set of bonuses on literary works involving "scandal" is mostly answered by someone other than the captain, and literary figures born in 1891 falls when the team answers "Levi" to a biography of "Levi Strauss". The things that space telescopes detect give the team five more, and the gap's come down to 30 points.
But that's as far as it gets: a missignal allows Pembroke to step back in, take questions that Clare absolutely have to have, and reduce the time available. A further starter allows Pembroke to claim the victory, 250-175. Pembroke were accurate in 37/65 questions, and Clare 29/57. With both sides right in almost two-thirds of their bonuses, the overall accuracy was 66/95.
Next match: Balliol Oxford v Homerton Cambridge
Heat 13
We begin with Famous Possible Relative of the Week. Malcolm Sumner is a teacher. The specialist subject is Bing Crosby (1903-77). Born Harry Lillis Crosby, and nicknamed his favourite comic strip "The Bingville Bugle", Bing went to Hollywood in the late 20s. His unorthodox singing style – softly crooning, rather than belting out the hits – ensured he was signed up for radio syndication. He also made movies, notably the "Road to..." series, and "Holiday Inn", from which comes his best-known song "White Christmas". That formed the first question, which the contender gets, as he does most of the rest. 16 (1) the spectacular score. Listen more: White Christmas and 23 other performances*.
Following that is "retired dogsbody" Pat Baker, taking The Eastenders (est 1985). BBC1's flagship soap opera first appeared on screens in February 1985, with the discovery of a dead body. It's been unremitting doom and gloom ever since, with such depressing plot lines as shootings, stabbings, burned sausages, domestic violence, and Nick Berry's singing career. Regulars on the show have included Barbara Windsor of Bluebirds, Shane Richie of Run the Risk, Martin Kemp from Spandau Ballet, about two-thirds of the cast of Grange Hill, and a Bush Push. 12 (2) leaves some room for Pat Candle-Stickmaker.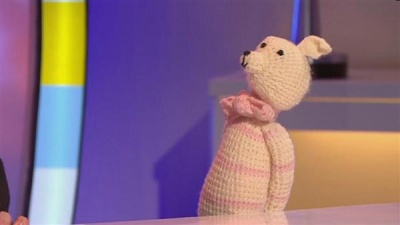 Knit more: Make your own Knitted Character!
Diana Muir calms down our sugar rush, she's offering the Life and Work of Sir Joseph Banks (1743-1802). An English botanist who served with Captain Cook aboard the Endeavour, Banks persuaded the British government to establish a penal colony on the east coast of Australia. He eventually became director of Kew Gardens in Melbourne, where he developed such botanical novelties as cotton, tea, and rubber. The contender takes a shot at many questions, not always correctly, finishing on 10 (0).
Next up is John Tanner, discussing Albert Pierrepoint (1905-92). Britain's most prolific killer, Pierrepoint was responsible for around 600 deaths between 1932 and 1956. This was encouraged by the government of the day, which believed that killing people was a suitable response to murder, for Pierrepoint was a hangman in the prison service. No hanging around here, it's straight up to 14 (0). Read more: Steven Fielding's biography of the Pierrepoint family*.
A high-scoring first round, so Diana Muir is first back into the chair. She knows about horse radish and the Wellington boot, but she never really settles, playing with her hands in the first half-minute. The final score is 17 (2). Pat Baker scores with Miss Marple and khakis, and the difference between a colander, Mrs. Bandranaike of Ceylon, and a gnu. Fancy having a sieve-head ruling your country... oh. 19 (4) the score there.
John Tanner gets a question about the vegetable that's a symbol of Wales. "Leek" was the answer they were looking for, they might well have accepted "The BBC2 scheduler", for reasons we'll get to shortly. Cor, remember when Tim Vine's Brother hosted Newsnight? This contender does, and quite a lot more. He finishes on 25 (0), it's enough for the last place on the repechage board.
And that assumes Malcolm Sumner won't get the ten he needs to win. He starts with a sneeze. Oh, sorry, he starts with a sort of pastry, "choux". The wombat scores for him, as do John Major's secretaries of state for Education. The curious transmission coincidence of the week: John Terry has since been relieved of the captaincy of the England men's football team. The final score, a winning score: 28 (4).
Editorial
Heat 14 follows in approximately one rant's time. Creamguide wrote in their preview of last week's editions, "Anyone wanting to really show off could go on this series with Mastermind Scheduling 2011-12 as their specialist subject as it's all over the place at the moment." We agree with, er, Mr. Guide.
We began with the season opener on 4 November, and then promptly came off on 11 November for a Children in Need of Assistance special. Normal service resumed on 18 November, and five episodes went out at the very traditional rate of one a week. There was no broadcast on 23 or 30 December, the usual festive break, and a double-bill on 6 January was to accommodate The Great Sport Relief Bake Off on the 13th. Then two weeks of single episodes, and now at least four weeks of doubles, presumably because someone's realised that they'll lose weeks here and there from late April, and they do actually want to get the series finished before the channel becomes BBC Sport 24 in mid-June.
And that's just for viewers in England, Scotland, and to BBC-HD. Viewers in Wales have had to have a roadmap and Chairnav to follow Mastermind's progress across the schedules. They've seen episodes at 7.30 Thursday, 8pm Friday, two weeks at 7pm Tuesday, two back at 8pm Friday, a double-bill at 7pm Friday a week after the rest of the country, another two weeks at 8pm Friday, last week's double-bill went out at 5.30 on Saturday teatime, and this week's at 6pm. In Northern Ireland, variations have been fewer, with two episodes shifted to 7pm Wednesday, and this week's pair in those well-known adjacent slots of 6.30 Saturday and 7pm Thursday.
We appreciate that the BBC has commitments to the Celtic League rugby, and the BBC management has judged this to be a more fixed event than Mastermind. We can understand their decision, particularly given the cultural significance of rugby in Wales. Where we have trouble is understanding why the BBC can't find a reasonably stable alternative slot for Mastermind in Wales. There's no need for nine rescheduled episodes to go out in seven different slots.
Heat 14
Back to the show, where Catherine Goodwin is moving to the chair, taking the Life and Work of Mary Wollstonecraft (1759-97). A pioneering feminist thinker, Woolstonecraft is best remembered for her treatise "A Vindication of the Rights of Women"* (1792). Her thought, radical for the time, was that women should be treated as individuals, and not as chattel of their father or husband. After a battling performance, the score is 11 (4). Read more: the PLATO Philosophy Project's entry.
From the sublime to the ridiculous, Ebb Saxton will tell us about "Whatever Happened to the Likely Lads?" (1973-4). A sitcom starring James Bolam and Rodney Bewes, it's the colour television sequel to "The Likely Lads" from a decade earlier. The writers intended the show to be realistic, to make light with the grit in the oyster, the measure of their success is how it's so fondly remembered forty years later. Whatever happened to the round? It went well: 10 (2). Watch the lot: all episodes, and the film*.
Gary Grant is next in the chair, taking the Seven Wonders of the Ancient World. Even before Channel IV popularised the list show in CCXLVII AUC, people liked to catalogue things. One such inventory was the VII Wonders of the World, attributed to Philon of Byzantium and Antipater of Sidon, which (er) is Greek and pre-dates Roman numerals. The list reflected their culture, with "the world" being basically the Eastern Med. The contender bangs through this round, scoring seven and seven and very nearly seven more. It's a perfect round! 17 (0).
With his work cut out, Eliot Wilson is going to tell us about the Life and Career of Enoch Powell (1912-98). A child of Birmingham, a member of parliament for Wolverhampton. A very learned man, a quick and able and idiosyncratic person, who prized free market economics above all. He spent some time as health secretary, initially a non-cabinet post. His mainstream career ended in 1968 after making a speech generally interpreted as coded racism, and it's for this speech – rather than his influential critique of European integration – he's best remembered. Powell himself believed his greatest achievement was "having an emendation to Virgil accepted by Housman", a point that went slightly over the head of the TV-AM audience. A round of near – though not quite total – precision ends on 13 (1). (We were hoping to point readers in the direction of Simon Heffer's biography, but it's not worth £30.)
"What a high-scoring round" says our host for the second time tonight. Mr. Saxton begins the second round with the career of Stan Laurel and the diet of the dung beetle. The contender never quite gets his eye in, but it's clear he's enjoying the experience, finishing with 18 (6) and a smile. Catherine Goodwin has an umpire and Joe Stalin, and that blood has the Rhesus factor. The contender misses a question about Rev. Richard Coles, if only Mastermind had acknowledged his regular appearances on Only Connect. She does remember Geoffrey Howe, and finishes on 18 (9).
Now, Eliot Wilson is going for the style points, having turned up in a suit and tie even more dapper than the host's. He knows how to poach an egg, the dromedary camel, and the works of Dostoyevsky. He gets a milk dish from Iceland, the Missing Link of human evolution, and untangles Humphrys' pronunciation of the founder of Opus Dei. The round has a slow passage before picking up speed at the end. The final score is 28 (5).
The repechage board:
John Marshall 31 (5)
John Snedden 30 (4)
Paul Smith 28 (3)
Eliot Wilson 28 (5)
Chris Wills 27 (1)
Chris Forse 26 (8)
Which means Dr Grant needs twelve to be assured of a win, with his bright pink, open-neck t-shirt. A guillotine, Margarita, internet streaming, all get him off to a good start. Then he runs slowly, in many places zagging where he should zig. The contender doesn't know the BBC Cross-Promotional question, about some unfunny BBC2 news panel game, but why should he? The round gets going again later, and concludes on 31 (3).
So Dr. Gary Grant takes his place in the semi-finals, and Eliot Wilson comes in fourth on the repechage board, and has a fighting chance of coming back. Spare a thought for John Tanner, whose tenure on the finals board lasted just half an hour. That's except for viewers in Northern Ireland, where he's got five days of glory.
This Week And Next
The new host of Blockbusters is to be ... Simon Mayo. That's a genius appointment, and we didn't work out how genius until we heard the news. Mr. Mayo will be taking a few weeks off his Radio 2 show, and his replacement is the last presenter of Blockbusters in the UK, Liza Tarbuck.
We regret to report the death of Noel Kelehan, the jazz pianist and regular conductor of the orchestra for RTÉ at the Eurovision Song Contest. He was also employed by other delegations who forgot to pack their own conductor.
Ratings in the week to 29 January are in, with Dancing on Ice (7.55m) skating past Who Dares Wins (5.25m) and Masterchef (4.6m). Take Me Out and The Magicians also scored around 4.5m. Celebrity Big Brother ended on Friday, 3.25m saw the final and 1.3m Bit on the Side afterwards. University Challenge recorded 2.95m viewers, and Mastermind gets 2.35m when it's on the whole network. The Million Pound Drop? A mere 2m. Got to Dance remained the biggest digital game show, with 1.26m people seeing the show. Come Dine on More4 pulled up 735,000 chairs, and Take Me Out The Gossip pulled 640,000 on ITV2.
Coming up this week: gunge in Ennill Dy Deulu (S4C, 4.35 weekdays) and another run of Antiques Road Trip (BBC2, 5.15 weekdays). If you've really nothing better to do at 9pm on Friday, George Lamb introduces The Bank Job (C4). And Let's Dance for Comic Relief for Sport Relief is back (BBC1, 7pm Saturday), with Alex Jones and Steve Jones hosting performances by Ulrika Jonsson, Tony Blackburn, and Jessie J Jones.
Links marked with a * help support the UKGameshows servers.
To have Weaver's Week emailed to you on publication day, receive our exclusive TV roundup of the game shows in the week ahead, and chat to other ukgameshows.com readers, sign up to our Yahoo! Group.