Weaver's Week 2012-11-11
Last week | Weaver's Week Index | Next week
"And on the eighth day, G'd created Quiz
and He saw that it was an infinitely reproducible format.
And on the ninth day, He created Talent Show
and people preferred that.
Nevertheless, here we still are."
— Victoria's Letter to the Connections VI:10.

Shine for Channel 4, 9 – 30 October
This review also considers the companion programme Jews at Ten, Shine for More4, 9 – 30 October.
This is a difficult review for us to write. Not because we don't understand the programme – we understand the programme very well. And it's not because we found the show particularly troublesome to watch. No, our unease comes from the "Jewish" aspect of the programme, and how anything vaguely Jewish becomes conflated with the existential conflicts regarding the states of Israel and Palestine, and down that road lies an internet flame war older than the internet itself. We deem such matters off-topic. This is a game show column, and we're not spending our off-topic credit until next week.
And so to the show. Eight women are going for the title "Jewish Mum of the Year". It's been organised by The Jewish News, a newspaper circulated in London and the Home Counties, edited by Richard Ferrer. The prize is a trophy and the opportunity to pen an agony aunt column for The Jewish News. To ascertain the mother who is best qualified to advise readers, they're going to do some tasks. Organise aspects of a bar mitzvah party, try to find a suitable match for a single lady. Take some old people out to the seaside, and prepare and serve a Friday night dinner. Each of these tasks lasts for about three days, and are filmed in a style similar to that of The Apprentice.
The role of HRH Alan Sugar is split in two. Tracy-Ann Oberman is the acting type and a celebrity hook to bring in the viewers, and Dovid Katz provides some rabbinical validation to the decisions. There's no equivalent to Nick Hewer or Margaret Mountford out in the field, but newspaper editor Richard Ferrer pops up in most episodes. The voice-over is carefully scripted and well-enunciated by Jeni Barnett, a safe choice for reading out a script.
After watching the first episode, some of the UK Gameshows editors had a quick discussion to work out if it was a game show or not. Someone described the edition as, "hold a Bar Mitzvah party for a 13-year-old's birthday", which is theologically fascinating. Our understanding is that the celebration is of the young man taking responsibility for his own actions under Jewish norms: giving readings in services, adhering to the various commandments. To mark these new responsibilities, the young man's family throw him a party.
But viewers of Jewish Mum of the Year will have been left completely in the dark about the theological underpinnings of this event. It really was presented as nothing more than a social occasion, and the Torah reading as an extended Missing Vowels round. The tasks allocated to the contestants were purely social – create a cake, serve cocktails and canapes, arrange some entertainments, prepare takeaway bags for the party-goers. Even the More4 sequel Jews at Ten, intended to explain these traditions through anecdote and oral history, left the key point unexplained. It took a question in this week's Mastermind to explain the significance:
"What ceremony, whose name means 'son of the commandment' in Hebrew, marks the arrival of a Jewish boy to religious adulthood at the age of 13?"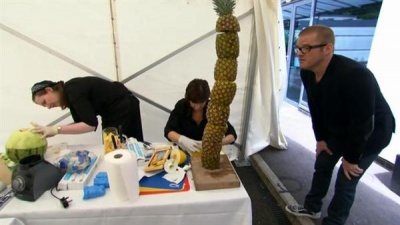 The series featured mildly gratuitous celebrity cameos: here, Heston Blumenthal looks at the Fabulous Fruit Tower.
That was the first problem we spotted with the programme. Other commentators reckoned that Jewish Mum of the Year was exploiting the community, and making a programme to laugh at the quaint ways. The Independent newspaper ran a lot of pieces about this show. Professional television reviewer Tom Sutcliffe wrote, "Channel 4 continues its proud commitment to minority caricature with the barely credible Jewish Mum of the Year". Jennifer Lipman said, "It was, unfortunately, all about cheap laughs at the expense of quirky traditions." And the Sunday edition made explicit a comparison with Big Fat Gypsy Wedding, noting, "After Channel 4's borderline-racist treatment of gypsies, now it's time for Jews to get the pseudo-affectionate mock-you-mentary treatment."
Richard Ferrer, editor of The Jewish News, contributed two pieces in response, and he was robust in defence of the programme. But then he would say that, he's hardly an impartial observer in all of this. He was robust in defence of his programme.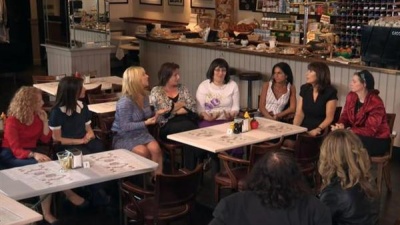 The contenders discuss how the party went, and whether David Baddiel can ever be on telly before 9pm.
Our unease is summed up by Simon Kelner, from whom we have two quotes. "It's hardly surprising that the mother figure should take her responsibility as keeper of the faith seriously. In the modern world, that often translates into a defence of cultural traditions, everything from the health-giving properties of chicken soup to the excesses of bar mitzvah parties."
Now, it's generally accepted that Judaism is as much cultural as it is religious. The definition we have – from Liberal Judaism – is "Judaism is not transmitted genetically but culturally and within families through example and influence." And if the culture uses the whole of the chicken to make soup, or has a memorable coming-of-age ceremony, then it is what it is.
But that's not Kelner's argument. He's saying that Jewish Mum of the Year concentrated exclusively on the excesses, portrayed the abnormal as regular. "My problem with this programme was that it went way beyond stereotypes, and headed off into a world of cliché. So we had big hair, big ideas and, yes, big noses. And to complete the set, we even had a Tottenham Hotspur supporter."
And, in that, we totally agree. In the opening episode, one pair made the fatal mistake of personalising their goodie bags, forgetting that these were youngsters they'd never met, and probably couldn't tell from Adam. The result was someone else's mother standing on a table, screeching out children's names, hoping for them to come forward. Or hear. Or not have left from sheer embarrassment at the spectacle. It's car-crash television, both something one shouldn't watch and something one can't stop watching. Or, in a later episode, when older people are on a day trip to the seaside, one of the charges appears to go missing. The pair rush around the hotel looking for him, only to find they had neglected to count properly, and he was on the bus all the time.
Perhaps the biggest cliché came in an episode on dating and matchmaking. Because, of course, the best thing a Jewish mother can do for her daughter is to pair her off with an eligible doctor, or a nice computer programmer in a smart tie. The most jaw-dropping thing we've seen this year is a selection of dates, all with the same young lady, where the gentlemen are wearing earpieces and taking instructions from the contestants. It's remote-control dating for the twenty-first century! It's also treating the gents as babies, unable to do or say anything unless their substitute mothers suggest it. We expect a full series on E4.
The judging struck us as weird, arbitrary, and based on criteria that weren't well explained in the programme. If the primary duty of a Jewish mother is to ensure that her children were raised with awareness of Jewish religion and culture, then surely Lesley's going to walk it. She's from Ireland, where there is precisely one store stocking kosher food. One store in the whole country. She'd be happy if her children grew up feeling Jewish-Irish, or Irish-Jewish. There was no consideration of the actual families, merely performance in the television environment, and we can understand that this wouldn't have made bright-and-breezy television. Because Lesley chose to buy ready-made cake mix, rather than making it from scratch, she was dispatched from the competition. The women who stood on tables and screeched like carrion were complimented on their efforts, and remained in.
Worse was to come from Tracy-Ann Oberman's mouth (she was the appointed spokesperson throughout). There was a cheap and tawdry reason for elimination – "you lacked objectivity". That's it? Someone's going because they knew their guy had dated the gal before and it wouldn't work out again? This isn't Jewish Actor of the Year. And the line, "It was felt on the date," is a grade-one cop-out. Who holds this opinion? Why do they not have the courage to have their name associated with it? We could understand the winner of the final, we could understand the winners from the semi-final, but even in retrospect the other two rounds bear little relationship to the programme.
Ultimately, we concluded that Jewish Mum of the Year was primarily seeking someone who would be a safe pair of hands for The Jewish News. Someone who would be safe for the Orthodox readers, and with enough knowledge of contemporary society to satisfy the more Progressive readership. That's a perfectly valid quest, it's just not the one advertised by Channel 4. What they showed left us feeling slightly grubby and a bit demeaned.
Quarter-final 3: TEFL Teachers v Scribes
There are fireworks outside tonight. Could it be because the fans of Victoria Coren are marking the fact that this show has attracted One Million Viewers, Consolidated? Could be, but we'll send someone up the mile-high fact tower to find out. One of the TEFL teachers has an MA in the History of Ideas, and believe the moral of their heat is to do better in round one. Someone from the Scribes is learning Norwegian. L. O.
TEFL has possession in the opening rounds, and get the pictures. A cot, the temptation of Eve, some lettuce, and someone's bikini line. "They all begin CO". Sorry, is this Sesame Street? Nay! It's original SIN in picture two, a TAN line, with COT and COS to make trigonometric functions. Music for the Scribes, and they reckon it's pieces of music about playing cards. And, by coming in after three clues, they score two points and don't risk the studio turning into a creamy muck-muck fight zone.
The second set clicks into place on "UN ceasefire zone in Cyprus", it's one of a number of works called "Green line", and two points for TEFL. A penny for your thoughts, Scribes: or, in these inflationary days, a quid for your thoughts, because these are things written on the side of a pound coin. Three points.
Have TEFL gone from a green line to a black hole? That well-known Kiwi comedy duo "Black and Black"? Nay, 'tis Flight of the ___ for a bonus, including the 1986 Disney movie Flight of the Navigator. For Scribes, "Sara Lee" is in the first box, and we wonder if it's contenders on The Mole. Other company names come up, all women, and it's not companies named after the founder's wife, but after his daughter. That'll be a bonus for TEFL; the Scribes take the first set, 6-3. Only a three point deficit there.
Sequences begin with TEFL looking for something that happened in 1912, but they're wrong. Scribes have the idea: these things happened 100 years apart, so "Scribes win a match on Only Connect" would have given them the bonus as well as that spectacle in London we can't name for copyright reasons. For their own question, Scribes are in Chinese new years, ending with Draconic. Gronda.
"Wilkommen, Bienvenue," and that's enough for TEFL to buzz: it's from the song "Wilkommen" from Cabaret, and apparently after "Welcome" comes "Stranger" in German. Us neither. The penny drops on the Scribes' question late: it's generic definitions of mascots for that London spectacle we couldn't name in the last paragraph, and gives two for the Scribes.
Interest and Taxes and Depreciation and what comes next? TEFL guesses at Inflation, but it's Amortisation – apparently, it's some way accountants cook up the books. A bonus 442 points (EBITDA) to the Scribes. On their own question, they get pictures of an ounce, pound, and discuss whether hundredweight comes before ton. It does, it's three points, and the Scribes now lead 15-3.
Walls 225 and 226, website fiends, and straightaway the Scribes get poems by Kipling. There's a set of fictional robots, but they get drinking times first. Or, as Victoria calls it, "breakfast". There's a set of computer commands in there, too, but the team are convinced that Data is a robot. We're finding this last bit very basic, but it's completely beyond the team in their three lives. The team don't know their BASIC keywords, which is a shame. Five points!
For TEFL, it's clubs in Paris that come out first. Things to shout when doing something brave is the next group they complete. What's "Foot Tapper"? "A jaunty tune" says one of the team, perhaps that might help them rise out of the shadows. There's something like cars in there, but – again – the grid doesn't quite come out in the lives. "Kon-tiki" and "Foot Tapper" are actually hits of the Shadows, and Native American leaders is the final group. Five points!
The Scribes lead it, 20-8. A harsh but fair decision as one of the teams stumbles badly over an answer: the Scribes take the opening set 2-(-1). Inventions from Canada is theirs by 2-0, and Botanists falls by 3-1. The one internet meme the sides answer is Rickrolling, and the Scribes have quartered their opposition, 27-9.
And why have there been fireworks out there? Because next week's Only Connect is the Children in Need of Assistance special. Appearing are Charlie Higson, Daisy Goodwin, Matthew Parris, Rosie Boycott, Countdown's Clarke Carlisle, and the mile-high fact tower himself, Richard Osman.
This Week And Next
Lincoln Oxford and Lancaster took part in the first University Challenge repêchage this week. One starter asked for two words differing by a single letter – one of the contenders offered "isotope and speed", which possibly differ by slightly more than one letter. The lead changed hands rather a lot, swinging one way and another, but with the pendulum more often in Lancaster's favour.
Thumper changed his standard phrase to "answer as soon as your name is called", and the teams know absolutely nothing about the late works of Elvis Presley. Including a version of "Danny Boy" that is quite remarkable, in a "crikey, that's rubbish" way. Lancaster retook the lead with eight minutes to play, and the key moment might be the way Lancaster recalls former British prime minister Dr. Gordon Brown's doctoral thesis. Curiously, he stopped referring to himself as "Dr. Brown" around the time of his election to parliament. At the gong, Lancaster had won by 165-120 – a fair result from what was a relatively dispiriting match, the sides getting 22/53 bonuses right.
Mastermind is now half-way through its heats, as edition 12 unfolded like this:
Mike Foden (Steely Dan) had a creditable specialist round, ending on 9 (3). His general knowledge work was better, and he set a stiff target of 26 (3).
In a week of long questions, Crossworder Mark Grant (Henry Mayhew's "London Labour And London Poor") suffered particular prolixity in his round on the early Victorian poor, finishing on 10 (1). He may have had shorter ones in the second set, where he advanced to 28 (1).
Julie Green ("Mapp and Lucia" novels of EF Benson) took a set of questions that do give a flavour of the comic farce novels, and scored 12 (2). Her general knowledge round was good, but not quite up to the high standards we'd just seen, and 25 (4) will not bring her back.
James Jack (Boston Bruins since 1970) knew his ice hockey, making 12 (0) in the first period. His general knowledge was a little shakier, and he finished on 20 (1).
So Mark Grant, the accountant from Bromley, was the night's winner. Mike Foden moved into a repêchage place if it's restricted to direct runners-up.
OFCOM's latest compliance report has confirmed that Love Shaft probably wasn't right for 10am on Saturday mornings: the combined effect of the innuendo and double-entendre were too much for children. A similar decision has been reached against Sunday lunchtime repeats of ITV2's The Only Way is Essex. The test seems to be "would you let a seven-year-old watch this unaccompanied?" The regulator has begun a formal investigation into something on The X Factor of 18 August.
BARB ratings in the week to 28 October show that Strictly continues to reign supreme, 10.6m saw the Saturday performance; The X Factor's best was 8.5m for the Sunday results. HIGNFY recorded 5.75m, Mr and Mrs 4.35m, Pointless Celebrities 4.3m, and The Chase had a year's-best 2.9m viewers on the Tuesday. University Challenge had 3.35m, its biggest audience of the year. Great British Bake Off Revisited took 2.75m, miles ahead of Channel 4's top offering 8 Out of 10 Cats (1.5m).
The Celebrity Juice juggernaut continues to run on ITV2, with 2.165m viewers, but second place is a surprise. Only Connect had 1.018m viewers, sneaking ahead of Xtra Factor Result's mere, piffling, minuscule 1.015m. A League of Their Own S1 had a credible 740,000 on The Satellite Channel, ahead of first-run The X Factor Us (690,000). Repeats of The Chase on ITV4 had 225,000 viewers.
Richard Osman does Children in Need specials of Only Connect (BBC4, 8.30 Mon) and Pointless Celebrities (BBC1, 5.15 Fri). On the other side, I'm a Celebrity... Get Me Out of Here! begins (ITV and 3e, 9pm Sun), Sandi Toksvig runs through 1001 Things You Should Know (C4, 3.30 weekdays). Speaking of old jokes, I'm Sorry I Haven't a Clue has unheard episodes (Radio 4, 6.30 Monday). Next Saturday: no Pointless, Strictly (6.30), The X Factor (8pm), I'm a Celeb (9.20).
To have Weaver's Week emailed to you on publication day, receive our exclusive TV roundup of the game shows in the week ahead, and chat to other ukgameshows.com readers, sign up to our Yahoo! Group.